Bareboat Chartering: What is a sleep-aboard and do I need one?
A sleep-aboard means that you sleep on the board the boat the night before your charter begins. Basically, the boat becomes your hotel for the night.
Many charters start at 6 pm, particularly in the Mediterranean and many in the Caribbean. This means that you automatically sleep on board the boat in the marina the first night of your charter. The next morning, after briefings, you're free to head out.
Some charters, more common in the Caribbean, start at 10 am or noon. With these charters, most companies offer a sleep-aboard for a fee (either a percentage of daily rate, a per cabin fee, or a general one-time fee). This means that you can get on and sleep on the boat the evening before (generally around 5-6pm) so that the following day, after briefings, you can head out to start your charter at its scheduled time. Due to insurance reasons, you typically can not take the boat out of the dock prior to the time that the sleep aboard time ends and the physical charter time starts.
If your charter starts at 5 pm or 6 pm, you usually can not do a "sleep-aboard" the night before because starting the night before is in fact a full extra day. In that case you would just charter or rent the boat for an extra day.
If you are doing a sleep-aboard, usually, you can still arrive late to the boat after the charter company office closes but if you do this, you should use the charter company organized transportation as their driver will direct you right to the correct boat.
Why sleep-aboard?
Gives allowance for travel plans. And time to chill following traveling.
Get settled on the boat (with your gear/provisions and also to get acquainted with the boat and equipment)
Allows you to provision the night before so that you can get an early start out of the marina the day of your charter
Allows you to identify anything wrong/broken with the boat before you head out
Exciting for the crew to start to gel together
Saves transportation in the morning from hotel to the boat
Provision delivery can come earlier
Cons
Depending on the charter company the cost can be almost the same as a hotel room
Note that above there are a lot of "usually"s. It is because it varies by charter company, season, location, and boat type. At NauticEd Sailing Vacations, we know all the ins and outs of every location. So when you make a booking through us we will make sure you get everything right and don't pay for what you don't need – and remember, we don't charge you a fee for making the booking.
Book your next sailing vacation through NauticEd – check out our "search for yourself" real-time database at: www.nauticed.org/sailing-vacations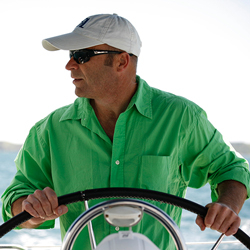 Latest posts by Grant Headifen
(see all)