Chronicles of a Sailing Yacht Charter Week in the BVI's: Day 2
Saturday September 26th 2009

Catching the ferry from Charlotte Amarlie was easy the next morning. The ferry terminal is about 15 minutes away from the Marriot. We took the "Fast Ferry" which motored us at about 15 -20 knots to Road Town. The trip was about 1.5 hours. We cleared BVI Customs in Road Town with very friendly customs agents then another taxi ride of about 5 minutes to the Sunsail Base.
Upon arrival, we sent some of the crew to the two grocery stores to provision. Cash and Carry is a bulk shopping place which is quite inexpensive but you have to buy a lot of each item. Shop Rite is next door and is more of a traditional grocery store. Between the two stores you can get everything you need for the week including precooked chicken which serves as a great idea for cold dinner and lunch the next day. Take a Van Taxi to the stores so that you can lug everything back to the base.
We were disappointed to learn that Fishing Licenses are only issued on weekdays in the BVI's and from only one place through the entire island chain – Road Town. And since today is Saturday and we're not returning here until the end of the trip – our spirits of eating Tuna Sashimi are waning. Also we are warned by the locals that the fines for fishing with out a license are very heavy.
Come on BVI  Authorities. Make it easier for your tourists – allow local sporting shops to sell fishing licenses.
We learn however that if you call Last Stop Sports on (284) 494-0564 a few weeks ahead of time, theywill arrange to get a fishing license for you. Take note.
A few other things not to forget or check before you leave the dock.
Adequate sheets and towels
Mask and Snorkel supplied free by the base if you need
Boat hook
Boat brush
Swim Ear for after swimming
Sea Kayak
Cooler with properly operating plug
And lastly unplug the yellow dock line (power cord) before you pull out.
A more extensive list is given in our NauticEd Bareboat Charter Clinic
Also in our Bareboat Charter Clinic is an excellent Crew Brief list prior to leaving the dock.
With charter yachts, you can never tell what kind of music system you'll get on the boat. Some come with just CD players some have mp3 connections. So I recommend that you bring some favorite CDs as well as your iPhone/mp3 player and don't forget the cable plus you can also bring your FM transmitter. Between all those you should be covered music wise.
Anthony Wighting is the Sunsail Base Manager and was very helpful in getting us underway early enough for us to get 5 miles to the south to The Bight on Norman Island.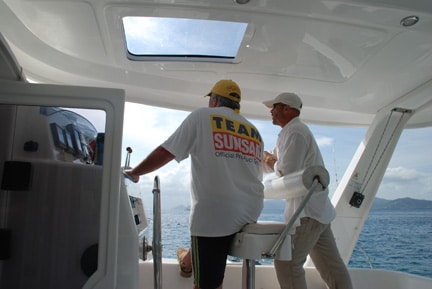 We pulled out of the dock at 4:30 which is about the latest we should have in order to get to Norman island before sun down at 6:30 this time of the year. Norman Island lies on about compass heading 212deg Mag once you clear Road Harbor and is about 5 miles away. We chose Norman Island for our first night because it was a Saturday night and we didn't want to miss the Famous Willy Tee's floating bar.
Willy Tee's lies in "The Bight", which is a large bay on Norman Island.  A famous rock out cropping called The Indian's is just outside The Bight. The Indians is an excelent place for snorkelling and has a few underwater swim through caves and lots of colorful fish. Given the time – we elected to leave the Indians until tomorrow but we did get this stunning photo of The Indians with the setting sun light.
Folowing our entrance into The Bight, we moored to one of the Mooring Balls far enough away from Willy Tee's so that those that wanted to sleep would not be awoken by the party noise that would surely come later.
A stunning sunset from The Bight.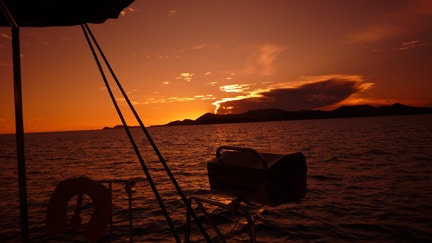 Our advice for Willy Tee's is take a maximum of $20 ( the entire BVI's run on US dollars). When you have spent that – go back to your boat. The place is entirely encourageble and it seems like the energy field surrounding the vessel removes all your common sense and knowledge about alcohol consumption.
Remember what your dinghy number is.
Don't take your wallet and camera's WILL end up full of sea water. Otherwise we had a fun evening at Willy Tee's. Seriously however, the real problem with Willy Tee's is that it usually is your first night out and your excitement level is at it's height.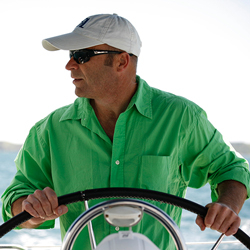 Latest posts by Grant Headifen
(see all)