Chronicles of a Sailing Yacht Charter Week in the BVI's: Day 1
To follow over the next week, are the chronicles of this year's yacht charter sailing vacation trip by NauticEd staff and friends. Although we've sailed through out the Caribbean and Mediterranean, once again we elected the BVI. Mostly because this year we were bringing along many new comers who'd not visited the BVI's before and this is a place not to be missed.
September in the BVI's is considered totally out of season. Most of the restaurants are closed and charter companies are down to skeleton crews. However we were looking this year for a quiet, out-of-the-way trip with few other boats to deal with and so despite being in the middle of hurricane season, this was an appealing location.
In the BVI's there are many charter companies. This year we elected to charter with Sunsail. We have chartered 2 Catamarans. One Leopard 43 named "Bobcat" and one Lagoon 41 named "Annie K". Our crew consists of 16 friends and family from Austin, San Antonio and South Africa. Included are our 1 year old daughter and a friend's 2 year old daughter.
Friday September 25th 2009

Traditionally we have flown into Beef Island (Tortolla airport) via Puerto Rico which works well but if you do this you have to make sure that you have sufficient turn around time for your luggage. I'm not sure but I don't think there has been 1 time that all bags have arrived.
This time however because of airline schedules we flew into St Thomas on the USVI, stayed the night at the Marriot Frenchmans Reef and Morning Star Resort with the ntension of taking the ferry from Charlotte Amarlie to Road Town on the British Virgin Islands main island -Tortolla.
The Marriot is about 15 minutes from the St Thomas Airport. The resort is very nice for a quick stay over. It has a lovely beach, a swimming pool and a tennis court. But we're more excited about getting on our boats and setting sails tomorrow.
There are a few strange creatures on the USVI.
Follow our week long BVI blog series posted every day for the next week.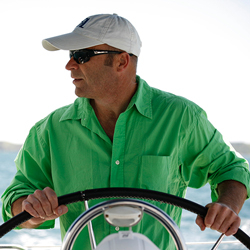 Latest posts by Grant Headifen
(see all)