That's the last sound you want to hear when sailing. Now you have to pull the sail down, fold it up, carry it up the dock to the car (it's heavy) wait for a week day to take into the sail maker, beg for them to fix it fast, pick it up on a week day and get it back up.
This weekend we noticed a rip in the mainsail :( It was right towards the top and actually not in a place were there is a lot of stress on the sail – unless …
With further observation, the rip was right in line with the top spreader. AHHA the culprit.
It's due to one of two scenarios. Both are operator error.
(1) The rip was can be  caused by some one who doesn't know proper use of the roller furling system.
When rolling up the mainsail – you must be pointed into wind. With the furling system, it is sometimes tempting to roll the sail up when sailing downwind – however this drags the sail across the spreader bars and causes the sail to wear and tear at that point.
(2) When sailing down wind it's ok to have the mainsail touching the spreaders but make sure the mainsail is not let out enough so that there is undue pressure of the sail against the spreader. This also causes wear and tear at that point.
So our mainsail is now at the sailmaker. Fortunately our sail maker Barlett sails in Austin Texas is a good one.
Remember the old saying of "a stitch in time saves 9". This is certainly true when sailing so while you're at the sail maker spend the few extra $ with them to give the sail a good going over. Ensure you have them the "expensive" UV protected thread, otherwise you'll be back in a few years.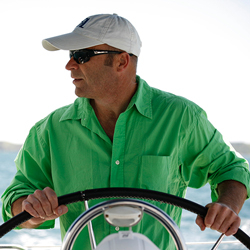 Latest posts by Grant Headifen
(see all)