GULET CRUISES IN MONTENEGRO: WILD BEAUTY, BEACHES AND FAIRYTALE TOWNS
❝At the moment of the creation of our planet, the most beautiful merging of land and sea occurred at the Montenegrin seaside… When the pearls of nature were sworn, an abundance of them were strewn all over this area. ❞ L.B.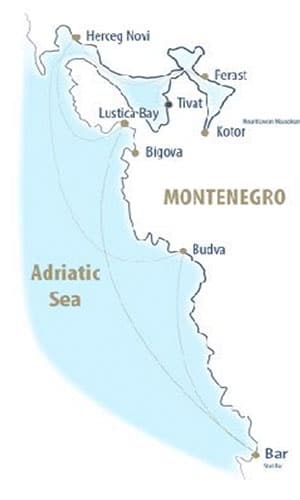 Montenegro, often called the "Pearl of Adriatic", is a country of unique beauty and dramatic contrast where beautiful mountains surround calm waters. Located in the South-eastern Adriatic, has 295- kilometer coastline. All in all, there are 120 beaches, with plenty of Blue Flags to go around. Montenegro presents a mix of the cultural influences of the Venetian, Ottoman and Hapsburg empires which makes it particularly attractive with great cultural diversity. With a mixture of both bustling cities and sleepy villages, it covers all bases. In Budva, the whitewashed houses with sun-baked roofs are a picture-perfect Mediterranean scene, and the Medieval city is steeped in history – aside from Kotor, it's got the only walled Old Town on Montenegro's coast. After dark, the town comes alive with a vibrant nightlife. Further north is Rose, a peaceful hamlet on the Lustica peninsula. Far away from the tourist traps, Rose is still traditionally Montenegrin, and offers some of the best locally caught seafood in the region. The Bay of Kotor is the jewel in Montenegro's crown. Here, looming mountains meet the Mediterranean, and a 28-kilometer bay extends inwards between the peaks. A World Heritage Site for nearly 40 years, this submerged river valley is home to many towns and villages, including the fortified hillside town of Kotor, the bay's namesake. It was once owned by the Venetians, and the influence is very noticeable, with the architecture and cuisine of the bay's settlements showing off an Italian flavor.
DM Yachting is a charter company, based in Montenegro, on the Adriatic coast. NauticEd represents DM Yachting as its agent in the USA and Canada. If you'd like to book a gulet with DM contact NauticEd.
DM Yachting, staffed with a highly dynamic team, owns all the knowledge and experience in the yachting and hospitality sector. Key features of the company are the Passion, Ethics and Transparency. The company is specialized in weekly gulet cruise in Montenegro. You can choose a private "tailor made" gulet charter or one of our gulet cruise program: Pearl of the Adriatic cruise, boat & bike, Wine and culinary cruise, Classy sailing experience on a sailing gulet. For those who wish to charter whole gulet we offer private charter on available dates.
Choosing "Pearl of the Adriatic" cruise you will have the opportunity to have a completely relaxed holiday admiring the beautiful bays of Montenegro and fabulous old towns. The gulet offers every comfort of a modern boat mixed with the charm of a traditional wooden sailing boat. A holiday program organized to alternate several time for swimming and relaxation, visiting with a guide several coastal towns like Kotor, Perast, Budva , Herceg Novi, and Tivat or enjoying a drink from the boat's bar.
PEARL OF THE ADRIATIC CRUISE
Day 1: TIVAT You will be transferred from the airport to the harbor, where embarkation begins at 17:00 h. Get settled in your cabin before welcome drink. Dinner onboard for the first night. Overnight at anchor.
Day 2: TIVAT – KOTOR Our first visit will be the Maritime Heritage Museum, interesting from a historical point of view regarding Tivat and the early navy days. We sail into magnificent Boka Bay and we stop for lunch and swimming in Ljuta Bay. We arrive early in the port of Kotor, a UNESCO World Heritage site. The town is a medieval maze of museums, churches, cafe-strewn squares and Venetian palaces and pillories. It's a unique place to see for the position and history. Enjoy dinner on your own at one of many restaurants present in Kotor. Overnight at dock/anchor, depending on availability.
Day 3: KOTOR – BUDVA After breakfast we have a city guided tour of the Old Town of Kotor. We sail out of the bay in the south direction. Refresh yourself swimming in Dobra Luka Bay and enjoy lunch onboard. Before arriving in Budva we will stop in the popular sandy beach Jaz. You will have rest part of the day to explore Budva, one of the oldest settlements on the Adriatic coast, over 2,500 years old. Here are the most beautiful Christian settlements and definitely the most amazing churches in this part of Europe. Dinner out and overnight at anchor in Budva.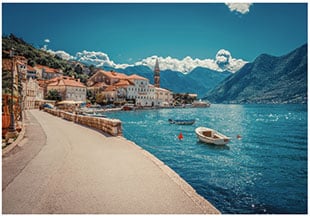 Day 4: BUDVA – BAR After breakfast we set sail for Bar and stop for lunch in front of Sveti Stefan, a fortified island village. In the past was a favorite hangout of 60's film stars and royalty like Sophia Loren, Doris Day and Princess Margaret. We will have a pleasant walk from Sveti Stefan to Przno through Milocer Park. Before arriving in the village of Bar we stop for afternoon swimming in Maljevik Bay, a small quiet bay. Your evening is free to explore Bar on your own. Overnight at the dock.
Day 5: BAR – LUSTICA BAY Today, before to leave Bar, we go for a guided tour of Stari Bar, an old fortified town in the hinterland of today's city of Bar. In the centuries had been its center, until the city moved down, into the field towards the sea. Today the Old fortress is abandoned and is in ruins. Near there is a market with many souvenir shops. We turn our compass back north with a stop for lunch and swimming in front of Petrovac, in Lucice Bay, one of the most beautiful sandy beaches. Befarrivingrive in Lustica Bay, a marina village, we make one more stop for swimming in Traste Bay. Enjoy dinner on your own. Overnight at the dock.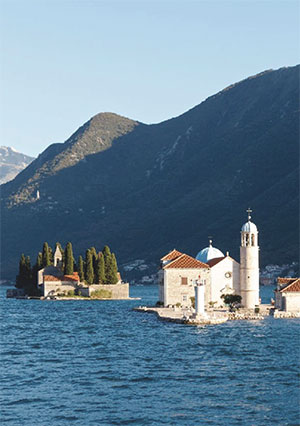 Day 6: LUSTICA BAY – HERCEG NOVI After breakfast we go inland for a guided visit of Lovcen National Park. After a scenic driving, we arrive at the peak of Mount Lovcen and visit the Mausoleum of Serbian Cyrillic, Njegos. Going down slowly will make you admire the beautiful Boka Bay. We sail out and enjoy lunch onboard in Mirista Bay. Here you can swim and explore the famous Blue Cave, before arriving in the next port, Herceg Novi. Take time out to discover Herceg Novi, far from the madding crowds. Stroll through the empty streets, explore the old buildings and churches, check out the fortress Forte Mare and enjoy the atmosphere and the history. Enjoy dinner on your own. Overnight at dock/anchor, depending of availability.
Day 7: HERCEG NOVI – PERAST For our last day we sail into Boka Bay and stop in Risan Bay for lunch onboard. Risan is famous for the remnants of the classical culture. Upon arrival to Perast, stop to visit Gospa od Skrpjela (Lady of Skrpljel) and St Gorge, both unique tourist attractions. You can't miss to visit St. Nikola church in Perast and admire a stunning view from the top. Observe the small but beautiful exposition of the Perast museum, in Bujovic Palace. Tonight, enjoy captain's dinner onboard. Overnight at the dock.
Day 8: PERAST – TIVAT Early morning sail to Tivat for disembarkation and breakfast on board. Transfer to the airport.
Contact NauticEd if you are interested in a Gulet Vacation in Montenegro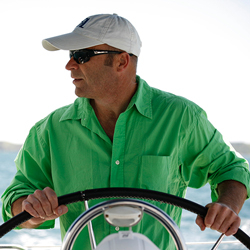 Latest posts by Grant Headifen
(see all)