Bareboat Charter Athens Day 6
Day six of seven: Sailing out from Athens with The Moorings on a Leopard 3900 Catamaran
Thursday Epidavros to Ancient Theater to Vathi
Clang Clang Clang go the Saxons to wake everyone's ass up. We gotta get to the Ancient Epidavros Theater.
Well at least that was the intention. The crew was dancing pretty hard on the quay last night. Anyway by 9 am we were up and at em. It's a 40 euro round trip taxi ride to the theater about 15 kms away from the port. Rather than talk about it too much here, here is an excellent youtube video on the Epidavros Theater.
Quick run down – it was built in the 4th Century BC yes that's BC. What was interesting to me was to note how conceited we are in this day and age to think that nothing was going on back then. Here is an incredibly constructed theater that is an acoustic wonder. You can talk in the center stone at the bottom and be heard at the top. Dave stood in the center while we climbed all the way to the top. When we were ready, he began to sing Elton John's "Money," which was very rudely interrupted by the guards telling us that no one is allowed to smile or have fun (not really).  Apparently you can't sing or have fun there. Anyway, Dave was only one line away from the end when he had to stop. Everyone there clapped and appreciated his talent. Rules – bar hum bug.
Here's the fun video we snapped of Dave Singing at The Ancient Epidavros Theater.
The theater seats 12,000 people who, in ancient times would come from miles away to indulge in the arts. And here we are in the 21st century thinking all smart and stuff but we still can't figure out kindness and benevolence and stop warring with each other. Come on humanity – let's up the game here a little shall we?
The museum next door to the theater was incredible – displaying ornate statues carved in marble which had been dug up from the ruins and recovered and restored. Truly amazing.
Back at the boat, I paid the port authority 2 euros and 30 cents for the mooring fee. Really? E2.30? The ice cream I bought next door cost the same. Compare that to the BVI where you often pay $US 30 for a mooring ball overnight.
In all, we're all finding that this is a cheap holiday. So far with all the food, booze, taxi rides, ouzo shots and dinners out, we have spent a total of 1000 euros total for 5 of us.   Oh and that includes the mooring fees as well.
I've always wanted to shoot this photo. Just my weird sense of humor. So here it is shot in the Port of Epidavros.
The motor sail over to Vathi for our next evening was about 6 miles on calm seas. The steep cliffs to the west display was another impressive array of wind turbines. A good time to think about how wind has shaped our past from ancient trading and discovery to awesome sailing vacations and generation of electricity to power our modern day "necessities". Wind is cool!
The tiny Port of Vathi is a must visit. It is a small port with space for 8 or so charter boats. You back up to the quay where there are 4 great little restaurants. The staff from the restaurant come out to help grab your docklines – so awesome (which makes you feel obliged to buy a round of ouzo shots from them).
Click the arrows for a slide show.
The bartender Micheaonos (something like that – everything ends in nos in Greek – no offense meant, rather our own ignorance to be able to pronounce things that don't come off our English speaking tongue so well) suggested that we take a visit to a volcano not far away. Wow! What a highlight and a must do. The track is a bit steep and a bit rocky and a good trek after almost a week on the boat. The view from the top is impressive –  we could see all the way to Athens. There is a crack in the rock wall that we were able to climb into.  The crack turned out to be the vent of the volcano. Slightly scary for the weak at heart, but kinda cool to say you've been inside a volcano – albeit it hasn't exploded since the 2nd century BC.
Fun Video of some BS we made up along the trail.
For dinner — my favorite, Anchovies and a Greek salad (again) – oh man, yum!
This was Day 6. I mean come on – what a day! These are the kinds of things you do on a trip like this. You just have fun – you sail a bit, you visit a piece of history, you meet cool people, and see cool things you did not expect. Ever thought about being inside a volcano vent?
See day 5 of our sailing trip around the Athens area, Greece with the Moorings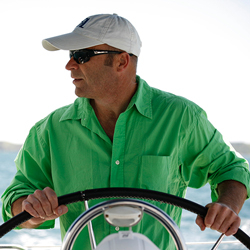 Latest posts by Grant Headifen
(see all)