2022 September – NauticEd Greece Flotilla Sailing Vacation
Come Join NauticEd on a Greece Flotilla Sailing Vacation – Sept 2022
UPDATE: THIS FLOTILLA IS NOW SOLD OUT. JOIN US IN 2023. The Ionian Islands on the western side of Greece are some of the most beautiful islands in Greece.  Sailing the southern Ionian from a Lefkas base makes for an exciting, serene, and varied Greek island adventure.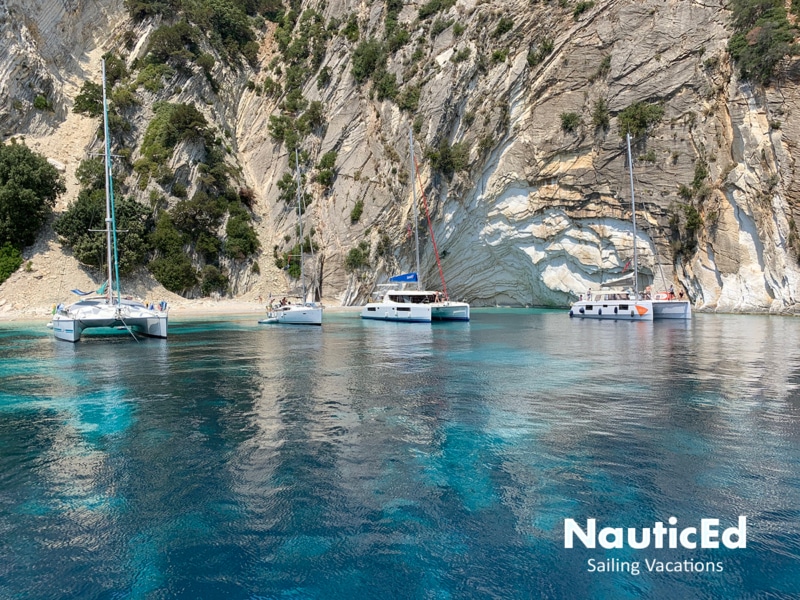 Questions?  Want to join?
See below and then contact Lauren@nauticed.org (512) 696-1070.
Greece Flotilla Overview
Dates: Saturday, September 17 to Saturday, September 24, 2022.
Where & Why
The Ionian Islands, Greece.  We will start and end the adventure from our home port of Lefkas, Greece.
Pre-covid, the NauticEd team spent two weeks sailing the Ionian and we're thrilled to be hosting the NauticEd Friends and Family Flotilla so that you too can see what the well-deserved hype is all about! 
Some of the many reasons to charter in the Ionians include:  Short sails, perfect weather, hidden bays surrounded by cypress and olives trees, sleepy fishing villages dotted with traditional Greek tavernas, fun on land activities, and an abundance of Greek history. 
Who
We welcome all, sailors and non-sailors alike.  There are 3 main ways to join:
bareboat charter with you as skipper (friends and family can be crew)
bareboat charter with hired skipper (friends and family can join in on as much sailing as desired)
shared boat – cabin charter  (perfect for solos or couples traveling)
Itinerary
There are lots of gorgeous islands and cultural ports to visit. The exact itinerary is TBD but will likely be similar to the itinerary when we visited in 2019.
We plan to include the following in the 2022 itinerary:
Lefkas:  Authentic Greek charm with beautiful beaches and a lively city center.
Ithaca:  Home of the hero Odysseus with charming fishing villages and postcard-worthy ports
Meganissi: Relaxed island with plenty of fish tavernas and bikes to explore
Kefalonia:  The largest of the Ionian Islands with colorful villages and the chic bustling town of Fiskardo.
What is a family-friendly flotilla?  Who will lead the flotilla?
This is a casual flotilla without a 'theme.' This is NOT an adult-only flotilla, a party yacht week, or a flotilla focusing solely on hiking or wines or yoga.  We're laid back and run our flotillas that way.  We like to do a variety of activities both on the water and on the land.  Of course, you're welcome to explore as you see fit.   There is a no ducks in a row mentality; a flotilla offers you independence with peace of mind as well as fun and camaraderie with other flotilla sailors.
The NauticEd team are experts at charters—we will provide pre-charter advice, set the course and itinerary and include recommendations on things to do and see.  Along with flotilla leader, Mike Soutos, we'll provide options for moorings (marinas, mooring balls, or perhaps you prefer to anchor under the stars) as well as optional activities along the way.  
Local Greek captain and NauticEd affiliate Mike Soutas of Oasis Sailing – Lefkas will lead the flotilla.  Mike is Greek (but speaks perfect English) and has sailed the area for years and years and knows all the best (and hidden) spots. 
Boats & Pricing
Rent the entire boat: You can rent an entire boat (monohull or catamaran) (bareboat or skippered). You pick the boat, fill it yourself with friends and/or family, and join the flotilla. A sailing license is required for bareboat skippering in Greece. If you do not have a sailing license or prefer to sail with a skipper, we will arrange one for you. A hired skipper (€1300) generally will require a cabin. Price will be dependent on boat and amenities. We do charge a flotilla fee of 250€ per cabin. Monohulls start at around €4000 including the flotilla fee. Catamarans start at around €6700 including the flotilla fee.
Rent a cabin: We have one Beneteau 51.1 monohull designated as a "by-the-cabin" meaning you just pay for a cabin space. Cabins are suitable for 2 persons. Price (all inclusive of food kitty, water toys, mooring fees, fuel, professional skipper, and boat rental) is around $3000 (USD) per cabin. Double Covid Vaxation is required for this boat.
Other additional costs may include:
Travel or accommodations before or after the flotilla
Any excursions or activities on-the-water or on land (ex: guided tour, beach umbrella, wine tasting, dinners ashore)
NauticEd Welcome Dinner (optional) (approx. €50 per person (less for kids))
Additional Information:
Qualifications to Bareboat Charter
Licenses:  To bareboat charter a yacht in Greece, you must have an appropriate sailing license.  There are several accepted licenses including the ICC, and the NauticEd SLC.  If you are unsure if you qualify, please ask us and we can assist.  If you have experience but do not have a license, visit www.nauticed.org/SLC or contact NauticEd today.  Without a doubt, you should be competent at Mediterranean Mooring and have significant sailing experience in your resume.
'Home" Base & Travel Information
We will be embarking and disembarking from Lefkas. 
You can fly direct to Preveza airport which is about 20 minutes taxi ride away from the base. There are flights direct from Athens via AegeanAir or Sky Express. You can also fly into Athens and take a bus ride through the greek countryside. The highway is wide and modern. 
Many people choose to explore other parts of Greece before or after the sailing vacation.
For more information or to reserve a boat in the flotilla, please contact Lauren@nauticed.org (512) 696-1070.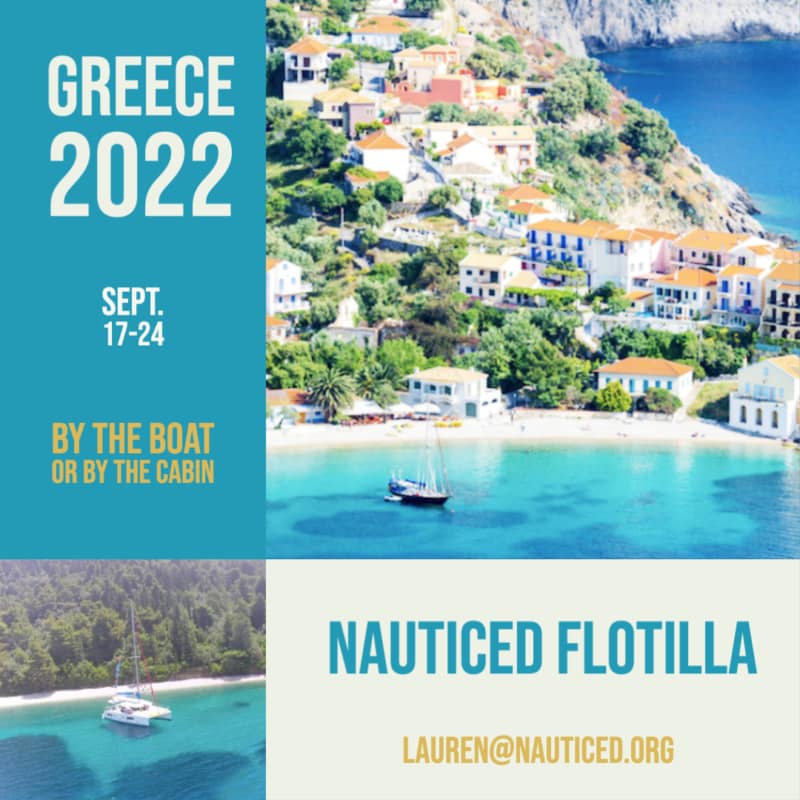 Want to go on your own Greece Sailing Vacation?  NauticEd are Yacht Charter Agents
We don't charge a fee – actually we will probably save you money because of our extended search capabilities.
Click Here to make an inquiry about chartering in Greece
###
Consider our June 2022 Croatia Flotilla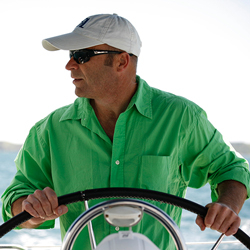 Latest posts by Grant Headifen
(see all)