How to Sail with a Jockey Pole
Last weekend we were out racing and one of the legs was very similar to a race we'd done a few weeks back with the same wind condition. On that previous race we'd lost huge ground over the other boats solely because the sail configuration and hull design etc on this boat doesn't allow the boat to do too well on a beam/broad reach. So this time we elected to keep up the spinnaker and try to use it much like a gennaker. This meant leading the spinaker pole all the way forward so that it was almost touching the forestay.
A couple of situations arise when you lead the pole this far forward. One, the guy (spinnaker sheet on the windward side) tends to tension up around the stantions and secondly there is very little ability to pull the pole back when needed because the guy is almost aligned with the spinaker pole. Applying too much force to bring the pole back could easily bend and snap the spinnaker pole.
The solution is a jockey pole. The Jockey Pole pushes out the guy keeping it away from the stantions and it also provides a more outward angle to pull on when you want to bring the pole back.
Here's the photo with Rangitoto Island in the background.Any guesses on which country we were racing in?
The next mark was more of a run and so we were able to winch the pole back with out a problem. Had the jockey Pole not been in place it would have been more difficult. You can see from the schematic that the force to bring the pole back is more outboard than it would have been if the jockey pole was not in place. The more outward force provides more turning moment to the pole allowing it to come back.
Once the run was established with the pole in its more aft position, we removed the Jockey Pole. All in all it was a good day sailing with the Jockey Pole and although we didn't win the race, keeping the spinnaker up gave us a big advantage on that leg.
NauticEd sailing courses are jam packed with tips like this. Learn to sail online and see which sailing course fits your personal sailing objectives by taking the NauticEd recommended courses questionnaire. It's fun and takes about 30 seconds.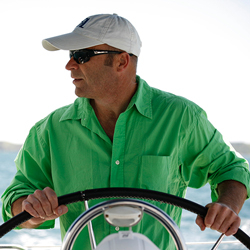 Latest posts by Grant Headifen
(see all)