Maneuvering a Catamaran Advice
---
How to dock a Catamaran
Here is an email we received from a student asking about how to dock a Catamaran.
>>>>>>
Good day Grant and team,
Your Catamaran Sailing Confidence course is great thank you and achieved for me the confidence you designed it to do. I am bare boat chartering a catamaran in the Whitsunday Islands off the coast of Queensland, Australia in a few weeks and, while I have reasonable keel boat experience, your course gave me the complete picture of catamaran sailing. Thank you.
I have one question which I would appreciate you answering: How do you dock a catamaran side on to a dock, for example, at the very end of a marina arm or alongside a long jetty?
Section 2.1 of your course explains manoeuvring under power (spin; slow forwards turn; vector) and sections 2.5.1 and 2.5.2 discuss getting out and coming back to the dock. However, other than the repetition of the vectoring animation, I don't see an explicit description of how to dock the catamaran side-on to a dock.
Would you recommend vectoring and if so, where would you position the boat relative to the jetty (i.e. how far away and where relative to the two yachts you could be docking between)?
Alternatively, would you recommend approaching the dock forwards at a shallow angle, turn the wheel hard away from the berth when the bow nearest the dock is within (half?) a boat length of the dock and then, and when the bow nearly touches the dock vector the boat to the dock (or spin the stern of the hull closest to the dock towards the dock)?
I would value hearing your views which I will be putting into practice in the Hamilton Island Marina at the end of August. Thanks very much.
Kind regards,
Kevin
>>>>>>>>>
Kevin here is our answer. Dock the Catamaran exactly as you would a monohull. We've included an animation below of how we do it on a tight space. The advantage to docking a catamaran is the extreme awesome ability to maneuver. You don't have to worry about propwalk either. Just steer the boat in at an angle.  As the bow gets close, round the boat out to glide parallel with the dock and engage reverse to stop the boat. As below you can use springing with a dock line forward to drive the aft in. But you don't need to lend on the spring as much because with the bow held by the spring the aft will naturally spin in with engines engaged opposite.
As with all our recommendations on maneuvering, try this out in deep water next to a floating buoy.
Thanks so much for the compliment on the catamaran sailing course – we get a lot and it is one of our most popular courses. :)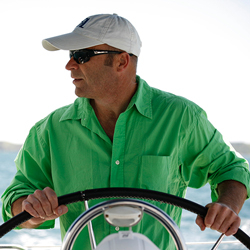 Latest posts by Grant Headifen
(see all)