How to use a Breton (Portland) Plotter
---
Using a Breton Plotter aka Portland Plotter (aka rotating protractor) to determine a course
They say a picture is worth a thousand words – we say an animation is worth infinity! Check this out.
Here is an animation of how to use the Breton Plotter to determine a course. We use the Long Island Sound chart to determine a course from a buoy we are passing close to – to the entrance buoy to New London Harbor. We want to know the true and magnetic course. Note this is not equivalent to your heading. Heading will take into account the leeway and current. We cover how to determine your heading using the known course in our Coastal Navigation course.
Have fun with this animation and please share with your friends.
We have found that this animation is best experienced with Google Chrome.
Learn how to navigate like the pros with the NauticEd Coastal Navigation Course.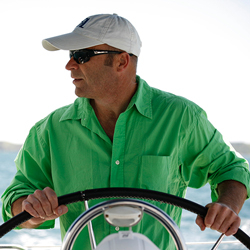 Latest posts by Grant Headifen
(see all)