NauticEd Student sailing experience in the BVI's
On 2/9/10 4:09 AM, "MICHAEL" wrote:
Hello Grant,
Just returned from our bareboat charter in BVI .We were there for 9 days.It was great,though the wind was light 5-10 knots for the last few days but was 30knots for the first couple ,a little much for us beginers we we did ok.I was glad to have used your site to familiarize myself with some things. There is nothing like hands on .
I will be looking through the site more ofeten as i will like to learn more bareboating secrets about provisioning the boat etc.I hope to do a larger cat next time.we did a 38 footer that was 11 years old ,it had some issues that we know to look for next time like the fridge seal did not seal at all on the hinge side. The dingy davit mounts were soft and the side lifting the stern of the dingy caved in. The dingy motor ran rough and would not rev high enough to plane off,which if i was not on vacation was a easy jetting fix im sure.We will look for a yacht with ice maker ac and generator next time and one without so many toe stubbers to get from room to room. Looks like a 44 footer or larger. Will this be a harder boat to handle?
Michael,
You'll really enjoy a 44 footer – I'm assuming you're thinking of the Lagoon 4400. Very nice boat! We've chartered a 46 footer before and once you get to a 38 ft catamaran the step up is not that much difference. Just be aware of the momentum that's all. But be prepared for all the extra room and living space on the back deck.
I'm noting your comments about chartering an older boat. If you're going on a vacation it's just better to spend the little extra money and get a nice newer boat.
Have you played the Cat NED sailing game?
You might consider joining us in Tonga at out Post Graduate Sailing Flotilla in August 2010.
Cheers
Grant
NauticEd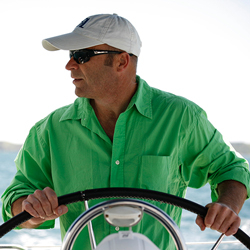 Latest posts by Grant Headifen
(see all)