PRESS RELEASE: New Electronic Navigation Course Released
Fresh off the ePress – Electronic Navigation Course
If you're considering chartering a bareboat, do local/long-distance cruising or racing then this is the course for you.
ABOUT THE COURSE:
The Course is Laid out in Eight Modules
Module 1 emphasizes that electronic navigation is an aid to the good sailor's senses but can not replace them.
Module 2 introduces and brings back some of the basics that you should already be familiar with in regards to navigation.
Module 3 is an in-depth discussion of wind. In particular it delves into the calculation of true wind and shows how important true wind direction is when navigating.
Module 4 is all about boat speed. How to navigate using optimum speeds and how to find your best course to achieve your destination in the fastest time. We define velocity made good on course and velocity made good upwind.
Module 5 prepares you for the shotgun of jargon that will be delivered in module 7.
Module 6 introduces technologies such as AIS, RADAR and Weather GRIBS and electronic chart overlays.
Module 7 is a step by step walk through of a real GPS chart plotter unit. You'll gain the confidence, working knowledge and user experience, through various animations, to fully work a chart plotter device and apply this to your sailing navigation.
Module 8 will round everything out so that you're confident in your ability to navigate using electronic instruments.
This course is one of our best and is a must take for anyone. It's loaded with interactive animations of using an actual B&G GPS device. No matter if you are a beginner or a master, we guarantee you'll learn some really cool hi-tech stuff and some essential stuff. AND we'll make you look really smart in front of your boating friends.
Here's how to get this $29 course for 

FREE
This course is a great value at just $29 and now it is on an introductory offer for just $25 … but when you complete your investment in the Bareboat Charter Master bundle of courses you get this interactive Electronic Navigation course for FREE. This means the Bareboat Charter Master bundle has now over $50 in savings. If you've already invested in some of the courses, that's ok you get $ credit for those courses already in your curriculum. Same goes for the Captain's bundle. When you login and click on register for the Bareboat Charter Master of Captain Bundle you'll see the credit issued to you if you've already invested in some courses previously – Login Now!
More About This Course
This last week I was interviewed by Smithsonian Magazine on the topic of "Should sailors rely on gps units". My response was two fold:
It's inevitable that people will use Electronic Navigation and it provides some amazing tools to make our oceans safer and more fun.  And, so we as educators, must take the responsibility to properly teach what students will seek to use, regardless.
Educators have to ensure that students still understand the fundamentals and so a course that demands both is paramount.
About 2 months ago we embarked to write this course and we received tremendous support from a proponent B&G who are one of the premier manufacturers of chartplotters. B&G provided a lot of content and images for the course. They lent us one of their Zeus Chart Plotters from which we created dozens of animations to really lead someone into the depths of a chart plotter set up and how to gain the best practical and applicable data from it.
We felt that such a course was paramount to modern sailing. So much so that we logically had to make this information part of the Bareboat Charter Master list of courses. Almost every charter boat in the world has a GPS unit and a very large percentage of private boats have some sophisticated electronics installed. Why then, we asked, was every other sailing education body in the world ignoring this topic? We don't know the answer to that. Perhaps that they're old and stuck in their ways … nah couldn't be!
You're really going to enjoy the course  – it's the only one of its kind in the world and I guarantee you'll learn some really big gems out of the course whether you're a racer or cruiser (or crew).

Register for the Bareboat Charter Bundle of Courses with a $50 savings

Register for the Electronic Navigation Course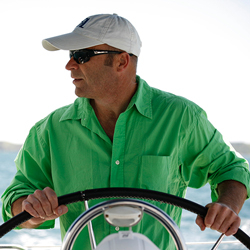 Latest posts by Grant Headifen
(see all)