Yacht Club Intelligence: NauticEd Sailing School Press Release
Imagine if you could just hang out at the yacht club every day – how much you'd learn from everyone. That'd be cool. Well … now you can!
It's a very cool piece of technology we just installed on the NauticEd site. It's called DisQus and the concept is based on crowd intelligence. It shows how the power of the Internet can beat out a boring ol' book. Thousands of websites have already introduced it and it's ideally suited for you and NauticEd.
On every page through out all of the NauticEd sailing courses you can now discuss (Disqus) the topic at hand and read what others are saying about the topic.  For example, lets say you know a few things about how to dock a boat using spring lines but are a bit confused about backing into a slip. Right in the course you can add your springing off knowledge and ask all other students their opinions on reversing. When any one comments and adds to those comments you'll be sent an email (if you want). You can add pictures and diagrams if you want. Our part is to use the crowd intelligence to improve our sailing course material for everyone.
You can even invite facebook friends to join in on the conversation and help out.
How cool is this? Now you're tapping into the knowledge of thousands of other NauticEd students – wow that's a big yacht club with a lot of combined experience. You're not on your own any more. It's not just us and our authors pontificating about sailing – it's a real open discussion and conversation in real time.
But like any party or social – you can't just stuff your mouth with cake and listen – you've got to add your two cents. And you can't be rude because people are watching and the bouncers will bounce you out. So come on join in – ask questions and post your knowledge.
To kick off, I've gone in and asked a few questions and posted a few comments in each course topic. I invite you to join me and start new conversations. Like who gives way – the paddle board or the sailboat? Do you know the answer?
Login and give us your opinion to the Rules of the Nautical Road topic embedded in our Rules course.
And to celebrate the launch of crowd intelligence via DisQus, we'll award a free sailing course of choice to a student randomly picked from everyone who participates in the conversations over the next week (through May 25th) . Hint, the more you talk the more we'll notice.
We'll see you on NauticEd.
Grant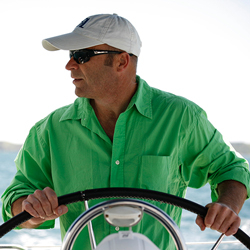 Latest posts by Grant Headifen
(see all)