Now You Can GPS Track Your Sailing Experience
And Share It With Your Friends
– Introducing the SailTies App –
Whenever you are out on the water sailing, the SailTies app will create a GPS real-time track of your every movement and display it on a map. You can see every tack, gybe, knock, and lift. The guys at SailTies did such an amazing job of creating a user-friendly app for GPS tracking that we decided to hook up with them and allow their data to directly feed right into the student NauticEd logbook. The logbook stores the pertinent data so that an experience profile can be built of the user as well as creating a link back to the track so the user can forever see where they went that day.
BUT, not only did SailTies do a bang-up job on the tracking, they also created a social sharing means to share the Track AS WELL AS geo-tag any photos taken along the way to the exact position on the track.
PLUS – how cool is it to view the history track of a sailing vacation with the photos tagged to special fun times.
PLUS PLUS – When learning or teaching to sail, viewing the past track can be used to go over the learnings like tacking angles and dealing with lifts and knocks.
See the press release of the deal NauticEd struck with SailTies
Why Should I Record My Tracks?
Yacht charter companies want to make sure you bring their boat back in one piece with no dings or groundings.
To this end, they want to see a resume that clearly displays:
Your knowledge and skills. What courses have you taken?
Total experience sailing. Were you the Master or Crew on the boat? What size/kind of boats? Monohull or Catamaran? When did your experience take place? Have you done weeklong charters previously?
Additionally, they would like to be confident as to the authenticity of the experience you are providing
NOTE 1: never make knowingly false or exaggerated statements of your experience. If there was ever an accident and you ended up being held accountable as such, you could be held criminally liable for renting a yacht under false pretenses – you'd need a very good and very very expensive lawyer to get you off that charge
Note2: Contrary to opinions, a sailing certification is NOT sufficient to charter a yacht. The problem has been that certain organizations hand these out willy-nilly and thus have destroyed the reputations of sailing certifications. A resume is what you need – see this article on how a sailing certification does not work as a stand-alone document.
Nowadays it is simple to create an acceptable and authentic sailing resume that is approved by yacht charter companies. The best way to do it is with the NauticEd sailing resume-building tool. We have a slight bias on this because we invented it and constantly communicate with yacht charter companies as to what is acceptable and what suits their and their insurance company's needs.
The NauticEd platform makes this sailing resume building simple and it is forever available 24/7 at the click of a button. Through a unique logbook code (similar to a passcode) the user is able to share their online resume with whoever they choose – namely the yacht charter company or the booking agent.
First, part of the authenticity of the resume is a link to NauticEd that allows anyone with the student's logbook code to view and verify the resume in real-time (this prevents people photoshoping and faking that they have a certification).
A second and major feature of the on-water experience portion of the resume is the authentication of time on the water. This can be done in two manners:
CrewMates: This is where a crewmate on the boat is sent a verification email through the NauticEd system from the student. The CrewMate simply clicks yes in the email and the entry is automatically authenticated,
GPS App: A GPS track authentication of the time on the water. It is realized that not all time can be or has been GPS tracked BUT the NauticEd resume provides a percentage value of how much time has been authenticated. The SailTies tracking app feeds its data directly, seamlessly, and automatically to the NauticEd logbook.  Note that you will need to edit the NauticEd logbook entry to make note of your Master of Crew position on the boat and a few other details. However, the track is there for you to forever view.
All-in-all, having technology tools build your sailing resume is a big advantage for allowing yacht charter companies to make an accurate determination of your competence in their decision to charter you one of their yachts.
How Do I Get SailTies and the NauticEd Resume?
Both the SailTies App (available at sailties.net, Apple Apple Store, and Google Play) and NauticEd's resume-building platform (available at nauticed.org) are free. Users can pay for optional extras such as eLearning theory courses and on-the-water training by NauticEd or premium upgrades via SailTies.
Sign up for Free with NauticEd and start developing your Sailing Logbook and Resume.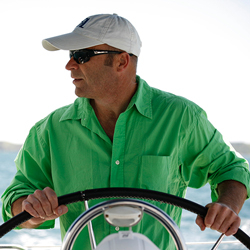 Latest posts by Grant Headifen
(see all)