Practical Training Course Matrix
With responsible sailing knowledge there is, of course, theory and practical skills to learn and demonstrate.
When you get with your practical instructor, it is highly recommended to complete the appropriate theory courses prior to the practical training. Otherwise, you'll spend too much time on the basics preventing the instructor from doing their real work which is to get your hands on the helm and the lines. You don't want the instructor spending valuable on-the-water time explaining who gives way or how the sails create forces. If this is the case, the instructor may not be able to spend the proper amount of time on the practical skills and thus be forced to fail your desired practical competence ability.
Here is the matrix of courses you should complete vs the Practical Competence Ability you are seeking from your instructor. We hope you take this list seriously. It has been designed by professionals to ensure your competence and confidence on the water. Please do your best to complete them PRIOR to your practical training.
MATCH YOUR PRACTICAL COMPETENCE ABILITY WITH THE THEORY COURSES AND RANKS BELOW
Captain – All of:

Skipper
Maneuvering Under Power
Coastal Navigation
Electronic Navigation
Bareboat Charter
Anchoring
Storm Tactics
Weather
SailTrim
Safety at Sea
Also for Captain requirement, you are required to have been on an extended distance sailing trip of at least 200 miles with one through-the-night sailing whereby you participated in all aspects of navigation, helm, sail trim, life aboard tasks, and watch.
Catamaran Endorsement
SLC (Mediterranean and beyond approved Sailing License)
ICC Preparation Or ICC Assessment – either of:
RYA Day Skipper Certification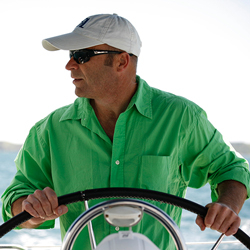 Latest posts by Grant Headifen
(see all)