How to Gain a Boating and Sailing License in the USA
How can an American gain an International Sailing and Boating License?
NauticEd issues the internationally accepted sailing license, the SLC. Learn about the SLC here below.
At NauticEd, we help people reach their sailing goals and potential. Not surprisingly, most people would like to go bareboat charting on a sailing vacation. The perceived roadblock for Americans is presenting a recognized government boating license from their home country.  The United States is unique in the world because the federal government mandated that the States themselves regulate and issue recreational boating licenses.
So here is the official way that boating licensing is controlled in the USA:
"The National Association of State Boating Law Administrators (NASBLA) in partnership with individual states, U.S. Territories, and the District of Columbia (DC) is recognized by the United States Coast Guard as THE OFFICIAL national entity to approve power and motorized sail boating courses resulting in the issuance of boating education cards or boat operator licenses of individual states, districts, and territories of the United States of America."
The statement above is seen in the NASBLA International Proclamation here.
In other words, in order to legally go boating in the USA, you must adhere to your individual State's law. Each state has authorized NASBLA as the SOLE organization to issue a boating license. Thus, if you hold a NASBLA state boating license then you, by default, hold a USA boating license.
Internationally, in general, if you hold a boating license in your home country then it is respected and recognized for short-term boating in another country. But a legal national boating license still does not relinquish the American sailor from establishing their competence to sail a boat. Yacht charter companies still require a legal boating license accompanying an appropriate sailing resume. Since NauticEd is the master at creating and training bareboat sailing competence, we sought out a master partner who issues the NASBLA state boating license. Combining the legal USA boating license with proof of competence meets all the requirements for international bareboat chartering on a sailing vacation.
Ok, so the legal license aspect is taken care of with NASBLA. What about proof of competence?
NauticEd issues Certificates of Competence by following the American National Standard for on-water sailing assessment. This National Standard program was funded by the United States Coast Guard and approved by ANSI (American National Standards Institute) in May 2017. A student seeking international recognition for competence needs to hold a Certificate of Competence whereupon the American National Standards badge is embossed. This is achieved by having an approved American National Standards Instructor/Assessor assess and pass the student under the guidelines of the standard. The standard does not only require practical demonstration of competence but it also requires an understanding of the theory. So there can not be just practical training on the water. There must be an accompanying theory-based course that teaches the basics of the Standards conforming to practical standards.
This 2017 approach is vastly different from previous practices in the USA. Previously, sailing certificates were handed out by associations more like a "Certificate of Attendance" rather than a true Certificate of Competence. An instructor would run a student through a weekend of instruction and that was it. Now, an Instructor/Assessor is required to do an assessment of the student's skills under the new American National Standard using a rubric method of assessment. The rubric method flushes out quickly where weakness in demonstrating the skill is exhibited. If weakness is demonstrated in a skill, then either more training is required or the student is assigned a crew level competence award instead of skipper competence.
NauticEd moved quickly to embrace the American National Standards as soon as they were publically released. Built into the NauticEd system now are approved American National Standards instructors and schools as well as seamless integration into the software and theory courses to match. As soon as a student is deemed practically competent under the American National Standard, the badge is embossed onto their real-time cloud-based PDF downloadable Certificate of Competence.
Summary of the Above
Legal License: NASBLA State Boating License.
Day Sailing Competence – Theory: Online NauticEd Skipper and Skipper Small Keelboat Courses. The content of which conforms to the American National Standard.
Day Sailing Competence – Practical: American National Standards Training and Assessment by a NauticEd National Standards Approved Skipper Rank Instructor/Assessor
Bareboat Sailing Competence – Theory: Online Bareboat Charter Master Courses. The content of which conforms to the American National Standard and the requirements of yacht charter companies worldwide.
Bareboat Sailing Competence – Practical: American National Standards Training and Assessment PLUS Bareboat Competence Assessment by a NauticEd National Standards Approved Bareboat Charter Master Rank Instructor/Assessor
Who Issues the NASBLA License?
BoatUS is a free provider for the NASBLA boating license.
Here is how to gain a FREE NASBLA approved boating license that works in every State and Territory in the USA.
Go to https://www.boatus.org/free/
Select the State or territory
Complete the requirements to pass the course
You will then be issued a State Boater Licence which meets the USA federal and the individual State's legal requirements for boating.
Once you have completed the NASBLA course, sign-in to NauticEd and under the International License macro button, upload your Boat US state boater license card to NauticEd
The license from one state or territory is valid in all states and territories, and thus internationally under the International Proclamation above.
Putting it all Together
NauticEd coined this the Sailing License and Credentials (SLCTM). The SLC, as above, meets the legal and sailing resume requirements. The SLC is available worldwide to anyone who meets the following:
hold a valid national government boating endorsed license (NASBLA, for Americans)
sufficiently document on-the-water sailing experience, on a properly sized vessel logged in your NauticEd logbook
be assessed to the ICC/SLC standard (Bareboat Charter Master Standard) for on-the-water sailing competence by a NauticEd approved SLC Assessor*
complete and pass the NauticEd Bareboat Charter Master bundle of courses (at least 40 hours of theory study including Coastal and Electronic Navigation)
complete a 100 question test on all aspects of skippering, sailing, bareboat chartering, and navigation (The NauticEd SLC Exam, available online)
*these Assessors have been vetted by NauticEd to conform to the American National Standards standards for sailing training and assessment.
Specific Instructions:
Signin to NauticEd
Go to the International Sailing License marco button
Upload your Boat US state boater license card to NauticEd
Gain the NauticEd Bareboat Charter Master Rank
Complete the NauticEd SLC exam
Pass the on-the-water assessment for bareboat charter by a NauticEd SLC qualified assessor
NauticEd will then issue you with a digital SLC card with a unique number.
The number is entered on this page www.nauticed.org/SLC which shows to anyone inquiring about your Sailing License and Credentials.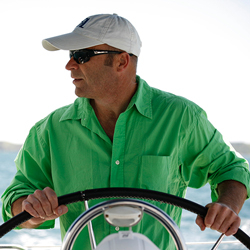 Latest posts by Grant Headifen
(see all)