Sailing in the British Virgin Islands for 10 days – day 1
You can return over and over to the BVI for years on end and still discover new things each time.
Here are some sample itineraries you can use.  This is an interactive Google MyMap. Click the top left box in the header to change to different itineraries and see the order of locations.
This is the start to a 10-day blog series sailing on a Lagoon 450 with the yacht charter company BVI Yacht Charters based in Road Town, British Virgin Islands. We used approximately the 10-day itinerary in the above google maps animation.
The Indians, arh the Indians – my favorite. If you miss the Indians you have missed the BVI. It is an integral part of any trip here. It is a staple of the snorkeling diet – an appetizer of what is to come for the week. We just finished an hour with the head pointed down in colorful wonderment. Wow.
The Indians are generally the first stop on a BVI roundabout. They are 5 miles Southwest of Road Town. So your first sail is easy. Pop the main and the jib and an hour and a bit later you're there.
While I'm writing this we're parked up in The Bight in Norman Island.
The day started as an awakening blur of yesterday's travel. Not bad – 12 hours door to door from Austin, Tx to Miami to Saint Thomas,  USVI. Then a haul ass to the ferry to catch the 3:30 ferry from Charlotte Amalie, USVI to Road Town, Tortolla. The last ferry was at 4:30 which coincided with catching BVI Customs closing at 6:00. Whew –  basically seamless travel just a lot depends on things being on time which are out of your control like airlines.
At the end of it all, you sit back with a drink and say – Hey we're on Island time, what does it matter? Stress has been banned from the Virgin Islands so you have leave your corporate training at home.
BVI Yacht Charters are located close to downtown Road Town – a really short taxi ride from the ferry terminal. Very convenient. And even more convenient, close to two Grocery stores RiteWay and OneMart. Most of the stuff you can order online through their websites and have delivered directly to your boat before you arrive. For the remaining items,  you can take a short stroll to the store with a cold beer in hand.
Tony from BVIYC gave us our boat check out briefing this morning and after signing my life away, as usual, we were ready to head out. We were exempted from the chart briefing because … well… I did write the book on it. I had to laugh with Kirstie in the office when she said "I know you wrote the book on it but have you been here before". She was right to ask – any area you go sailing, you need a familiarity with the area for two reasons: (1) to make sure you have a good time and take advantage of all there is to offer, and more importantly,  (2) to make sure you know where all the dangerous stuff is. The NauticEd BVI Chart Briefing book and associated test is a comprehensive guide to sailing in the BVI. Those that have taken the test and passed it are able to skip the chart briefing and speed up the check-in process. In addition, it means you have all that information on hand.
I must say that the BVI check out crew were so efficient and awesome. The boat was immaculate and ready to go. They even lent us an audio jack cord for plugging in from the stereo to our iPhones (haa haa – everyone on our boat figured that each other would bring that cable – not one between all of us – don't ever forget to bring a 3.5 mm audio jack to play your tunes.)
So, after a crew safety briefing, we released the dock lines and headed out. Yay. A short sail to Norman Island and my fav. the Indians.
For now, we are listening to a little Lyle Lovette in Pirates Bight, Norman Island. I hear some laughter on the front deck – I'm heading that way.
On shore in the Pirates Bight are two restaurants. Both are very (very) nice. Take a recently emptied credit card. But the experience and the beach is worth a visit at least.
At Willie T's there is a universal singularity point. The laws of the universe are just different. What you think should apply, doesn't. After drinks on the front deck of our boat, we moved to Willie T's to observe this anomaly. But that is my point – soon observation turns into participation. If you can resist, the two things to try to avoid are: (1) the ski shots.  This consists of a water ski with 4 shot glass holes drilled into the ski. When it comes off the ceiling 4 souls are drawn seemingly by magic to put their lips to a shots glass and the ski tips back on its own volition with the smooth liquid pouring down warm throats; (2) Rafter swinging –  these do not end well. Assuming you've been working out at the gym, the challenge is to swing hand over hand along the steel rafters. The problem is that the rafters are rusty and all four crew members who tried and completed it (including one of our better-looking crew members) ended leaving the boat with less skin than they started with including yours truly. But at least the gym work paid off with a success grade in the swing. Skin was traded for self-esteem.
And, in case you don't know about Willie T's – William T. Thornton was the architect who designed the U.S. White House. His boat was purchased and permanently anchored in Pirates Bight. It is now a floating bar with a dinghy dock. They serve some food but the main focus is the bar. It is not really a family place if you get my points from above.
Nighty Night. See you on Day 2!
NauticEd and its expert team are global brokers for the best sailing vacations. We've been just about everywhere and know the best spots. We can arrange the best boats and the best prices. In particular, if you want to go to the BVI, we are absolute experts.
If you're unsure about your competence, well we are the absolute best in the world to bring you up to a proper and safe level of knowledge, skills, education, and globally accepted certifications.
Contact us about an awesome sailing vacation through this page.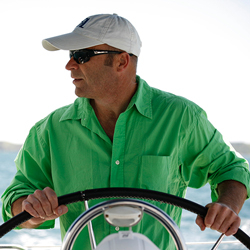 Latest posts by Grant Headifen
(see all)