Sailing in the Ionian Sea, Greece
Ionian Sea Experience
Light winds and sunshine make the Ionian an ideal cruising ground for sailors and families. Located on Greece's west coast, the Ionian Sea boasts turquoise waters, protected moorage, beaches, and long summers – and many tavernas!
Note that unless you're hiring a captain, Sailing in Greece requires licensing – for more information learn about NauticEd's International Sailing License and Credentials (SLC) >
When seeking advice on sailing the Ionian Sea in Greece, we contacted Mike and Etsy Soutos – owners of Oasis Sailing in Lefkas, Greece. Mike and Esty specialize in a custom concierge type experience. They are real locals of the area and extraordinarily experienced sailors.
Below is Mike and Esty's write up of the Ionian Sea. You can see why they love to live there and love-love-love to show others. If interested in an Oasis experience on the Ionian Sea, contact us at vacationrequest@nauticed.org or fill out a request sailing vacation request form here.
---
NauticEd's team includes full-service yacht charter agents ready to assist you when planning a sailing vacation anywhere in the world. We don't charge a fee – actually, we will probably save you money because of our extended search capabilities. To inquire about sailing in Greece or anywhere else in the world, contact us >.
Read Greece Sailing Vacation Guide for more Greece sailing vacation ideas.
---
Nature and marine life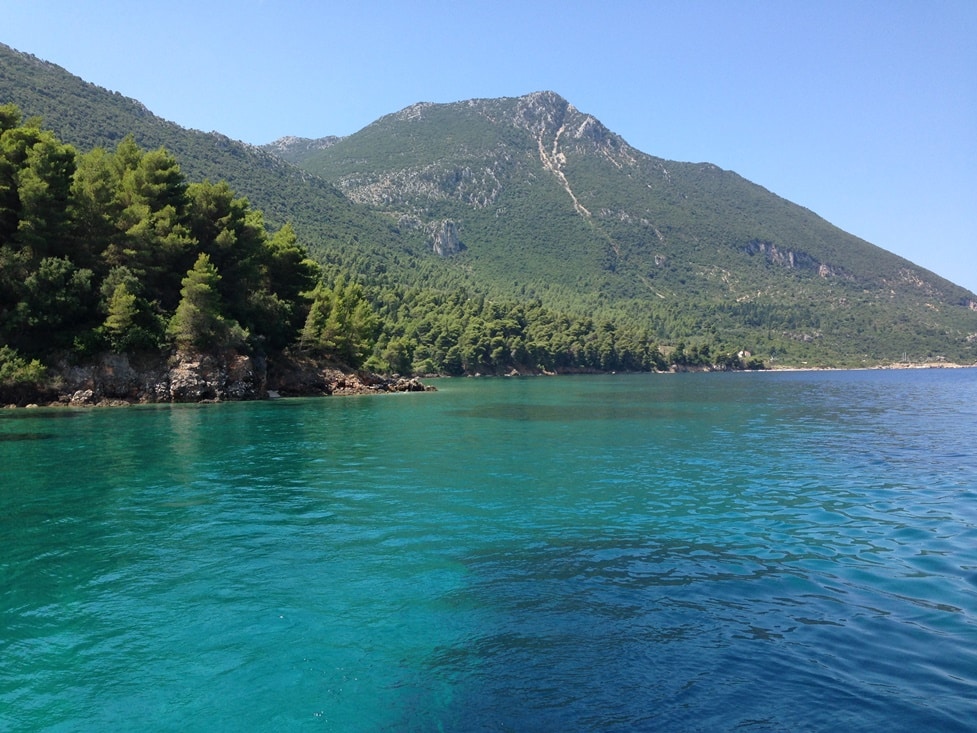 If dry rocky landscapes come to mind when thinking of Greece, then stop! This is the Ionian, one of the greenest areas of Greece, with lush vegetation reaching up to the coastline, with pine trees exchanging whispers with olive groves. Deep blue seas give their way to crystalline turquoise waters once you approach the coastline. Deep waters mean you can approach your yacht very close to the coast, making the Ionian the place you can take an afternoon nap on your deck under the shade of a pine tree!
Nature in Greece is human-friendly. The most dangerous creature is perhaps the sea urchin and the mighty mosquito…There are no sharks, no poisonous snakes, no venomous tarantulas and certainly no three-headed beasts. You can swim in the waters care-free and sleep on the beach at night. Goats are a common sight in the area and at sea you often see dolphins or sea turtles. Zante, in the south Ionian, is the home of the largest population of the Mediterranean seal in the Med. There are plenty of fish in the Ionian and you can try your luck fishing or perhaps tasting them ready and freshly cooked at a local seaside taverna.
History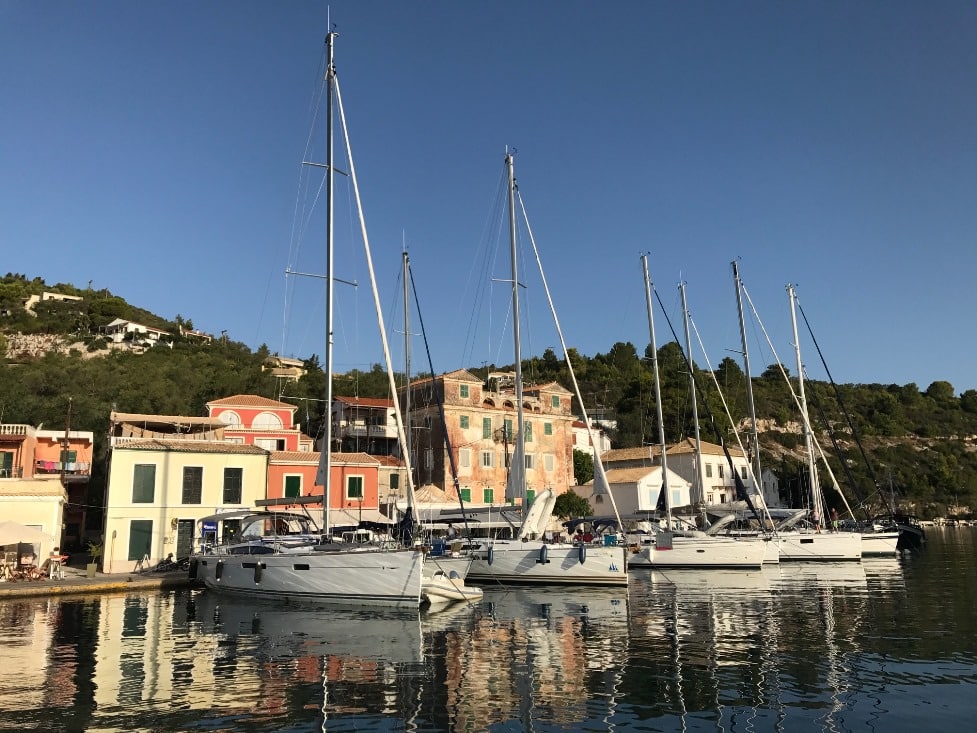 The area is the home of Ulysses, King of Ithaca, the greatest navigator of them all. The story of his return to Ithaca after the Trojan war still inspires the imagination. The Iliad and the Odyssey are the oldest known and most important works of literature in Greek and Western history. These stories lie somewhere between myth and reality and are still subject to research and discussion.
Aktion, the bay next to Lefkada, is where one of the greatest naval battles in history took place back in the Roman era. Anthony and Cleopatra, queen of Egypt on one side with a fleet totaling 500 warships, and the Roman leader Octavian on the other with almost 1,000, for control of the entire vast territory of the Roman Republic. Octavian's victory enabled him to consolidate his power over Rome and its dominions.
In ancient Greek mythology, Acheron river, located near Parga, North of Lefkada, was one of the five rivers of the Greek underworld. In the Homeric poems, the Acheron was described as a river of Hades and home of the Necromanteion, an ancient Greek temple which was believed to be the door to the underworld. An archaeological site discovered in 1958 was identified as the Necromanteion and is open to public visit today.
Sailing & Weather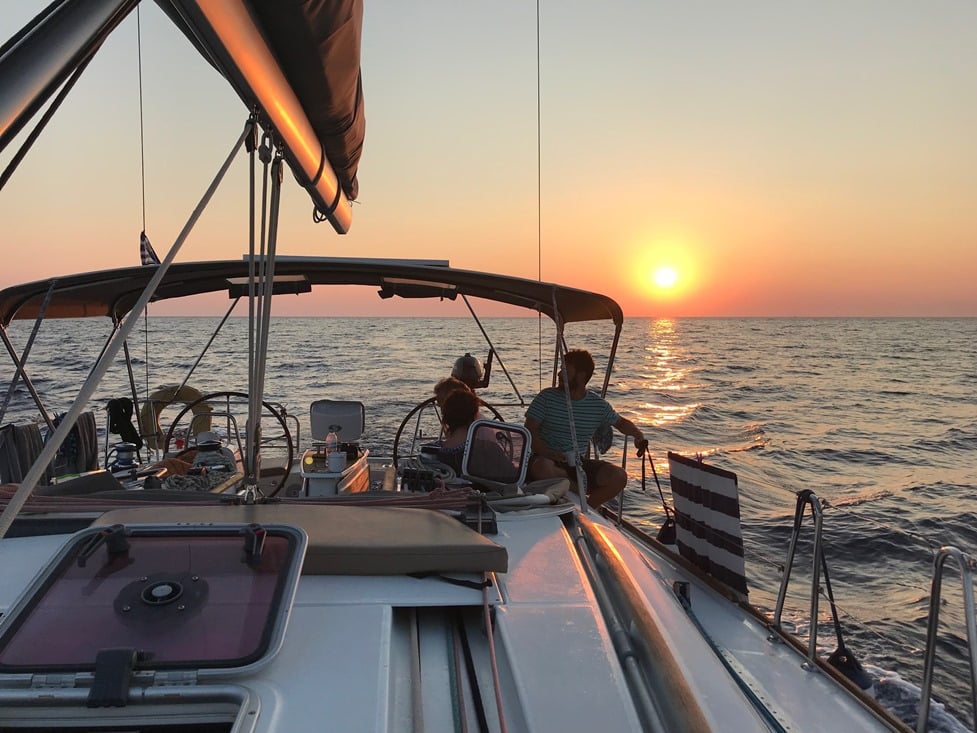 Summer starts in May in Greece, so June is usually nice, warm, and sunny! June has also the longest days of the year, meaning that it gets dark around 9pm, so more time for sailing! Since the high season of August is still a couple of months away, you get to sail far away from the crowds and over-crowded harbors.
The Ionian is generally a safe sea, one which is not affected by the high meltemi winds that are found in Eastern Greece. The prevailing wind is normally Northwest, meaning that if you navigate on the east side of the islands the sea is usually calm with small or no waves. The midday light breeze perfect for sailing, gives way to tranquility once the sun approaches its set making sure you can easily moor or anchor in one of the hundreds of tranquil bays to enjoy your dinner and have a good night's rest. At no time is the land out of sight as the distances are short and there are many destinations close to each other. These superb conditions make the Ionian Sea one of the top sailing destinations in the Med!
Mooring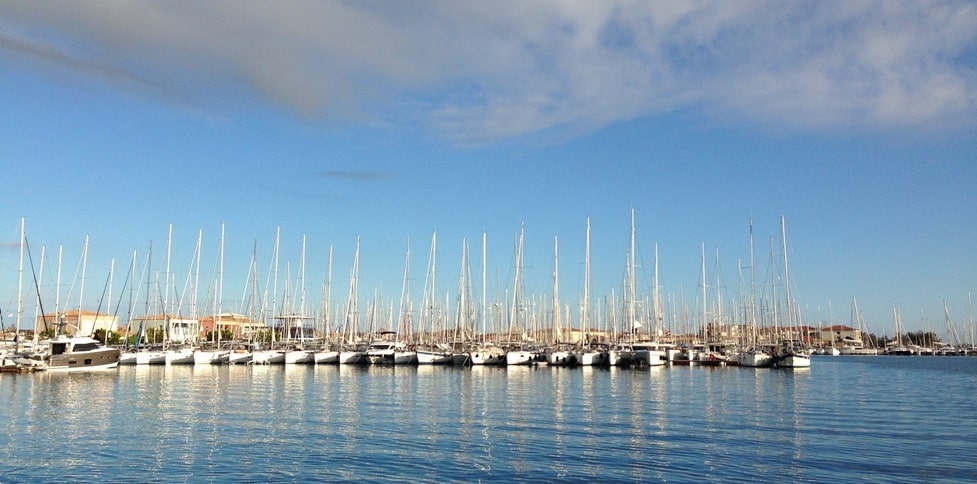 Generally, there are 2 choices. You can either dock in a marina or in a protected bay. Marinas in Greece are still not organized enough to cater for mass tourism, and most do not even cater for water or electricity. Nevertheless, they usually cost very little to use and occasionally are completely free. Sometimes a guy from the local taverna will jump out to help you dock and perhaps offer you water or electricity for the yacht. Having a drink or a meal at his place is a nice way to say thank you. Mooring in marinas is always stern to, usually with an anchor at the bow. Mooring in a bay is with an anchor only, or anchor in the bow and long lines ashore.
Destinations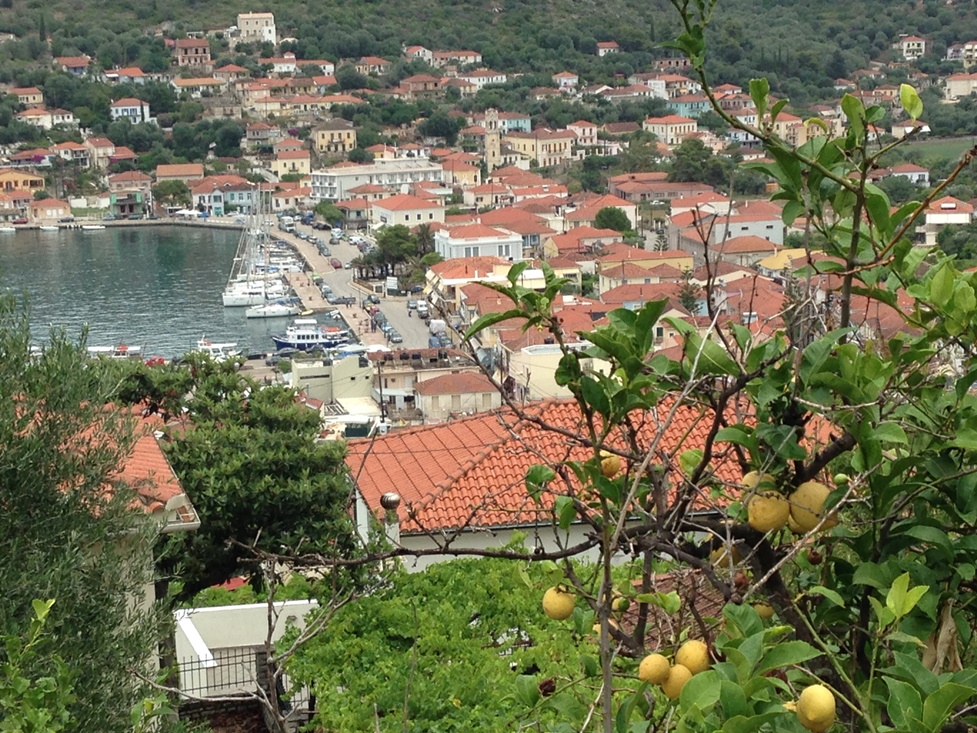 As a family flotilla, we prefer to be protected by the weather and keep our distances short. Therefore, the South Ionian is selected as our cruising area. On our way we usually visit up to 7 different islands, namely:
Lefkas
Meganissi
Kalamos
Kastos
Atokos
Ithaca
Kefalonia
Activities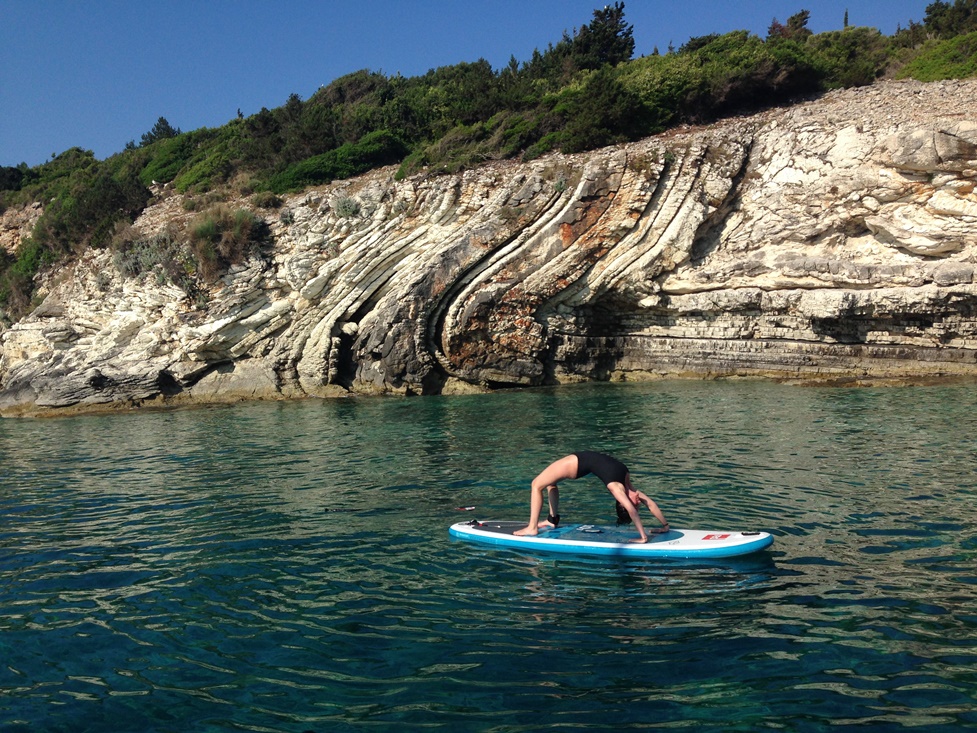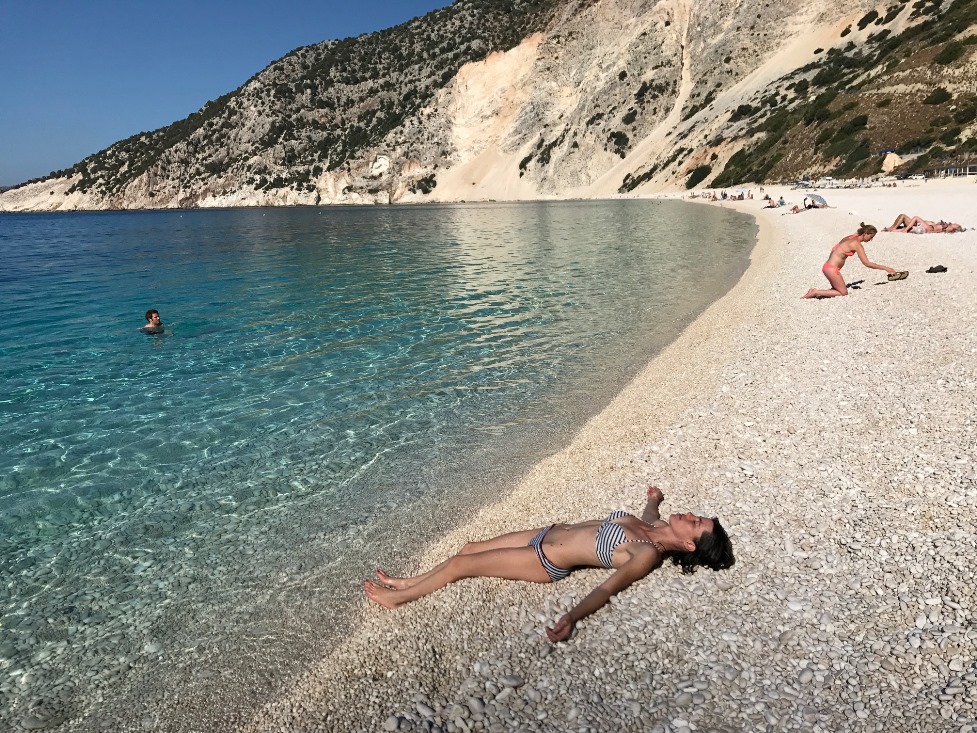 There are plenty of activities to be carried out with swimming, sailing, sunbathing, snorkeling, and fishing being the common ones. Apart from that, we usually plan day 5 as an activity day, where each crew member can choose amongst:
History-hiking
Scuba-diving
Renting a car or scooter to explore the inland
A few words about us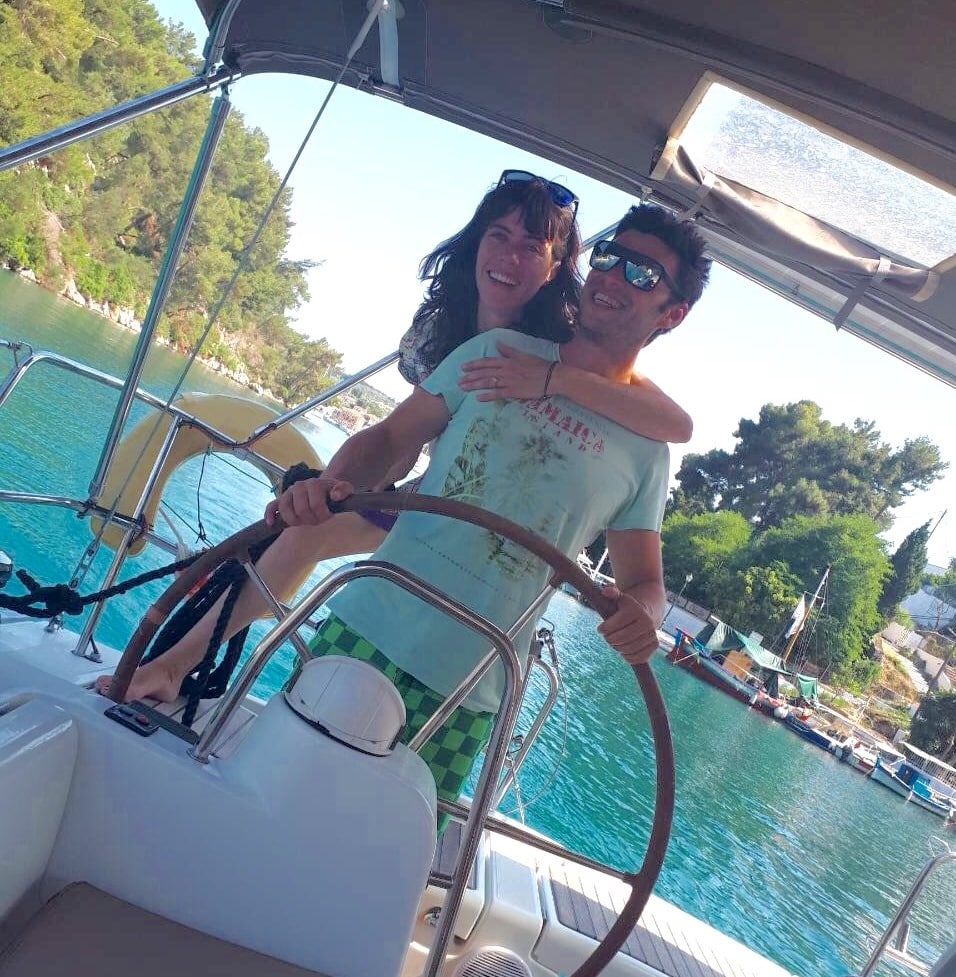 Mike is local. He lived in the UK for 10 years studying and working as a civil engineer. After moving to Greece, he decided to take advantage of the best things the country has to offer and turned his passion into a profession by becoming a professional skipper.
Esty is Spanish and it was love that inspired her to move to Greece. Raised next to the Cantabric sea, the ocean is her love. She is a Spanish teacher and has also worked as a babysitter. She loves kids and cooks delicious Spanish and Greek food!
Both Mike and Esty are completely fluent in English. Together they own, manage, maintain and put their soul into Oasis, a beautiful Beneteau Oceanis monohull and by acting as skipper and hostess, they add a personal touch to the whole experience for charters. They run Oasis Sailing, a company dedicated to designing custom-made sailing holidays around the Ionian Sea according to each person's needs.

*Note: Sailing in the Ionian Sea was originally published on November 23, 2018 and was updated to include more current information.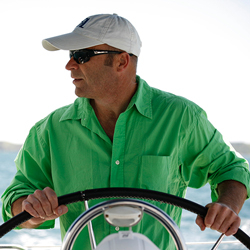 Latest posts by Grant Headifen
(see all)