Sailing License for the Mediterranean
PRESS RELEASE:
This past week, NauticEd's SLC license was approved as a valid sailing license in the Mediterranean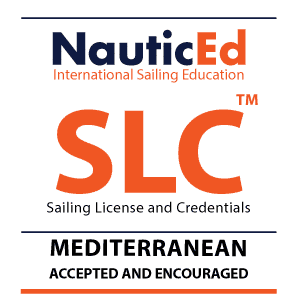 How do you get a Mediterranean Sailing License?
Going sailing in Greece, Italy, Croatia, Spain, France, Turkey? Previously, you needed the ICC (International Certificate of Competence), which, for North Americans was practically inaccessible as there are very few RYA schools (1 in the USA and 3 in Canada) able to issue it.
Now a new viable and accessible alternative exists. The NauticEd SLC™ is now accepted as a valid sailing license in the Mediterranean.
Yacht charter companies such as the Moorings and Sunsail are embracing the new Mediterranean sailing license. See their sailing requirements page which lists the NauticEd SLC as an accepted license.
The Process has been made extremely simple
Grant Headifen, Global Director of Education said "Gaining a Mediterranean Sailing License is now simple and easy. Just complete online courses, enter your experience in your online logbook, and do a 1-day assessment of your sailing skills at an approved NauticEd sailing school. BUT … " he followed with a serious tone, "… you have to know your stuff and be very competent. Don't mistake easy for reduced standards. In fact, our standards for this license are higher than the ICC itself. "
What makes the SLC stand out is the high degree of education, the experience requirement,  and the rubric method of assessment. Students wanting to gain the SLC must:
(1) pass the following online courses that make up the Bareboat Charter Master bundle of courses
Skipper
Maneuvering Under Power
Bareboat Chartering
Coastal Navigation
Electronic Navigation
Anchoring
(2) The student must then log their history of sailing experience in their online NauticEd eLogbook which must total at least 50 days (4 hours min in a day); 25 of which must be master of the vessel and 25 of which must be on a boat greater than 28 feet.
(3) The third requirement is a 1-day assessment of practical skills using these SLC-Bareboat Charter assessment rubrics.
(4) USA residents, they must attain their State Boater License ( free at www.boatus.org/free) and Canadians must attain their PCOC. These can also be done online.
"You can not just rock up and expect to pass" said Headifen. "The assessor will ask lots of safety questions, navigation questions, tide questions, rules questions, and make sure you can spring on and off the dock and do a Mediterranean mooring, as well as lead a crew to sail the boat confidently and competently. But just so long as you have completed the online courses, you'll have no issue with the theory questions and if you're feeling rustly, every one of our schools has set aside a preparatory day to work out the rust before assessment day."
The team at NauticEd are especially excited about continuing to raise sailing education standards in every area of their platform. Having recently been approved by the US Coast Guard as conforming to the new American National Standards for Sailing Training and Assessment, NauticEd is taking the lead in sailing education and certification in North America.
NauticEd is keenly aware that other sailing licenses that purport to be an ICC equivalent don't cut the mustard. Many yacht charter companies will turn down those licenses because the holder simply does not have enough experience. "You must have an acceptable resume to match the license," says Headifen "if you don't, then you'll arrive on the dock thinking you can head out only to find out that you must hire a skipper at the last minute. We have seen one company who says that can issue the ICC then a few clicks in it turns into an IPC. It is a bait and switch and an embarrassment to the sailing industry." Be wary of any association who will issue a "license with $35, a few days of instruction and not question you on how much real skippering experience you really have."
What is fun with the NauticEd platform is that the actual license itself is held in the cloud and is a real-time license. Meaning that as your sailing achievements increase, so does the credentials reported on the license itself. For example, if a student learns to operate a catamaran, then the online SLC license automatically shows a catamaran endorsement. AND the online versions are shown in multiple Mediterranean languages ready for inspection by the port authorities.
If you are not already a NauticEd student, just sign up for a free account with two free sailing courses and then buy the Bareboat Charter Master bundle of courses to get started. When you sign in, there is a big macro button that says International Sailing License, click on that and follow the rest of the procedure.
To learn more about the SLC Mediterranean Sailing License, click here.
Get started with the SLC today.
###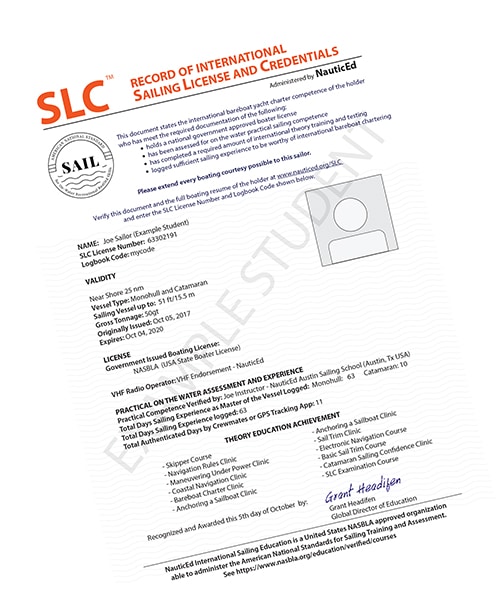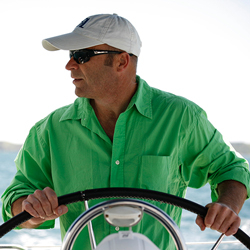 Latest posts by Grant Headifen
(see all)