The Very Best Ionian Sea Sailboat Charter Itinerary
Well, actually there are two itineraries here since we went for two 1-week charters back to back. Even better.
NauticEd are bareboat charter and flotilla experts.  This flotilla is one of the many places we've been.   Interested in an Ionian charter?  Why wouldn't you be (especially after reading the blog)!  Contact us NOW.  Whether you're an experienced sailor or new to chartering, we can guide you through the process. We don't charge a fee, you'll get expert advice, and we'll help you find the best boat for your ideal sailing vacation.
Preamble
One of the best decisions I've made of late is to lead a flotilla of sailboats in the Ionian Sea in Greece. One of the worst decisions I've made of late was to climb up a ladder the day before we left for Greece to kill some Carpenter ants attacking our house.
When chartering, I am so good about checking docklines to make sure they are secure for the night. But when it came to climbing a ladder, I completely forgot to lock in the top clips to ensure stability. I was in a hurry.
So here I am on charter in the Ionians with a broken heel and crutches – lesson learned; prudence and safety! And, in general, it is a good reminder and reality check. No matter what you do, take the time to think through the outcomes and it is probably why I reefed the sails a little early a few days ago.
Here are my crutches at the helm station. Fortunately, we're on a large catamaran which makes my skippering job a lot easier.
Regardless, I'm not missing a beat on our Ionian Charter, so no pity, please. After all, I'm rating this place as one of the top sailboat charter places in the world.  Especially for families and kids.  Why? Read on for what we did, what we saw and our itineraries.
NauticEd Ionian Sea Flotilla
Over a two week period in June 2019, the team from NauticEd lead a family-friendly flotilla of 14 sailboats in and around the Ionian Islands in Greece. Family-friendly meaning that of the 108 people on the trip, there were 40 kids of various ages. It was spread over 2 one week periods each. Most families did a one week route but I know they were wishing now that they did two weeks.
The Ionians have so much to see that there is enough for 3 weeks at least of sailing around and not staying in the same port twice. And that is just the area south of Lefkas and does not include the whole area to the North out of Corfu.
Our Itineraries were designed by our charter specialist Lauren with a NauticEd affiliated local charter captain, Mike Soutos of Oasis Sailing – Lefkas. Mike has sailed the area for years and knows all the best spots.
We kept the number of hours sailing each day down to 3-4-5 hours with lunch stops in gorgeous bays and each night mostly med moored up to the dock or long-lined ashore next to the towns and villages to experience the village life. It was an awesome success.
Check out the slide show of the kids having a blast. Tap the bottom pic thumbnails to move to the next selection.
License and Experience Requirements
To sail in Greece and captain your own boat you need to have a sailing license and an acceptable sailing resume, else you must hire a licensed captain. Adding to that list of must-haves is confidence and competence at Mediterranean Mooring. Here, every night we used one of the three Med Mooring styles. You should be competent at: backing ashore with a long stern line ashore, backing to a marina with your anchor out front, backing to a marina with a slime line. If you're not familiar with these and how to do them without damage to yours and other vessels, the explanations are inside our NauticEd course material.
An acceptable resume should be as NauticEd suggests, 50 days of sailing minimum, 25 of which as master of the vessel and 25 of which on a sailboat greater than 28 ft (and within 10 feet of the boat you are planning on chartering). If you're planning on a Catamaran, you need to have at least a Catamaran endorsement of some sort and Catamaran experience. If you have limited Catamaran experience, plan on hiring a skipper for at least a day for a checkout.
If you have limited experience captaining your own sailboat, even if you qualify, we always recommend a local captain/guide because they can ease the burden and stress of Captainship, and they know all the local good places to go – of which there are many.
Our First Week Itinerary
Our home starting base was Lefkas on the Island/peninsula of Lefkada. Lefkas is a great little town with lots of activity going on.  It is a full-service town for yachts and there are multiple supermarkets (one in the marina–say hi to Helena) and dozens (probably hundreds) of restaurants.  You can fly into Preveza airport and take a short transfer to the marina.  Or you can drive from the mainland of Greece to the island of Lefkada across a causeway. Since we had a big group, we rented a bus from Toskas Bus company in Athens and made the 5-hour journey. If you elect to drive, the highway is a very easy drive from Athens so don't stress that you'll get lost.
Here is our map of our anchorages, tracks and day stops.
DAY 1
Saturday, Lefkada Marina.
Discover Lefkas. Check in to the marina. Provision.
Board the boats in the early evening and spend the first night on the boat in the marina.
Lefkas Marina is a very big marina with hundreds of boats and over a dozen yacht charter companies.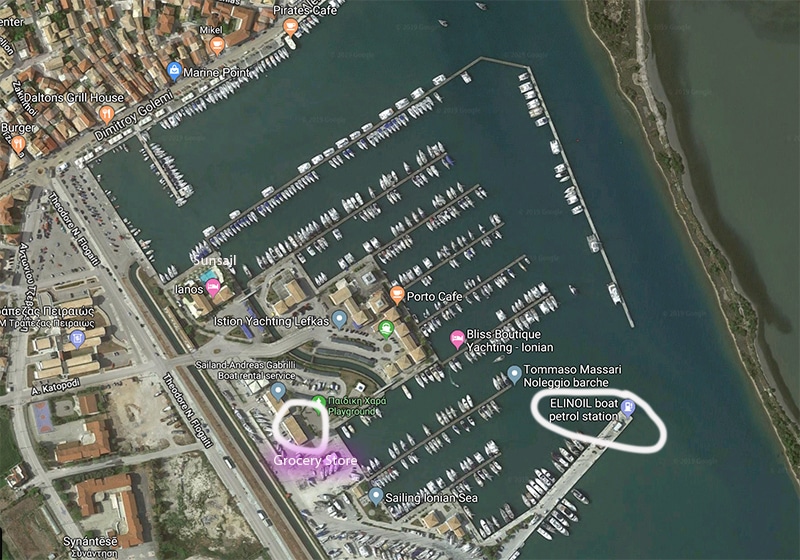 The slide show below is in and around Lefkas. The first pic shows the planning guide on the salon table that our logistics leader Lauren had put together. Each day she'd send out a whatsApp blast discussing all the where-to's and sites for the day.
(Tap the bottom pic thumbnails to move to the next selection)
DAY 2
Sunday, Lefkada—Varko—Meganissi
Leave Lefkada in the morning heading for Varko. Here, we will drop anchor and stop here for our first swim! Enjoy the beach and the bar.
Afterwards, head to Abelaki Bay, Meganissi. Dock with long lines ashore in the bay.
Here, we will have our flotilla welcome dinner all together at Mina's restaurant.
Varko is a big bay around to the east once you exit out of the Lefkas Channel. It's a great spot to stop for your first swim and a chance to practice your first long-line ashore mooring without getting in the way of anyone.
Abelaki Bay is a long bay in Meganisi Island and provides perfect shelter from most wind directions. At the far back is the most delightful surprise restaurant called Minas. This is a not to be missed bay and dinner ashore. You can Med moor up at the back of the bay to the dock or next to the dock with a long-line ashore.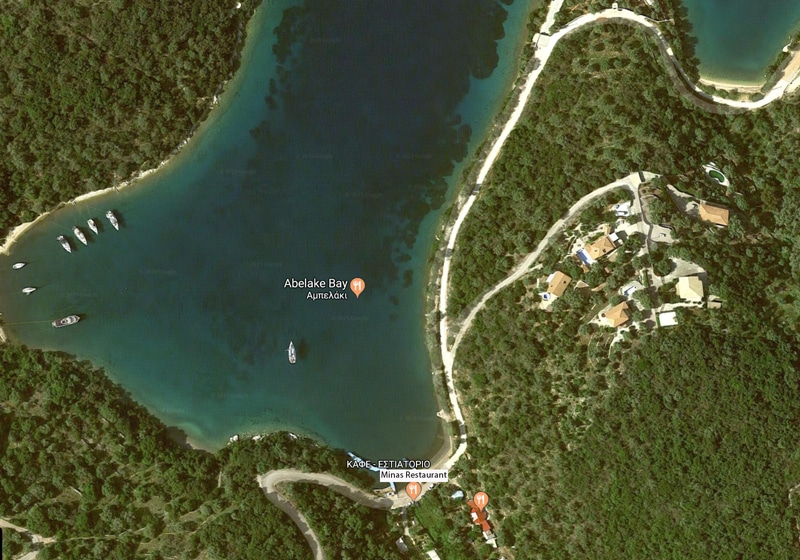 You're going to find out throughout this entire blog that Med mooring is a common theme. If you're going to the Mediterranean, you need to be (become) an expert at Med mooring. NauticEd's maneuvering under power course has detailed lessons on how to most effectively Med moor, complete with animations. It's a lot more detailed than backing up and tying off.
Below is a slide show of the sites from starting out with Andrew raising the NauticEd flag and ending at Minas.
(Tap the bottom pic thumbnails to move to the next selection)
Day 3
Monday,  Meganissi—Kalamos–Kastos
In the morning, we depart Meganisi and head to Asprogiali Beach in Kalamos. This was Jackie Kennedy Onasis' favorite beach! She would come to swim here from Skorpios, her private island.
Afterward, head the short distance to Kastos to enjoy the beaches, clear water, and plenty of marine life. This area has great snorkeling!
Spend the night in Kastos Village. This is a fishing village; we will have the possibility to pre-order fresh fish caught in the morning.
The sail from Meganisi to Asprogiali beach on the east end of Kalamos Island is a good chance to stretch out the cloth and enjoy a good distance sail. This is rewarded with the fantastic beach area with stunningly clear water.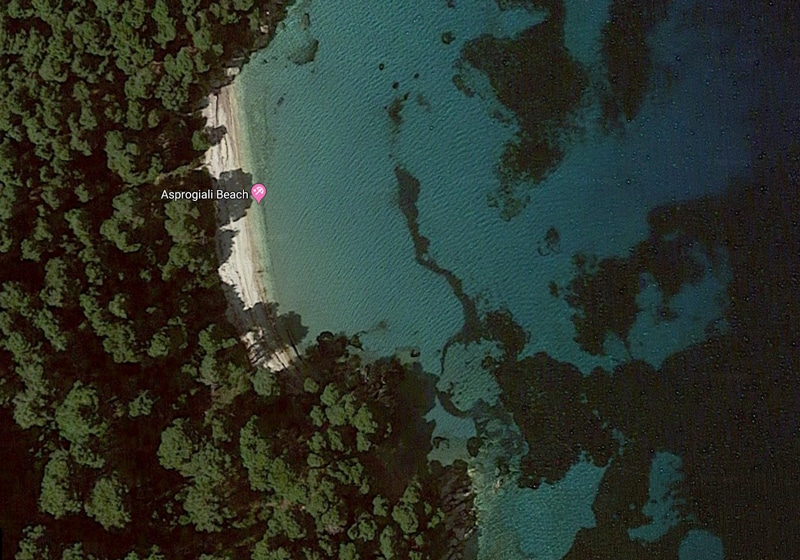 In Kastos Village we dined on a huge tuna caught that morning at Porto Restaurant. Thanks to Mike Soutos of Oasis Sailing who called ahead to his friend fisherman and restaurant owner to organize the fresh-caught dinner.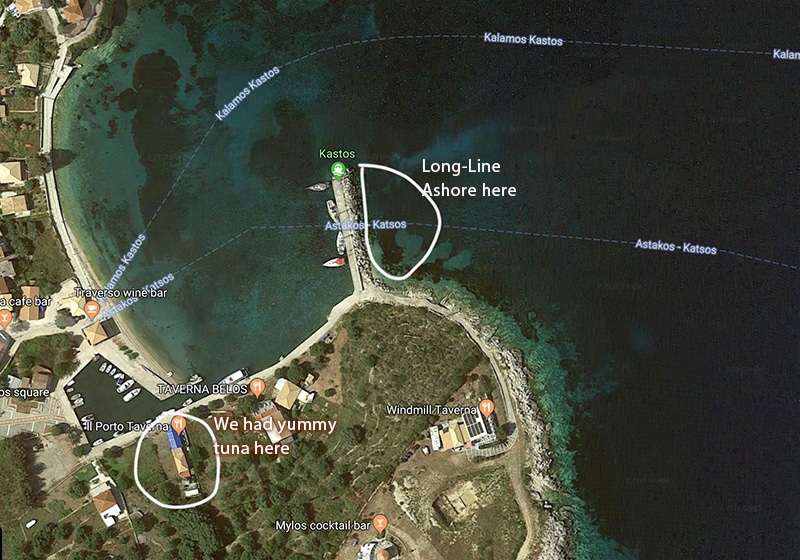 If the Kastos village is full, no worries. Just Med moor with a long line ashore to the rock breakwater. Then dingy around to the village. The village itself is quite small but has enough bars and restaurants and views to really enjoy this little village.
In general, what we found is that the locals are very (very) appreciative of your business and are very accommodating. They survive on tourism so they are only too happy that you visit their way of life.
Day 4
Tuesday, Kastos—Atokos—Kioni (Ithaca Island)
Leave Kastos heading west; stop and drop an anchor in Atokos (One House Bay). Paradise!
Then head to Kioni, Ithaca to enjoy the evening. The little village of Kioni is a gem!  There is a dock for a few boats that come early; the rest can go stern to with a long line ashore across the bay.
OMG; One House Bay is soooo gorgeous and NOT TO ME MISSED. The water is ridiculously clear and it is a fantastic place for a swim. Go ring the bell at the house when you arrive. The water depth drops off close to the beach so you can anchor in close to the beach if you like.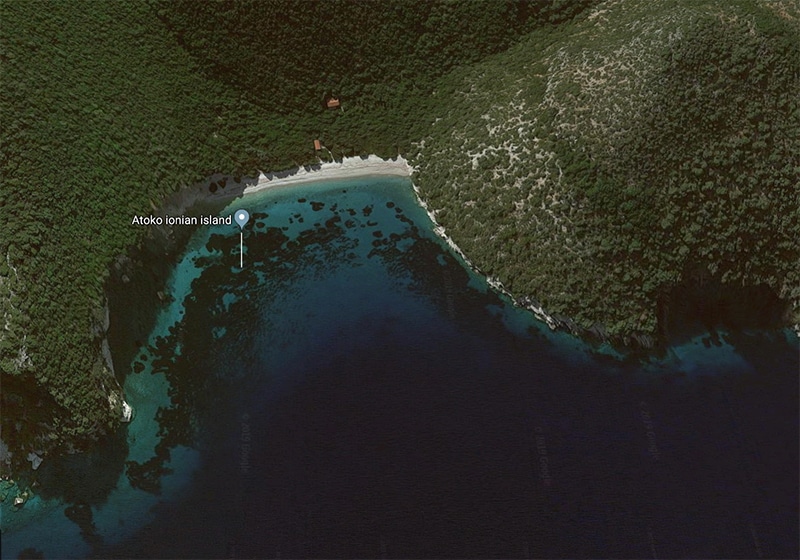 From One House Bay we sailed to Kioni which is a decently large village. On the Southwest side we long-lined ashore up to the cliffs. There is a track down the cliff and at the bottom of the track is a water tap to fill tanks with a very long hose. It cost about €20 to fill out tanks.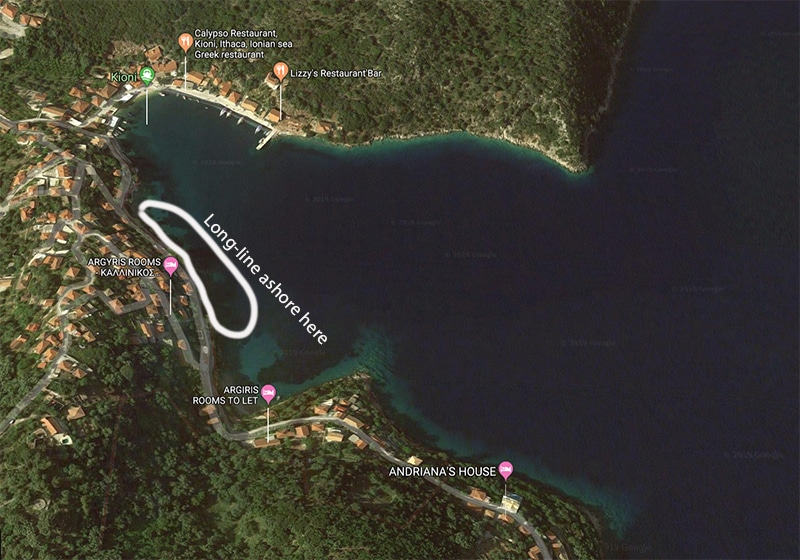 The slideshow below shows one house bay and our long-line ashore in Kioni.
Day 5
Wednesday, Kioni (Ithaca) —Fiscardo (Kefalonia)
In the morning, while in Kioni, those who want can take a taxi to the hilltop village of Stavros for guided history tour (Ulysses tour option with Island Walks.)
Alternatively, head to the cliff bay of Afales with its magical turquoise water! It usually faces the prevailing wind (NW) so it is accessible only during calm weather (morning is best).
Head to Foki, Kefalonia. Foki is a protected bay with a small sea-cave, and rocks for jumping!
Tonight you can spend the night in either:

Foki, Kefalonia. Anchoring in remote bay. Fiskardo is always a walking distance for a visit
Fiscardo, Kefalonia. This is the only village in Kefalonia that survived the great earthquake of 1953. It is an elegant village perfect for dinner by the sea.

If you get to Fiscardo early or the next morning, spend some time hiking around Fiskardo bay. There are posted trail signs.
Those who took the Ulysses tour were rewarded with a description of the fantastic tale and the historic sites to prove its full reality.
Next, we sailed on to Fiscardo where we met with "Eric the Wind" at 2:01 pm. Eric is a strange character, every afternoon he appears and blows at about 15-20. Then he dies at about 6pm – then comes up in the opposite direction for about 20 minutes then goes away until we meet tomorrow. He's a bit of a nuisance really because just at about the time you have your long-line ashore set for the evening when here comes Eric and messes all the boats up. Those who have not secured their anchor properly end up banging into everyone else causing a domino effect. Make sure you have your anchor hard set.
The slideshow below is in Fiskardo Bay. Slide 5 is the typical mess that you try to avoid as much as possible on charter, but alas it's just not possible. Slide 7 is checking out the reefing schedule because the wind grew quite high to 20 knots on the way to Fiskardo.
Day 6
Thursday, Fiscardo (Kefalonia) — Nidri (Lefkada)
Optional morning hiking in Fiskardo.
Then head north back towards Lefkada. Sail close to the sea cave of Papanikolis. Accessible only with calm seas, no anchor. The skipper holds the yacht while the rest visit with the dinghy or SUP.
Drop an anchor in the narrow straight between the islands of Meganisi & Thilia
Time permitting, sail around Skorpios, the Onasis' private island. If lucky –we can drop an anchor but be prepared to get chased off by the private security force guarding the island.
Sail to Nidri to spend the night. Nidri, Lefkada, is a natural harbor with a main village with a lively atmosphere.
If you arrive in Nidri early, you can take a 15 min taxi from Nidri to the waterfalls for a short hike.
While we were mucking around staying on schedule one of the boats snuck off to the other side of Kefalonia where the skipper and his wife got re-married. How superbly romantic!!!!!!
The Papanikolis cave on the southwest end of Meganisi is pretty impressive. If the seas are calm swing by and take a drive-through. Again, Eric graced us with his wind power and provided a good sail to the caves. See the slide show above.
The straight between Meganisi and Thilia is absolutely gorgeous and provides some great swimming spots.
Then on to Nidri where we got lucky with seemingly the very last Med mooring to the dock see slide 9 above hauling in on the Corpa Morto (the line attached to the concrete block sunken out from the marina). The Corpa Morto holds the boat off the dock, while the stern lines attached to the dock hold the boat sturdy and close to the dock.
The image below is our track using the NauticEd App Tracklink. You can see that we searched pretty hard for a dock and finally found one at point B. Then you can see our walking track along the quay to find a nice restaurant for the evening. Tracklink stores your tracks forever and adds the mileage to your Online Logbook. It's pretty cool.
Day 7
In the morning the crew took a taxi to the Nidri waterfalls. The taxi ride was about 15 minutes. Ol' hop-a-long here neglected to go because of the (now heeling) broken heel – (remember?). But those that went reported a gorgeous cenote with cool air and delightfully cool water. Apparently worth the hike (still mad at myself for falling off the ladder the day before this trip– grrrr).
Otherwise, nothing much else to report except sorrow that the week has ended and now we must trudge back to the base and join in on the sad and long line of returning charter yachts up the Lefkas Channel to the marina.
BUT – THE GOOD NEWS for us is that we have a week still to go. Tomorrow we pick up the next group and head back out again for a completely different itinerary.
Week 2 Itinerary coming soon
In the meantime, we leave this crew this week behind with some seriously happy faces for a memorable week well spent in the Ionians.
And here are some post flotilla interviews.
NauticEd is the world's premier sailing education company and recognized and awarded by the United States Coast Guard as the only sailing education body in the USA as meeting the American National Standards for sailing training and assessment.
The team at NauticEd are also yacht charter agents. If you are planning a yacht charter or flotilla, we are the experts as we have been just about everywhere and can give you "been there" advice. Plus, we don't charge you a fee.
You can also check out week 2 of our trip with a different itinerary.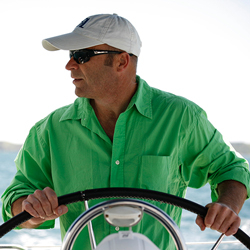 Latest posts by Grant Headifen
(see all)