Seemingly slightly off NauticEd's beaten track is a Power Canal Boat trip through the Holland canals. But not really. After all, life is made for enjoying times with family and friends on the water and NauticEd supports that fully.
In July 2019, while making our way back to Texas after our 2-week Greece family friendly sailboat flotilla, we stopped to visit our friends Jan (pronounced Yan) and Alijda Huibers in Leerdam, Holland. Jan and Alijda own and operate Yacht Charter Huibers, which is a family owned and operated canal boat yacht charter company. It was obvious once we stepped on their boat "Royal", that Jan and Alijda take their business seriously. The Royal was immaculate. It is a steel hull 14.9 meter (50 foot) gorgeous power boat with the ability to sleep 10 and with 2 bathrooms larger than most European apartment bathrooms.
The Huibers have 14 boats in their canal boat fleet ranging from 8 meters (26 feet) to the 14.9 meter Royal. Leerdam, their base, is perfectly located in the center of Holland as it sits on the river Linge which is the longest river in Holland and connected through the entire canal network of Europe.
The Holland canals are something not to be missed in this lifetime. 15% of the makeup of Holland/Netherlands is water and the canals and rivers are stunningly gorgeous to meander down in style – stopping at taverns and restaurants along the way. There are river/canal loops all throughout Holland that are well mapped and marked. You can rent one of these canal boats for anywhere from a weekend to a month and just totally immerse yourself in the villages and countryside of Holland. And the canals are easy to Navigate. There are simple charts and even mobile apps.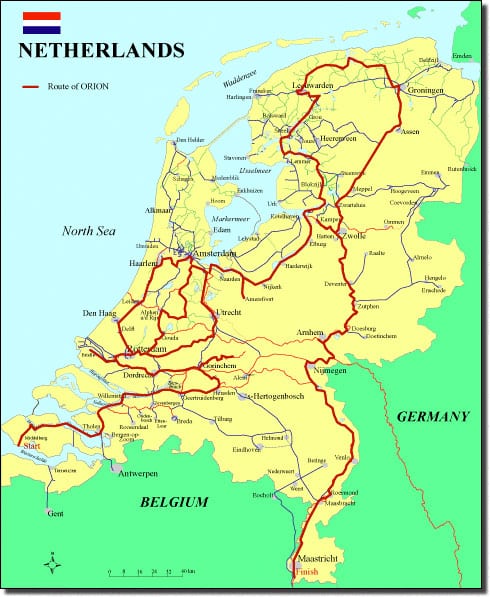 On our day out with our friends Jan and Alijda, we were treated with everything you'd expect on a weeklong river adventure; Gorgeous lunch from the on the river restaurant "De Beren Leerdam" where we simply side docked to their outdoor deck, picture-perfect views of iconic Dutch windmills, tranquil countryside views to die for, and of course some very tasty Netherlands and Belgium brewed libations. Our other friends Marc and Gerke who run World Wide Sailing (European importers for Topper dinghy sailboats and Opti dinghy sailboats, and the guys responsible for the huge kids sailing program in the Netherland (hint to come – NauticEd will make an alliance with WorldWide Sailing in 2020 for our to come kids program) joined us and in proper Dutch style, we all danced, sang crazy songs (in Dutch or which I have no idea what it was about – something like "it is better to be fat in the coffin than miss the party"), and laughed and thoroughly enjoyed the day on the water.
It is easy to imagine extending this funtastic day into a weeklong or two weeklong exploration adventure throughout the Netherlands waterway network. So, our recommendation is to take a break from sailing the Mediterranean – at least just once – and come to Holland and slowly meander the villages, cities, and countryside and really immerse yourself in their land. Everyone, including Jan and Alijda Huiber, speaks perfect English and everyone are the friendliest and fun people you'll meet on the planet.
Here are a few of the pics we took along our water-way adventure.
In the area, we stayed in the village of Gorinchem which was a great country village break from the bustle of Amsterdam. Yes, visit Amsterdam when in the Netherlands but get out to the other towns and villages as soon as possible. Gorinchem has an amazing quaint feel to it with a great town square with lots of busy restaurants and cafes around the edges. Upriver from Gorinchem about 15 minutes by ferry, is a 14th Century Castle, Slot Lovestein, that has been maintained in perfect condition over the centuries. The Castle visit experience was really well put together even allowing you to put on historic clothing and knight's armor while you climbed to the main halls and towers up and down the many staircases.
For our stay in the area, Gerke hooked us up with his friend Berry Voet who owns Karel de Stoute a gorgeous local modern style boutique hotel.  Karel de Stoute is absolutely amazing. It is a 100-meter walk to the river ferry and a 4-minute walk to Gorinchem town center. Barry is the quintessential hotel owner and the perfect host. We could not have asked or imagined better.
NauticEd Yacht Charter Vacations are agents for Yacht Charter Huiber. If you'd like to book a Holland Canal Boat charter just contact us here. We don't charge you a fee!
Come canal boating with the Huibers.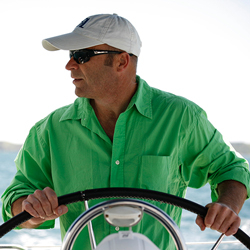 Latest posts by Grant Headifen
(see all)