Top 10 Beaches in Northern Sardinia
Discover Paradise on Earth: The Best Beaches in Sardinia's Costa Smeralda and La Maddalena Archipelago
When it comes to dreamy beach destinations, Costa Smeralda and La Maddalena Archipelago in Sardinia stand out as true jewels of the Mediterranean. Nestled in the northern region of Sardinia, Italy, these coastal paradises boast some of the most captivating beaches known for their pristine beauty, crystalline waters, and enchanting landscapes. From glamorous Costa Smeralda to the secluded La Maddalena Archipelago, each beach tells a unique story, beckoning travelers to experience the allure of this magical island. Let's set sail and explore the top 10 beaches in Northern Sardinia that will leave you mesmerized and yearning for more.
Top 10 beaches in Northern Sardinia to dip your toes and soak up the sun.
Spiaggia del Principe (Prince's Beach): This crescent-shaped cove boasts fine golden sand and mesmerizing emerald waters. It's renowned for its natural beauty and has been frequented by celebrities and royalty.

Spiaggia Rosa (Pink Beach): Found on the uninhabited island of Budelli in La Maddalena Archipelago, this beach is famous for its rosy-pink sands, created by crushed shells and coral fragments. Only viewable from the sea.

Cala Corsara: On the island of Spargi, Cala Corsara offers an unspoiled beach experience with clear turquoise waters, making it ideal for swimming and snorkeling.

Cala Coticcio (Tahiti Beach): On Caprera Island in La Maddalena Archipelago, this hidden gem is often referred to as "Tahiti Beach" due to its exotic appeal. Surrounded by granite rocks and lush greenery, it offers a secluded and paradisiacal setting.

Liscia Ruja (Long Beach): One of the longest beaches in Sardinia, Liscia Ruja boasts a vast stretch of white sand and shallow turquoise waters.

Cala Granara: On Spargi Island, Cala Granara offers crystal-clear waters and a peaceful atmosphere perfect for relaxation. 

Cala Garibaldi: Found on Caprera Island, Cala Garibaldi/Gabbiani is a picturesque beach with white sand and turquoise waters. The beach is embraced by pine trees, providing a refreshing shade on sunny days.

Capriccioli: A series of small coves and sandy beaches, Capriccioli offers a stunning panorama of granite rock formations, lush Mediterranean vegetation, and sparkling waters. 

Cala Napoletana: On Caprera Island, this beautiful cove is characterized by its pristine waters, stunning cliffs, and snorkeling opportunities.  

Spiaggia del Cavaliere (Knight's Beach): Located on Budelli, this beach features a long stretch of pink-tinged sand and crystal-clear waters.

Cala Spalmatore: On the island of La Maddalena, Cala Spalmatore is a family-friendly beach with shallow waters.

Cala Granu:  Cala Granu is an oasis with fine sand and pristine waters.
Each of these beaches boasts its own unique allure, offering a perfect blend of breathtaking natural beauty and tranquility. While sailing through Costa Smeralda and La Maddalena Archipelago, be sure to visit these stunning coastal gems for an unforgettable and immersive beach-hopping adventure.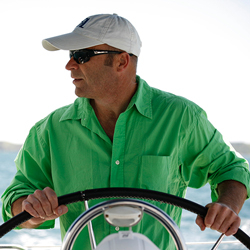 Latest posts by Grant Headifen
(see all)