Best USVI Beaches
US Virgin Islands offers many of the best Caribbean beaches
The USVI's are made up of three Caribbean islands – St Croix, St Thomas, and St John. All of the islands are known for beautiful blue clear waters with long white sand beaches some set in national parks.  We think the US Virgin Islands offer some of the best beaches in the Caribbean regardless of the style of beaching you prefer.
ST. JOHN
Trunk Bay is the picturesque USVI beach shown in many photos.  This popular beach has stunning white sand surrounded by crystal clear blue-teal waters and giant palms. Great for snorkeling, there's even an underwater trail.
Maho Bay is a smaller beach that is a haven for turtles.  With the underwater seagrass, marine life is abundant.  A great location with gentle waters great for paddle-boarding and kayaking.
Salt Pond Bay is, as its name implies, close to a natural salt pond with changing colors depending on the season.  At Salt Pond, you can find amazing snorkeling, stunning white sand, and hiking trails with beautiful views.
ST. THOMAS
Magen's Bay Beach.  This horseshoe-shaped beach on the northern coast of St Thomas is the most visited, most popular beach in the USVI.  The beach is over 1 mile long of white sand surrounded by lush verdant hills.  Set within a public park with plenty of nature trails, the beach also offers an abundance of facilities (beach chair rentals, water toy rentals, snack bars, lifeguards).
Coki Beach is another popular beach also on the northern coast.  Next to Coral World Ocean Park, it's a great spot for snorkeling and diving with the surrounding area fill of activities, music, and food.
Lindquist Beach on the east end of St Thomas offers shallow calm waters ideal for families and kids with soft sand with a pinkish hue.  Clean and offering shade, the beach isn't as crowded as others on St Thomas and there's plenty to discover.
Plan your perfect sailing vacation!
Inquire about a vacation destination and see what NauticEd can do for you! We'll send you a FREE quote of available boats and additional resources to begin planning your vacation. Inquire today ›
ST. CROIX
Sandy Point Beach in the southwest of St. Croix is part of the Sandy Point Wildlife preserve.  Although its closed part of the year as it is home to sea turtles nesting (including threatened and endangered turtles), its long wide sandy beach makes it a memorable stop.
Cane Bay Beach on the north of St. Croix offers some of the best diving (and great snorkeling) in the area.  It's popular with families due to its calm waters and amenities (restaurants, water sports rentals, BBQs)
BUCK ISLAND
Turtle Beach is a must-do and is one of the many best US Virgin Islands Beaches.  It is located on Buck Island off of St. Croix. Home to the Buck Island Reef National monument, it is known for its stunning blue waters and a stunning white sand beach.  Here you can snorkel the underwater trail reef of elkhorn coral or hike the land trail to an observation deck with stunning views.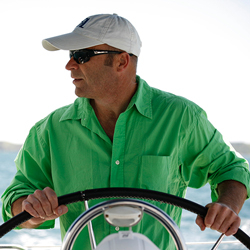 Latest posts by Grant Headifen
(see all)