Yacht Charter in the Canary Islands
At NauticEd, we admit it. We have not (YET) been to the Canary Islands! Boo Hoo.  But from the sounds of it, it is a pretty amazing place and simple to get there. It's one of the more untouched and uncrowded sailing destinations. We're definitely going one of these days.
Instead of waiting to do the write up ourselves, we decided to go right to the horse's mouth to get an accurate write up this location. We contacted the folks at Lava Charter who we met at ICE, the International Charter Expo in Vienna. Lava Charter are the biggest Yacht Charter operators in the Canary Islands. Jan, (pronounced "Yan") the base manager of Lava Charter base in Arrecife (Lanzarote), passioned sailor, and circumnavigator was willing to help with a written interview AND also went as far as joining us for an incredible journey podcast on the Canary Islands.
The written interview is below, but first here is the podcast.
Us: Where are the Canary Islands exactly?
Jan: The Canary Islands are a secret spot under charter sailors, they are located in the east-central Atlantic, 150 km west of Morocco. The Islands span 249 nm east to west and are nearly on the same latitude as Florida. The names of the biggest islands are:  Lanzarote, Fuerteventura, Gran Canaria,  Tenerife, La Gomera, El Hierro, and La Palma. From Central Europe, you only fly 4 about hours. Although the Canary Islands are part of the African Continent, they are included in the Spanish territory. The currency is Euro € and the time zone is Europe/Lisbon West European Time (WET). Lava Charter is based in Arrecife in the Marina Lanzarote by Calero Marinas.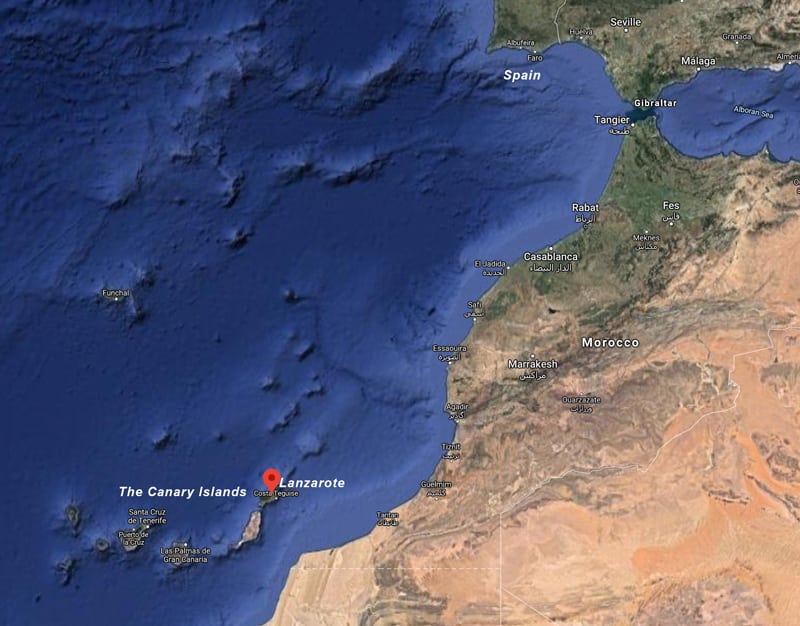 Us: What makes the Canary Islands a unique sailing area?
Jan: The Canary Islands were originally volcanic islands, the archipelago was formed by the Canary hotspot. The name Islas Canarias (Canary Islands) meaning "Islands of the Dogs" and has its name from the multitudes of sea dogs (seals) living there earlier times. The Canary Islands are Spanish Territory and lie 150 km off the coast of Morocco. The culture is a unique mix of mostly Spanish with a Moroccan influence. It is relatively easy to get to with daily flights from Barcelona and other cities.
Although the Canary Islands are relatively near together, you can experience a multitude of different microclimate zones and a variety of nature zones. The climate is both tropical and desert-like and has been said to be one of the best examples of both climates together in the world. Water temperatures are mostly between 18 and 24 °C (64 and 75 °F) which makes it additionally popular for sailors. The steady northeast trade winds give you all you need for a stunning sailing trip! The most eastern island, Lanzarote, is the most popular sailing area in the Canary Islands. The island has clean and beautiful marinas (many of which have received awards), beautiful anchorages to stay overnight, very good and bustling restaurants, and a very well organized tourism network all over the Island, specialized for sport, art, and nature activities!
Us: Who is Lava Charter and why Lanzarote?
Jan: Lava Charter was founded by the passion to sail from Michael Ranft. We have the biggest permanent fleet in the Canary Islands because of 365 days sailing weather. Lava Charter has a commitment to high-quality maintenance, 24/7 support service, friendly staff, and will custom design a sailing trip to your wishes! We only charter our boats out for a maximum combined number of 35 weeks per year purposely leave the other 17 interspersed total weeks for maintenance. We have professional skippers available for those who do not want the responsibility, we allow charters of any time length. If competent or with a skipper, you can sail to explore the other islands. We allow to sail through the night if desired. Being a locally owned business, are very well connected with all marinas and individual tourism all over the islands. If you want individual extras like training, diving lessons, stand up paddle or surfing – there is no problem! If you need help with organizing the itinerary we have the knowledge to help you out. You can always feel free to ask us anything you need. We have twice won 1st place by Yachtcheck.com as the best multi-base charter company in the world as well as once in second place. As you can tell, we are very relaxed but professional at the same time.
Us: Why are you based on Lanzarote?
Jan: Lanzarote is a 365-days sailing area with steady trade winds. It has 300 sunny days a year and the warm but not too hot climate gives you the basic requirements for a pleasant sailing trip. It is not overcrowded and is more like one of the best-kept secrets of sailing. The island is very rough and untouched on the western side with a large national park. There, you can really focus on nature, calm and sailing, but you are never too far from the next marina, because of decently short distances. In remote anchorages like Playa Francesa (La Graciosa), you will experience a breathtaking night-sky because of no light pollution. In one week, you can circumnavigate the island and experience a multitude of villages, swimming bays, hikes ashore, and quiet anchorages. It is idyllic!
Us: How is the weather and climate?
Jan: As already mentioned, the Canary Islands are said to have one of the best climates in the world. The air temperatures are between 19°C (66°F) in the winter and 29°C (84°F) in the summer. This gave the climate the name "Eternal Spring". Most of the time of the year the winds are northeast blowing tradewinds, sometimes you have "Calima" from the southeast (warm desertic winds from Sahara). Like the winds, the weather is very stable with 300 sunny days a year. From September to May you have between 15-20 knots constant wind plus gusts up to 25 knots.  From June to August, you have between 20-25 knots constant wind plus gusts up to 30 knots. There are the so-called "Acceleration Zones" which are increased velocity winds due to the tunneling effect between the islands. There you can get an increase in wind speed of 10 knots or more over the regular wind speed.  Lanzarote is the easiest sailing area of the Canary Islands when it comes to acceleration zones.
Us: What is the Navigation like in the area?
Jan: We recommend the Cruising Guide to the Canary Islands which you can buy in our Lava Chandlery in Arrecife. The distance to circumnavigate Lanzarote is 160 nm.  The distances between the marinas are as short as 12 nm some are more but no daily legs require long sails which makes planning for your sailing trip very easy. A weeklong charter is made up of some short and some longer sails. The Canary Islands are suitable for every kind of sailor, depending on experience and the season. The sailing area is mostly known by experienced sailors because it's perfect for Atlantic crossing preparations. For inexperienced sailors, it's more prudent to book a skipper for the first few days or for the whole sailing trip, but the Canary Islands are perfect for learning and improving your sailing skills! Of course, you can plan your sailing trip by yourself, but we also give you various different itineraries that we provide to suit your desires. Lanzarote also gives you a safe place to sail, because of fewer ships and boats in our waters. You have 3 meters of diurnal tide range which means you do need to know and understand tides however, the currents are only around 0.5 knts which is unusual considering the large tidal range. There are few shallows and reefs. Usually, off from land, you are immediately in deep water. The listed and marked anchorages are safe. The sailing area is well marked by proper navigation buoys under the IALA-A system. Communication via VHF is easy.
Us: What kind of Sailing License is Required to self skipper a yacht.
Jan: Obviously, to skipper yourself we must review your sailing resume to ensure you have sufficient experience for our area. Wind speeds are probably consistently higher than the Caribbean or Mediterranean and the tidal range is 3m (10ft). In addition, all skippers are required to have either an ICC or SLC to satisfy the legal requirements of sailing in Europe.
Us: How are the Marinas and anchorages then?
Jan: The Marinas on Lanzarote are known as one of the best marinas in the Canary Islands because the staff is very friendly and helpful. Every year they get awarded for cleanliness, infrastructure, and good organization. Sailors always mention Puerto Rubicon because of the wooden bridges around the marina, the little restaurants and bars, and its Venice flavor. Besides the Marinas,  the overnight anchorages are outstanding for overnight stays and have good holding with sandy bottoms. Some mooring balls are available that are owned by private companies or individuals. You need to respect the ownership of these balls and also check they are secure.
Us: What are some of the highlights?
Jan:
La Graciosa
The waters surrounding the island La Graciosa off the north tip of Lanzarote are the only two marine and fishing reserves found in the Canary Islands. Playa Francesa's Anchorage will let your imagination run wild as you admire the island where legend Long John Silver searched for treasure. As space is limited, it is required that a permit to anchor or berth at Caleta del Sebo be obtained. Our team can organize everything for you when you book with us.
Los Lobos
While visiting the south end of Lanzarote, take a trip to Isla de Los Lobos and experience the tranquillity of this beautiful island. The small, remote island is part of the Parque Natural Islote de Lobos and has taken its name from the colony of monk seals that used to exist on the island. The island is an ecologist's dream; a large number of endangered species inhabit the area, some of which are unique to the island. There are over 130 different species of vegetation, and Isla de Lobos is also a specific area for the protection of birds.
Papagayo
A treasure of the entire Canaries, Papagayo, at the southernmost point of Lanzarote, maybe the best anchorage in all of the 7 islands. Just one nautical mile from Marina Rubicon, it is a must for every sailor. The waters are crystal clear and just perfect for snorkeling.
Here is an interactive Google Earth flyby around the Canary Islands
Us: What about food and drinks?
Jan: Typical for Lanzarote are Tapas bars and local wine bars. The most known wine is Malvasia which is a locally grown wine grape.  The favorite local foods are fish, papas arugadas (special potatoes), mojos (special sauces, dips), and goat cheese. If you like to preorder something for your sailing trip from the supermarket, we organize it for you!
Current prices for food and drinks are: tapas around 4 Euros, beer 1,50 Euros, wine 1,50 Euros, coffee 1,00 Euro. If you are looking for a special place to have dinner we recommend Los Aljibes, Emmax, and Las Dunas.
You'll find prices are very reasonable.
Us: What about other things to see and what to do?
Jan: The sea life around the Canary Islands is outstanding, you have 35 kinds of mammals, various dolphins and whales swimming between the islands. A perfect hotspot, where you can nearly guarantee a visit from dolphins is between Arrecife and Los Lobos (anchorage). The snorkeling around the islands is world-class. Whale watching is a favorite also. You can join coastal cruises around Lanzarote and the famous ARC sailing race starts in Las Palmas de Gran Canaria at the end of November. You will visit many race sailors, especially from the Volvo Ocean race crew. You can do race training if you are interested with some of the attraction companies on the islands. You can discover the island and its unique lava landscape with black, red, and white beaches. Mixing a sailing experience with land holidays in one of our Lava Resorts is a favorite also.
Lanzarote offers many cultural, nature and art activities, like the cactus garden, architecture art of Manrique and nature reserves like Timanfaya Park. Quit mass tourism and get into real places that give you a stunning view into the life on the Canary Islands and the evolution of our earth. Lanzarote is also known as a sport destination, you can dive, snorkel, mountain bike, e-bike, street bike, surf, stand up paddle, kite surf, skate, beach volleyball, swim, and much more!
Us: Tell us about your fleet of boats.
Jan: We have boats from Jeanneau 2018, Dufour 2017, and Bavaria from 2014 -2016. The prices stay the same for all the year around. For more details and prices visit our website at  www.lavacharter.com. If you'd like to make a booking or inquiry, our booking agent NauticEd can help you out. Make an inquiry here www.nauticed.org/sailing-vacations
Watch our Drone Video Compilation:
Our Friendly and Welcoming Team
Valentina (Sales Assistant)
Bianca (Administration)
Joschi (Shop / Maintenance)
David (Maintenance)
Jan (Base Manager)
We hope to see you as soon as possible on the Canary Islands!
Fair winds,
Your LAVA CHARTER TEAM
###
At NauticEd, we are proud to represent Lava Charter in out portfolio of excellent sailing vacations. The Canary Islands are top of the list to visit and we'd love to help you explore these islands. To make an inquiry, go to www.nauticed.org/sailing-vacations
To gain a valid sailing license so that you may skipper the boat yourself, go to www.nauticed.org/SLC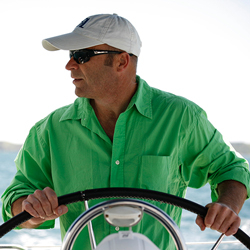 Latest posts by Grant Headifen
(see all)