NauticEd Friends and Family 2022 Croatia Flotilla
A 2022 Croatia flotilla to Central Dalmatia, Croatia in June 18-25
UPDATE: THIS FLOTILLA IS SOLD OUT – JOIN US IN 2023. Join NauticEd for a family-friendly 2022 Croatia Flotilla in June. Last year's similar flotilla was so fun, we've decided to make it an annual event. The Dalmatian coast is a great area for sailing as well as exploring the ancient cities, beaches, and hidden bays and coves. There are plenty of activities on and off the water for travelers of all ages.
Join us by taking a cabin or chartering your own boat and celebrate the end of the Covid lockdown!
Questions? Want to join?
Contact Lauren at lauren@nauticed.org or (512) 696-1070.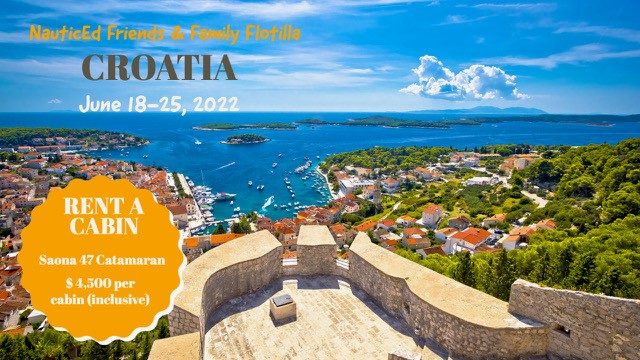 2022 Croatia Flotilla Overview
---
Dates
Sat, June 18th – Sat, June 25th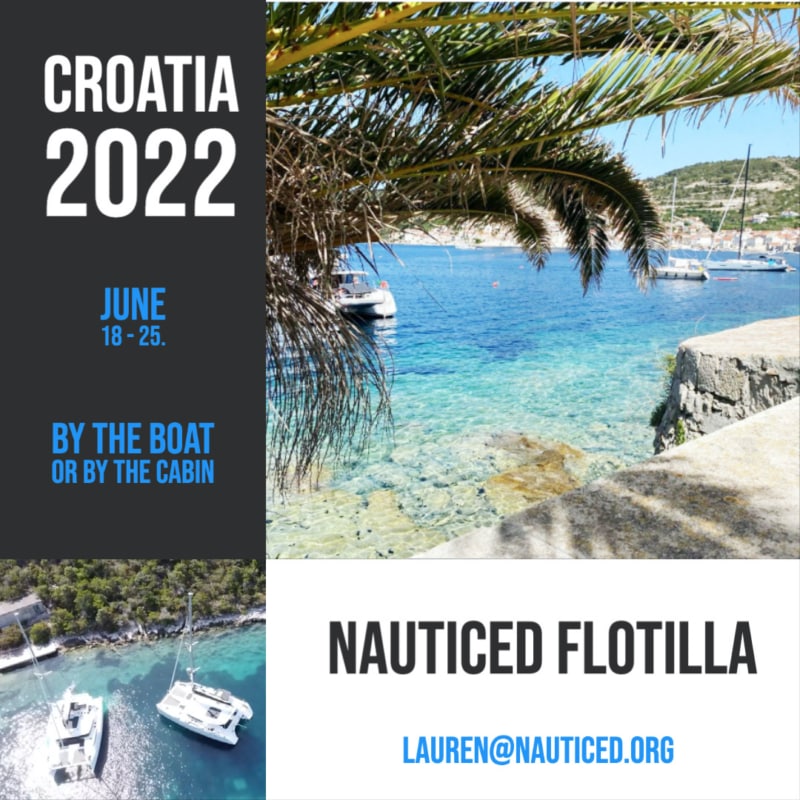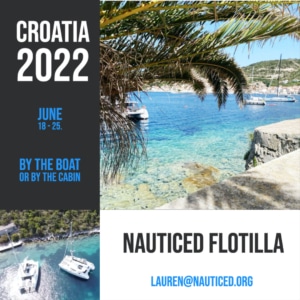 ---
Who
We welcome all, sailors and non-sailors alike. There are 3 main ways to join:
bareboat charter with you as skipper (friends and family can be crew) *note license required
charter with hired skipper (friends and family can join in on as much sailing as desired)
shared boat – cabin charter (perfect for solos or couples traveling)
---
Where
The most popular sailing region in Croatia: Central Dalmatia. We'll start and end the flotilla in the Split/Trogir area.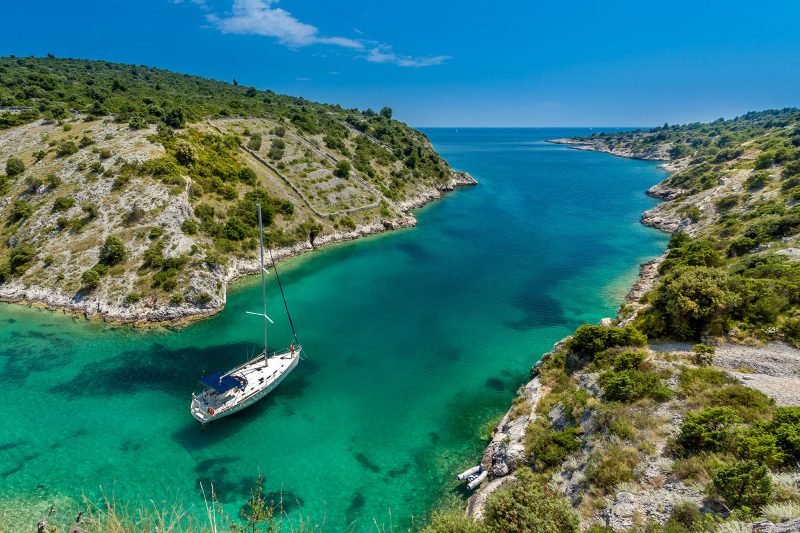 Pricing Options
For rental of the entire boat, let us know your preferences (monohull/catamaran, cabin #s, skippered or bareboat) and we'll provide you with options. Monohulls range from $5,500 while catamarans range from $9000; these prices do not include provisioning, security deposit reduction, water toys, tourist tax, mooring fees, or fuel.
Cabin rental: We have a skippered Saona 47 with air conditioning available for rent by the cabin. Cabins are suitable for 2 persons. Price (inclusive of food kitty, water toys, mooring fees, fuel, professional skipper, and boat rental) is $4,500 per cabin.
Other additional costs may include travel/accommodations, on land excursions and activities, and NauticEd Welcome Dinner (optional).
Last year's similar flotilla was so successful we have decided to repeat it and make this an annual event. This was the end of the trip photo.
Croatia Flotilla Itinerary
On this one-week flotilla we'll explore the islands of Solta, Vis, Komiza, Hvar, and Milna.
Day 1—Seget Donji (Trogir/Split)

Day 2—Solta

Day 3—Vis

Day 4—Komiza/Bisevo

Day 5—Hvar

Day 6—Milna

Day 7—Seget Donji
More details, maps, and optional activities are forthcoming once you join us.
See this interactive map below. Tap the top right slide-out button to see the itinerary locations and routes.
What is a family-friendly flotilla? Who will lead the flotilla?

The 2022 Croatia Flotilla is a casual flotilla without a 'theme.' This is NOT an adult-only flotilla, a party yacht week, or a flotilla focusing solely on hiking or wines or yoga. We're laid back and run our flotillas that way. Of course, you're welcome to explore as you see fit. There is a no ducks in a row mentality; a flotilla offers you independence with peace of mind as well as fun and camaraderie with other flotilla sailors.
The NauticEd team are experts at charters – we will provide pre-charter advice, set the course and itinerary and include recommendations on things to do and see. We'll provide options for moorings (marinas, mooring balls, or perhaps you prefer to anchor under the stars) as well as optional activities along the way. We will be there for any questions you might have. We will send out a guide with itinerary and details ahead of the charter.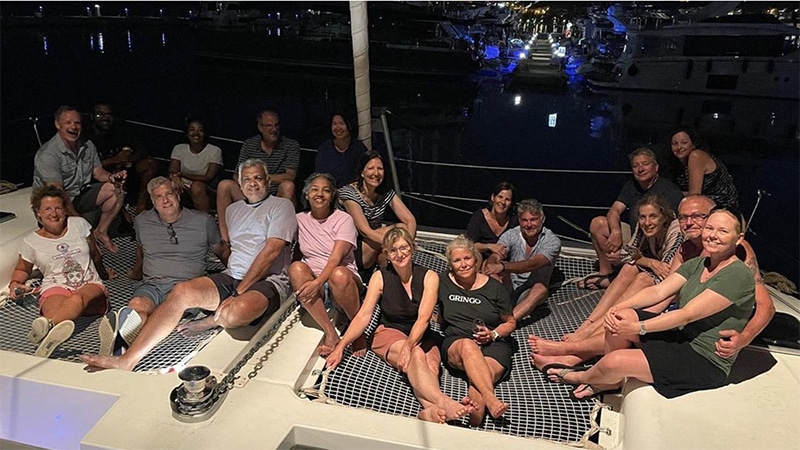 Our seasoned flotilla leader, Kristel – who is also a part-time professional standup comedian – will lead the flotilla. She is highly knowledgeable of the area and the local attractions.
---
For more information or to reserve a boat in the flotilla, please contact Lauren@nauticed.org or (512) 696-1070.
---
Additional Information:
Qualifications to Bareboat Charter
Licenses: To bareboat charter a yacht in Croatia, you must have an appropriate sailing license. There are several accepted licenses including the ICC, and the NauticEd SLC. If you are unsure if you qualify, please ask us and we can assist. If you have experience but do not have a license, visit www.nauticed.org/SLC or contact NauticEd today. Without a doubt, you should be competent at Mediterranean Mooring and have significant sailing experience in your resume.
'Home" Base & Travel Information
We will be embarking and disembarking from Trogir (near split). The boats are located in the Seget Donji Marina in Trogir. You can fly direct to Split airport with many carriers (airport code SPU). The marina is just 20 minutes away from Split International Airport. From the airport, you can take a taxi, Uber, or public transportation to the marina.
Many people choose to explore other parts of Croatia before or after the sailing vacation.
Dubrovnik—The distance from Split to Dubrovnik is approximately 230km or a very spectacular 3.5 hour drive away and well worth it. In reality it will take 6 hours because of the awesome stops along the way. Dubrovnik also has an international airport (code DBV)
Zadar—The distance from Split to Zadar is approximately 159km or a 1 hr, 45 minute drive away. Zadar airport code is ZAD.
Zagreb—Zagreb is the capital of Croatia. It has the largest airport in Croatia (code ZAG). It is approximately a 6-7 hr train ride away from Split.
---
For more information or to reserve a boat in the flotilla, please contact Lauren@nauticed.org (512) 696-1070.
---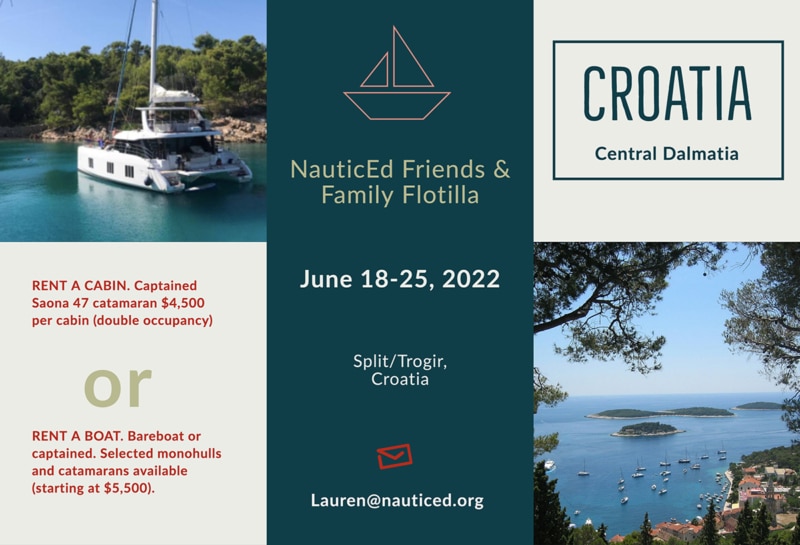 ###
Updated 2/10/2022
Consider our September 2022 Greece Flotilla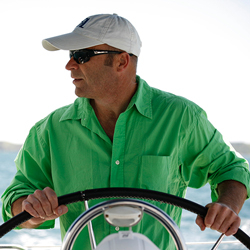 Latest posts by Grant Headifen
(see all)