Join NauticEd and fellow sailors on a
family-friendly British Virgin Islands flotilla and sailing vacation.
Known as the sailing vacation capital of the world –for good reason—the British Virgin Islands (BVI) are a picturesque group of islands in the Caribbean that check off all the elements of what makes a perfect Caribbean sailing vacation – ideal tropical weather, consistent winds, stunning islands, line of sight navigation, abundant nature, and as much relaxation or beach party adventure spots as you desire.
– NOTE THAT THIS IS SPRING BREAK FOR MANY –

Boats will sell out fast to the general market as well as in this flotilla.
Plan on booking the British Virgin Islands flotilla early!
Let us know your group size, catamaran or monohull, and if you require a Captain
2023 British Virgin Islands Flotilla Overview
Dates
Saturday, March 11 (4pm) – Saturday, March 18 (9am) , 2023.
(first night in the marina and head out on sunday morning)
Who
We welcome all, sailors and non-sailors alike especially families with kids.
Boats
The NauticEd flotilla will offer a range of boats. Choose what you want:
Fill your own boat with friends and family (you skipper)
Fill your own boat with friends and family (we provide a friendly skipper)
Where
The British Virgin Islands is one of the most popular sailing destinations in the world. See the sample itinerary below for more details.
Costs
Costs vary by boat and amenities.  Additional costs include flights, provisioning, mooring fees, water toys, and re-fueling at the end of charter.  Cruising tax is around $30 per person for the week.
Monohulls start at around $6500 for a 41-foot (3 cabin – 6 pax)
Catamarans start at around $9,000 for a 40-foot (4 cabin – 8 pax)
Please contact us to get a full and complete proposal
What is a Family-Friendly Flotilla?
The 2023 British Virgin Islands Sailing Flotilla is a casual flotilla without a 'theme.' This is NOT an adult-only flotilla, a party yacht week, or a flotilla focusing solely on hiking or wines or yoga. We're laid back and run our flotillas that way. Of course, you're welcome to explore as you see fit. There is a no ducks-in-a-row mentality; a flotilla offers you independence with peace of mind as well as fun and camaraderie with other flotilla sailors.
Learn more about what is a sailing vacation and a sailing flotilla … >
Easy to get to (fly into St Thomas and ferry to BVI (Tortola) or fly into Puerto Rico/BVI's Beef Island)
Sailing Capital of the World
Pirate history
Mix of relaxation and adventure
Snorkeling, hiking, and nature abound
Short sails with consistent trade-winds and line of sight navigation
Stunning beaches
Delicious Caribbean drinks
Photographs of your adventure that will last a lifetime
Great sailing for both new sailors and experienced
BVI Flotilla Sample Itinerary
This interactive map is a typical sample itinerary we have put together. More than likely we will do Itinerary #6. The route taken during the week will depend on prevailing and current weather. Tap the top left slider icon to see different routes. Note that Long bay on Night 1 is exposed to a westerly swell – if such conditions exist we will reposition into North Sound.
Can't Make it this Time?
Can't make the flotilla, but want to sail the BVI—let the agents at NauticEd plan your perfect BVI sailing vacation. We know the area, we know the good companies (and the not so good). We don't charge you a fee and you get our expertise. Inquire about a vacation in the BVI
Want to go somewhere else?
We are location experts. Chances are … we've been there!  Mediterranean, Pacific, Caribbean, Asia, 'Stralia Mate', Indian Ocean, and many more! Inquire about a different sailing vacation
Other Flotilla Opportunities?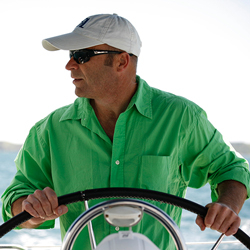 Latest posts by Grant Headifen
(see all)
Last updated on March 29th, 2023