What is a Sailing Vacation or Sailing Flotilla?
Learn what's involved in Sailing Vacations, Yacht Charters, and Flotillas
First, a few key terms:
A Sailing Vacation (or 'Sailing Holiday' in Europe) is all encompassing: including travel arrangements, the yacht charter itself, and on-shore activities.
A Yacht Charter is chartering (renting) a sailboat and either hiring a captain (a "skippered" or "crewed" charter) or "bareboat" chartering.
A Bareboat Charter is specifically a yacht charter without hiring a skipper – i.e., you are the skipper! This requires a sailing resume and (sometimes) a license.
Cabin Charters are simply acquiring a cabin on someone's else's skippered or bareboat charter.
Renting? So, technically, a charter is a rental. The difference in boating vernacular is that renting a sailboat is typically by the day, whereas chartering is a multi-day sailing excursion.
What is a flotilla?
A sailing vacation with fleet of ships or boats (yacht charters) organized by a professional company such as NauticEd. The fleet generally follows the same route each day and meets up in the evening at a marina or anchorage. It is quite a social event! And, if you're new to chartering, then it's a great opportunity to learn and explore new areas with the safety and help of the group…
Also, flotillas typically offer many 'cabin charter' options if you're willing to jump aboard someone else's boat.
Why yacht charter?
A yacht charter is a rental of a sailboat for a limited time usually one week. Yacht charters make the best vacations and in many cases, comparable or less expensive than other types of vacations. The boat serves as your floating resort:
Hotel – you sleep on the boat
Taxi – the boat takes you from island to island
Entertainment – there are plenty of things to do on the boat and in the water such as snorkel, SUP, kayak, learn to sail, boat games, relaxing, and reading your favorite new book
Restaurant – the kitchen galley allows you to cook on board though we generally eat out several times during a charter at on land restaurants
Bar – there is an onboard fridge and freezer to keep your libations crispy cold
Social spot – there are plenty of spots on the boat to hang out with your crewmates
…and more!
For how long?
Usually, the minimum time is 1 week – boarding Saturday afternoon and disembarking the following Saturday morning.
What makes it family-friendly?
NauticEd Staff pick global locations that are perfect for being family-friendly.
Lots of things to do on the water and on land
Short sails between islands
Land is always in sight
Easy sailing
Clear water
Examples are: the BVI, Antigua, the Ionian Sea in Greece, Croatia, Tahiti, Sardinia, Sicily
NauticEd organizes family-friendly flotillas because we know kids have a better time when they have other kids to play with. And that means parents have a better time too.  It's a great way for families to socialize while reconnecting as a family with so much excitement and plenty of things to do. And, the kids will forget their electronics!
For sailboats, you can choose between a monohull or catamaran. We recommend catamarans for families.  Catamarans have two hulls which means they do not heel over like a monohull.  The layout is fairly standard with the kitchen (galley) and salon (indoor living area) on one level and 2 private cabins on each of the sides with attached 'bathrooms (heads).  There is a large outdoor living area at the back (stern) of the boat and another large hanging-out area at the front of the boat.  Some call catamarans "floating condo."  We find that catamarans are roomier, more stable, easier to move around for kids, and more luxurious.  They are great for kids for their first time as nothing is overly scary.
A boat has bedrooms (cabins). Each cabin has a bed and some storage. The beds on a catamaran are double beds meaning they hold two adults. Below is a typical cabin on a catamaran.
The kitchen (galley) is like an apartment kitchen. Everything is a bit smaller on a boat but it has all the amenities you'll need—and the boats come with all the basic kitchen needs such as plates, dishes, cookware, Tupperware, cutlery, oven and stove top, microwave, and sometimes even a dishwasher. Below is a typical kitchen/galley.
The bathroom (head) on a boat is similar to those you're used to at home. Toilet, sink & shower. Sometimes the showers are incorporated into the main 'head' making the entire space a 'wet-room'; other times, you'll have separate showers. The toilets are marine toilets-with either an electric or manual pump. Toilet paper is a no-no and we advise that you don't put anything in the toilet that you don't consume yourself. Below is a typical bathroom (head).
What if I've never sailed?
NauticEd Sailing Vacation will hire a captain for you. The captain will be responsible for all the sailing although they will allow (and encourage) you to take part as much as you want! They do sleep on board but they are professionals, and it is never awkward.  Generally, they sleep in an interior cabin but sometimes they can sleep in the forepeak which is a small cabin accessible from the outside deck of the boat in the front peak of the boat. In fact, by the end of the week, you're likely to consider them a new friend.
What if I don't want to cook?
While we do eat dinner ashore several nights during the charter, you have the option to also hire a cook/hostess. They will need a cabin, however.
How and where do I get groceries?
Getting groceries, is also known as provisioning. There is usually a market in the marina or close by where you can stock up on food, toiletries, and other goods to make your week enjoyable.
How many people does a boat hold?
The number of people on a boat is determined by the size and # of cabins. Each cabin holds 2 persons. For families, you generally need 2 cabins (one for the parents and one for the kids). If you need a skipper, a skipper will need a cabin (same for cook, if you decide to have one). For 2 families, we generally recommend a 45-50 ft catamaran with 5 cabins, 2 for each family, and one for the skipper.
How much does it cost?
Prices for a 'charter' range depending on where you go, when you go, monohull or catamaran, skippered or bareboat, and depending on amenities (air conditioning, watermaker, skipper).
Example cost:

As an example, a Bali 46 is a 46-foot catamaran with 5 cabins (4 double cabins for two families and 1 bunk bed cabin for the skipper), air conditioning, and a watermaker.
For one-week charter in high season (spring break), March 11-18, the boat and fees total $14,721.59 for 8 persons. Add a skipper and the total comes to $ 16,492.59.
If you want a hostess/cook, the total increases to $17,885.24
These prices halve if there are 2 families on board
Prices reduce by several thousand at lower season times
What are the additional fees?
In addition to the boat, and skipper/hostess (if needed/wanted), you'll be responsible for
Provisioning – grocery shopping
Re-fueling at the end of charter – a few hundred $
Mooring fees – basically night parking fees at the marina for each night—approx $50-100/night although often at the boat anchors at night which is free
On land activities & excursions
Water toys such as stand-up paddleboards and kayaks
Flotilla fee – the organizer's fee to cover arrangement expenses – $500 per boat
Skipper/hostess gratuities
Travel – flights and any hotel nights either before or after the boat trip
Taxes and area sailing park fees are usually included in the quoted boat price above
What should I pack?
Pack light in soft-sided bags. We recommend a few bathing suits, shorts & T's, a sundress for women or nicer shirt for men (for on shore dinners) and some comfortable sandals and water shoes. Bring a hat and good pair of sunglasses too.
Don't forget your own snorkel & mask
Boat hair, don't care.  No need or use for hair dryers or curlers.  Reef-safe sunscreen and bug spray are recommended!
Kindle
Can I still connect?
If you must! In most sailing destinations there are ample cell towers whereby you can hotspot your phone to your laptop. International data rates apply but these days it is fairly inexpensive at around $10 per day for unlimited data per device.
How do I book a Sailing Vacation or Flotilla?
You are well-advised to use a Yacht Charter Agent such as NauticEd. A good agent knows all the yacht charter companies and can search for the best prices and types of boats in a matter of seconds as long as they belong to all the agency charter search databases. Agents don't charge you a search or booking fee. In addition, if the agency has been in business for a long time they will have been to most global destinations themselves – the team at NauticEd has been in the sailing business for over 20 years and has visited almost every yacht charter destination and is thus able to give you good advice on the best locations. Our favorite? – Well there are many 10/10's but we did give Sicily an 11/10!
Start at www.nauticed.org/sailing-vacations
Plan your Sailing Vacation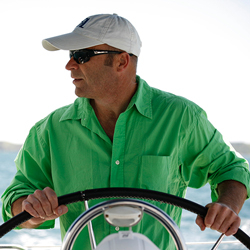 Latest posts by Grant Headifen
(see all)