Get in the Mood to Sail a Catamaran
Wanna get in the mood of sailing a catamaran? Watch this video we just posted. It features a Lagoon 52 sailing in the clear waters of the Bahamas. We have embed this video into the start of the Catamaran Sailing Confidence course to get our catamaran students in the mood for taking the course. When they see what they can have with a little knowledge – it motivates them to complete the course.
Check it out.
On the same topic, last night a group of my friends and I met up at our friends Richard and Kathleen's place. They announced that they are chartering a 46 ft Catamaran for a month with their 8 year old in Martinique this summer. He invited his friends to come in a week at a time to take advantage of the 2 spare cabins. A month we all said? Nice for some! And yes I agree – it will be nice and they deserve it. They work hard. Richard and Kathleen have been friends of mine for 12 years. He and his wife first joined us on their first charter to Belize in 2003 and they were instantly hooked. Since then he has learned to sail and skipper a boat himself and last night was a great surprize for all of us – a month – A MONTH!  His justification was simple – this is life he said. If not now when? They are going to use this month as a test to see how they like an extended trip. Anyone who has chartered knows that a week is just too short. If they like this then they will gradually increase this and build up to buying a Cat and using it to eventually head off to the blue.
I just thought this is a great real story of real people who are challenging themselves just a little. It's inspiring and I'm proud to be the one who got them started all those years ago – I was lucky in that they were great students and friends.  Similary, we all at NauticEd are proud of you, that you're taking the courses and working towards your sailing certification. We are always here to help you get what you want out of sailing and perhaps we'll meet on the water some day.
So speaking of inspiring, We just updated our Catamaran Sailing Course with new professionally shot video and hi res pics courtesy from Lagoon Catamarans. The feedback coming in is awesome and we are really excited to have this very practical Catamaran Sailing course to inspire you step up to the challenge of chartering a cat next time.
Here is the video we have posted which discusses the nuts and bolts of the Catamaran Sailing Course.
If you've never sailed a Cat before – we think you'll beleive it's time after watching that video.
While the thought of sailing a cat can be a little intimidating, we can assure you that after taking our Catamaran Sailing Confidence course, you'll be ready to give it a try. The principles are essentially the same but there are just a few nuances that are different. One being is that it is incredibly important to reef the sails at the prescribed wind speeds. This is because the cat does not heel. When a monohull heels over, the sails see less wind presented to them which reduces the forces on the mast and rig. Rather – on a cat when the wind speed increases, the forces increase with the square of the wind speed i.e. when wind gusts from 10 knots to 20 knots the forces on the rig have gone up 4 times.
A couple of other things are that a cat will tend to get stuck in irons as you tack over. You can prevent that if you delay the release of the headsail. This backwinds the head sail just a little and assists the cat from coming through the wind.  The traveller on a cat is so long that you can really make use of this to twist out the top of the sail for wind efficiencies.
And what about maneuvering a cat in a tight marina – sounds scary? Actually not. Play our catamaran maneuvering game and you'll see that you can spin a cat inside its own length, stop, go sideways, backup easily, there are no worries with propwalk etc. You'll be delighted with its maneuverability far beyond a monohull.
All this and more are fully explained in the Catamaran Sailing Confidence course with awesome multimedia.
And Also available on iPad from the iTunes store – visit our sailing apps page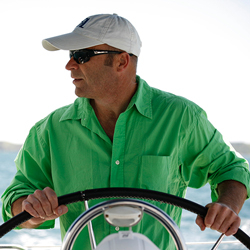 Latest posts by Grant Headifen
(see all)