How to Spring off the Dock
Springing Off the Dock in a Sailboat
Here is a simple animation that shows you how to spring off the dock when the wind is blowing you back onto the dock. Often there may be another boat in front of you and so trying to push the bow out first can easily lead to disaster by you scrapping all the way along the boat in front. It's much easier to just spring the stern out and back away from danger.
Start springing your boat off the dock by clicking the start button in the animation below.
This animation is embedded into the NauticEd maneuvering and docking a sailboat under power course. In that course, there are dozens of other get out of and stay out of trouble tips and tricks. Just one scratch on someone else's gel coat can cost you hundreds of dollars not to mention the shear shame and embarrassment of such a ding. On top of that however, is the cool factor that you have when people are watching you expertly and confidently maneuvering your boat (or a charter boat) around in a tight marina with high winds.
Take the NauticEd Maneuvering Under Power Course now! Also available in iBook format for the iPad see our Sailing Apps page
Plus if you're planning on ever chartering a boat, you definitely need this course. Often times you'll be asked to back the boat down a slipway then have to make a tight turn into the slip – all the while going backwards and in a crosswind. How confident are you? This course gives you that confidence. We've received hundreds of excellent reviews on this course. See the reviews on the course page and you'll see why this course is the world's most advanced Maneuvering a sailboat course.
Take the NauticEd Maneuvering Under Power Course now!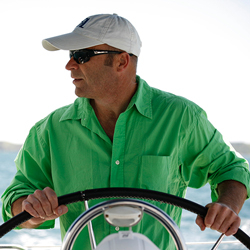 Latest posts by Grant Headifen
(see all)