NauticEd talks to hot new sailing app savvy navvy
Talk about NauticEd disrupting the Sailing Education industry, here is a new navigation app that's making similar waves and it's very cool.
Introducing savvy navvy, the startup working to build the best navigation solution for sailors worldwide. Their mission? To make navigation safer, easier and more convenient for sailors around the globe, making sailing more accessible for everyone.
With savvy navvy, you can plot a route from A to B in seconds. Their algorithm uses real-time wind and chart data to plot the best route to sail based on your boat details, such as waterline length, minimum depth, bridge clearance and cruising speed.
Who's behind the brand?
This tech start-up was Founded in 2017 by ex-Google software engineer Jelte Liebrand with co-founder Kevin O'Neill. In less than two years savvy navvy already has over 14,000 users plotting routes around the world. Earlier this year savvy navvy completed an astounding crowdfunding campaign on Seedrs closing out weeks ahead of schedule after achieving  265% of target investment. This is good news for their community of users who will now benefit from even more features, such as tidal integration, departure planning, and additional chart coverage, to be rolled out throughout 2019.
"Having sailed for most of my life it wasn't until I started working for Google Maps that I realized sailors don't have an easy, safe navigation solution. It seems like the sailing and tech world had a one night stand in the '90s and haven't been on speaking terms since. I just couldn't shake the idea that there had to be a better way to do this, and so savvy navvy was born." Jelte Liebrand, Founder
The team has a broad background; working with companies from Symbian to TomTom, the Volvo Ocean Race, Google and eBay, the one thing they have in common is the drive to build, improve and disrupt industries that are long overdue a change for the better.
What makes savvy navvy different?
As most sailors will know navigation takes time to do right and doing it right is essential. Mistakes are costly and can be deadly. There's one app for the wind, one for the weather, one for the tide, another for the charts – the list goes on and on. Whilst everyone at this young startup agrees you should always be able to navigate properly with a pencil, chart and compass, they also say that being able to quickly and easily cross-check your route with savvy navvy, in a matter of seconds is like a breath of fresh air.
Features you don't want to miss.
But it won't stop there, due to the success of their funding round savvy navvy is working to make this navigation app even more integrated, with tidal calculations, 4-day weather forecasting and Android and iOS apps (to support offline mode) in the development pipeline for later this year.
Taking the NauticEd Coastal Navigation course? 
When it comes to that first voyage on your own where you're responsible for the navigation plan and safety of your crew, it can be a little daunting. Savvy navvy is a great compliment to a chart based navigation course because you now get to understand the whole picture; all that math and chart work variable such as heading, COG, leeway, wind, ETA all come together.
Once you've done your navigation plan you can head over to savvy navvy and plot your route, this way you can get a useful safety check to make sure you've plotted the best route for you and your boat. If the routes are relatively similar you can export your waypoints from savvy navvy for use with your chart plotter. Alternatively, if there's a big difference between the two routes it could be a good sign you need to check your calculations!
"I'm learning navigation. After I've plotted my route I check with savvy navvy and I can see if there is a big difference, it's like having someone check your homework." Lisa Keel
This provides great piece of mind, like having an invisible first mate, not previously available to newly qualified sailors heading out on their own for the first time.
"It's a great idea to have an app like savvy navvy that enables students to cross-check their plans to ensure they haven't made any mistakes." Oliver Cotterell: RYA Yachtmaster Instructor, savvy navvy ambassador
Try savvy navvy's sailing navigation app for free.
The team at savvy navvy have just launched a free trial for new users, so now you can try plotting routes with real-time wind and chart data. And for a limited time, you can upgrade to their Founding Member programme where you can get all future Standard and Premium features for a special founding member rate of just £99 per year.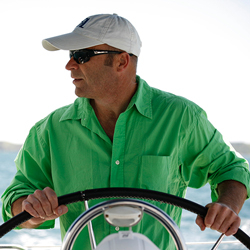 Latest posts by Grant Headifen
(see all)