Master of the Vessel vs Crew
Here is an excellent question from a student with our answer. It is in regards to entering Master of the vessel time into his NauticEd online sailing logbook.
>>>>>>>>>>>>
My name is Ben , and I am a NauticEd Member. I am quite fond of the program and think it is a wonderful tool for new sailors like me.
I do have one suggestion regarding the NauticEd Logbook however. Currently, you can only enter experience as master of the vessel or as crew. In my situation, I often find myself standing solo watches while sailing; while not master of the vessel, I am acting in a greater capacity than simple crew. I would suggest that you add a "watchstander" option for your logbook system so that sailors like me who aren't often the final authority on board, but are acting in that capacity for 4 hours or more.
Thanks for your time, and keep up the good work.
Ben C
NauticEd Member
>>>>>>>>>>>>>
Our reply
Ben thanks for your excellent suggestion. I get what you are saying – there is a level of responsibility in Watchleader.
We'd have to think about how to incorporate this level of granularity into our online sailing logbook. In regards to the capacity of crew however it is worth still a full day so long as there is sufficient master time to match. e.g. if you have 10 days as master then you can earn all 10 crew days (if logged) towards level promotion. The only time crew days don't really count is when there is a gross imbalance.
When working with charter companies they were very insistent on master of the vessel time and how important that was. We did put some provisions in there for instructor supervised time to short cut to level 1.
We'll keep thinking as we always work to improve the whole concept. We also allow students to use seamanship discretion when deciding who was master of the vessel. e.g. when a student goes out with a friend and asks the friend that he needs master time – he can ask his friend "can he be designated today as master?" That kind of thing counts I believe and is valuable time.
Thanks
Grant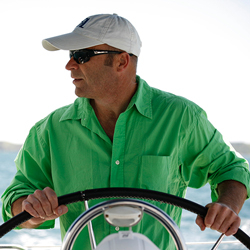 Latest posts by Grant Headifen
(see all)