Meet Sailing Instructor Merilee Wright
Sailing instructors are often the most highly experienced sailors in the industry, but they all start somewhere! Gain insight into sailing from those who do it most…
"The more I sail the more I love it!
There is nothing quite like getting the sails up, turning the engine off, and experiencing the pure joy of feeling the sun on your face, the wind in your sails and the water all around you. And my goal is to help as many people as possible experience this same joy of sailing!
I am a qualified American National Standards NauticEd Instructor. I've been sailing for 20 years and have been a boat-owning skipper for the last 15. As both an active racer and cruiser I am typically sailing at least 50 times per year, continuously developing my own skills, teaching and building race crew teams, and actively supporting women in sailing."
Tell us a little bit about yourself?
My passion for this sport and my own continuous sailing education, combined with extensive business and leadership experience in public speaking, presentations, coaching, training, and building teams, and my desire to help people achieve their goals, has led to a natural evolution to Sailing Instruction.
Keelboats -or- Catamarans?
Keelboats!
Local Sailing -or – Racing – or – Coastal/Charter Vacations – or – Deep Blue?
Adventure (new destinations & experiences)
What's your "Style" of sailing?
Coastal / Excursions
What got you into sailing?
In 2002 I moved to Toronto and was lucky enough to live close to Lake Ontario. When I asked people at my ski club what they did in the summer, they told me they sailed. Wow, not something I had ever thought of or been exposed to before! I went to a new member night at a local yacht club, discovered you didn't actually need to own a boat to start sailing, loved the people, the atmosphere and the environment and I was hooked. I took the basic cruising course that spring and have never looked back!
What does sailing do (or has done) for you?
Sailing has allowed me to develop skills I never even knew I had while also building and refining others that already existed. It gives me the chance to continuously meet new people and have new experiences and adventures, while also building life-long friendships. At its core, sailing fills my life with joy, provides me with independence in adventure, builds confidence and allows me to fulfill my desire to teach and help people enjoy new experiences and achieve their own goals.
Most memorable sailing experience?
There have been so many, from my first charter in the BVI, to sailing in the Greek Islands, to buying my first boat, to becoming an accomplished racer, and even to surviving a few big storms on the water. I really couldn't pin it down to only one, as there are two that really stand out.
The first was in my second year of sailing when I was still a crew member fresh out of my basic sailing and still learning. I volunteered to go and crew for a fellow club member on their boat in the Bahamas for 3 weeks and they said yes! I learned so much about sailing, chart plotting, weather, passage-making, provisioning, living aboard, anchoring and so much more. It was an incredible experience and really instilled the passion for sailing in me.
The second was more recent. I skippered an all-female yacht charter on a 47ft boat in the Bahamas, where I taught the crew about skippering, crewing and navigation. It was a vacation with friends that allowed me to really plan out how to prepare for and run a great charter where people learn, have fun and make new memories.
What are a couple of your favorite sailing spots?
I sail and race regularly in Western Lake Ontario and my favourite spots there are sailing in and around the Toronto Islands, and heading over to Niagara on the Lake. I also love sailing in the Bahamas and the BVI.
What's your favorite part about teaching sailors?
My favourite part about teaching sailors is seeing when they 'get it'. The moment all the theory and practice come together and it all makes sense and they can enjoy the amazing feeling of the sun on their face, the wind in the sails and the sound of the water on the hull. That moment of pure bliss when they finally harness the wind!
What advice would you give a new student about sailing?  An experienced sailor?
Advice I'd give a new student would be to learn the theory but then get out and spend as much time as possible on the water to put that theory into practice. Join as race team as crew – you'll get out more often, learn faster, experience close quarters sailing, 'rules of the road', and what it's like to sail in all kinds of conditions. For experienced sailors the advice I'd give would be to get out on the water as often as you can. Be it racing or cruising, go out with other experienced people as well as new crew. You learn so much when you provide coaching and guidance to others so having new crew with you builds your skills. Set goals for sailing in all types of weather and for increasing your distances and miles. Get out and practice anchoring. Don't forget about docking – practice makes…well if not always perfect, then at least confidence!
What is a random fact about yourself?
A random fact about myself is that I also love motorcycling. The only challenge here in Canada is that the motorcycling season occurs at the same time as the sailing season and you can likely guess which one wins out most often.
What's on your sailing 'bucket list'?
On my sailing bucket list would be: sailing in more exotic places like Croatia, Bora Bora, Australia, and New Zealand; doing a short Atlantic crossing from the eastern seaboard of the US to Bermuda; competing in regattas like the Heineken regatta in St. Marten, and seeing legs of the Ocean race and Sail GP in person.
###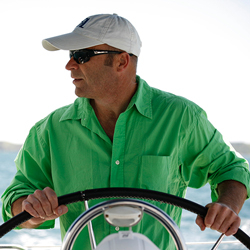 Latest posts by Grant Headifen
(see all)
Last updated on May 10th, 2023