Navigation Rules Hybrid Paper/eBook
If you think this is pretty cool  please LIKE it on facebook or g+1
Learn the Rules of the Nautical Road in the most high-tech/low-tech manner possible. Huh?
We're excited to release our new first hybrid paper/eBook 92 pages long in full color.
It's a real paper book that comes alive with video and animations. It serves as an excellent paper book resource for your boat. When you have you mobile device with you – the book will come alive.

First we struggled, why release a paper book when NauticEd is the World's Most Advanced Sailing Education and Sailing Certification company? How can you view a video or animation on paper? The answer became simple once we put on our thinking hats – use an App so that it can scan a QR Code  inside the book where we want to explain a concept better with a multimedia element. So now here is the book – available on createspace.com.
(Note the image shows a hardback book – it is really a softback book but professionally bound by Amazon and available as a print on demand book.
Tap the image to download the first 7 pages of this hybrid book.
Here is how a hybrid Paper/eBook works: The book is like any other paper book with images and text. BUT … when you scan any of the QR codes in the book with your phone camera, the book comes alive with animations and videos. As an example, throughout the book you will see QR codes like this to the right.  Scan it now with any phone camera.
Otherwise – the book is a stand alone excellent explanation of the Rules of the Nautical road and is a good and quick easy read. But with the addition of scanning the QR Codes, you're going to light up with all the fun of a hybrid Paper/eBook.
If you think this is pretty cool  please LIKE it on facebook
NauticEd – yet again, bringing amazing technology to Sailing Education!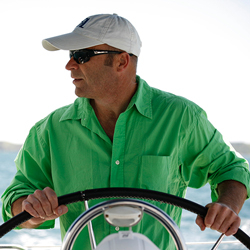 Latest posts by Grant Headifen
(see all)