If you like this post – please LIKE it via facebook and G+1 it – thanks it helps us grow
The guide books give St. Vincent a bad wrap and many people have told us to give it a miss. Our plan to sail from St. Lucia to Bequia Island however was not quite going to work as it is around 50 nautical miles. While it is easy to do this in a day – it's just a lot of sailing and not always desired by the vacationing crew. So we decided on a stop over about half way down St. Vincent. We picked a little bay called Cumberland Bay listed in the Guide to the Windward Islands as a good and safe stop. We also thought to conveniently time this with a Customs check-in at Wallylaboo bay just to the south the next morning.
What a nice and special stay over we had at Cumberland Bay. First we were met by Maurice who is one of the local hosts for the bay. He met us at the entrance with his row boat. When we agreed to let him be our bay guide/host he rowed furiously as we followed with the engines on idle into the bay.
The bay is deep and thus requires a special type of mooring much like a Mediterranean mooring but slightly more primitive. For our Catamaran, we made an aft bridle from a dock line with a figure 8 loop knot in the center. Then tying 3 dock lines together we gave one end to Maurice who rowed ashore and tied to a coconut tree. At the same time we deployed the anchor into deep water (15 meters) off the front and backed the boat towards shore. Once Maurice had secured the tree we tightened up slightly on the anchor which held us fast. The steady of shore breeze kept us out from the shore  whilst the anchor held us from swinging.
Then began the market place (on our boat). One after the other friendly locals come up in anything that floats and try to sell us fruit, fish and local made jewelry. We embraced them all and were always able to find something to buy. Plus if you need something, the very resourceful locals will find it.
Maurice suggested that we dine at Mojito's Restaurant, the only one in the Bay during this season plus he organized a taxi ride to "the most beautiful waterfall in all of the world".
Mojitos was an unexpected surprise. The food was the best you can get in any 5 star restaurant but in a delightfully primitive setting complete with local dog and cat respectfully watching over with weepy eyes. Complete with Mojitos, main course of curried fish for me and banana flambé for desert the bill was about $us20 per head. To dine under a coconut tree with a lapping sea shore with incredibly polite and attentive service was the just the treat we needed after a 5 hour double reefed mainsail sail from St Lucia that day. I shan't forget Mojito's.
"The most beautiful waterfall in all of the world" is a tall order to fill for me. Having grown up in New Zealand, I was interested in testing Maurice's opinion. In my opinion he did not quite hit the mark. Still, the $us15 per person taxi ride through the local villages up up up and down down down the step well maintained skinny precarious roads in a modern Toyota van through the valleys plus the waterfall was a fantastic experience.
I asked about the crime and attitude of the people from St. Vincent. Maurice recognized the problem but also was positive in that things are changing for the better and that RESPECT is highly promoted. He was more complimentary of the government than critical. A local along the waterfall path greeted us smiling and said "Thank-you for visiting our country. Please bring more of your friends we welcome them".
Overall from one data point of one bay in St Vincent we were overwhelmed by the respect that the locals showed towards the tourists and their $us500,000 boats. We felt welcomed and yes – respected.
I'd rate Cumberland Bay, St Vincent a must stop over with a Pleasantly Primitive label.
The Customs and Immigration office in Wallylaboo we found out is only open after 5pm. And so rather than backtracking we decided to do the Check in in Bequia Island instead which is the next island to the south in the Grenadines. Rules of the country St. Vincent and the Grenadines allow you to check in any time inside 24 hour after you arrive. In general, care must be taken in all these islands to follow the Immigration rules. It is a bit of a paperwork nightmare, but still sovereign respect must be given where it is due.
A few days later we sailed into Blue Lagoon, St Vincent. It is just to the south of the capital  city – Kingstown. Again – we received a warm welcome and friendly people. The taxi driver who took me to the airport the next morning at 5am was reliable and friendly. His comment was also that there are good parts and bad parts to any country. St. Vincent has many good parts – and I agree.
I'm pretty sure if you visit St. Vincent, you'll have a good experience.
Have you got your NauticEd Bareboat Charter Master Sailing Certification yet?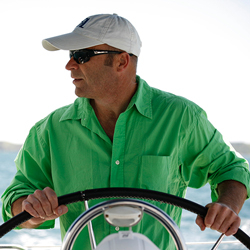 Latest posts by Grant Headifen
(see all)