Smartplug Stops Boats Burning to the Waterline
A SmartPlug is a must for your boat to replace the standard L5-30 shore power plug.
A few years ago I managed a boat for a syndicate of guys. They were sharing their boat using our boat sharing software.
But alas … here is what happened to their beautiful boat.
Turns out, this is an extremely common occurrence. The plug that goes into the boat is usually an L5-30 which looks like this:
More than likely, it is on your boat as well. Well, this plug was never designed for a rocking-boat in a salty marine environment but because it meets UL standards, it is the type of plug that is put onto almost every boat. The plug was originally designed in 1938 and has just become one of those legacy products that has survived beyond proper technology.
My friend Peter Neilsen who is the Chief Editor of Sail Magazine showed me this pic of the L5-30 on his boat. Not good.
Peter shared that he was installing a SmartPlug. So I immediately did some research and found them to be a properly designed plug for a boat.
When I went to our boat and inspected our own plug here is what I found. Double YIKES.
Immediately, I ordered a Smart Plug and stopped plugging in the boat and just relied on our solar panel to keep the batteries charged.
"Smart" – It is not smart as in a "smart phone". It is smart because the guys who engineered it, put on their thinking caps – smart. The basic issue with the L5-30 is that the actual contact area for the terminals is too small, leading to high resistance and high resistance leads to heat which leads to fire. The Smartplug uses a longer contact area for the terminals while also using a clever holding clip to hold the plug sturdy in place instead of that extremely annoying threaded piece of plastic ring which is impossible to screw on each time without crossing the threads. I mean, who thought of that anyway? In the image below, see the nice logical easy side clips.


An independent Electrical Engineer, Rodd C Collins who is the owner of Compass Marine, Inc. located in Cumberland, Maine did a full study and report on the SmartPlug. Rodd is an ABYC certified marine electrician located in Maine. Rodd writes articles for his Marine "How To" website for DIY boaters. His site has over 350,000 readers worldwide. Rodd has become a trusted source for boaters around the world.
Here is a link to the electrical report.
Below is an amazon link to the one that I sourced for our Beneteau 373. It is the whole cable with plug molded on using well-designed rubber strain relief molding with the inlet receptacle. The receptacle replaces the one on your boat. So you have to unscrew the one on your boat and screw on the SmartPlug receptacle which was easy since the holes on the SmartPlug receptacle aligned with the old inlet receptacle – again "Smart".
Or if you want to reuse your existing length of cable, you can get a retrofit adapter to use your existing cable and just cut off the existing L5-30 plug
If you want to sleep better at night, best you switch over to a smart plug.
The installation was easy and took an hour or so.
First, we removed the old L5-30 receptacle. (The one on the right is inactive and not used).
While disconnecting the wires on the inside of the boat, here is what I also found. The white power wire had been completed burned and overheated. Triple YIKES.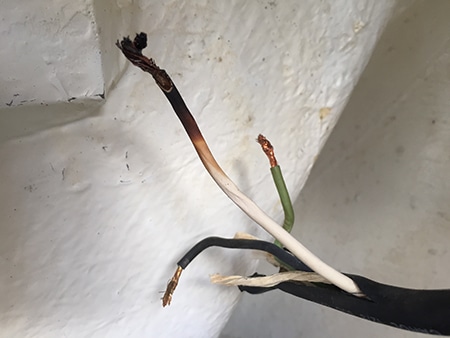 Next, I mounted the new Smart Plug receptacle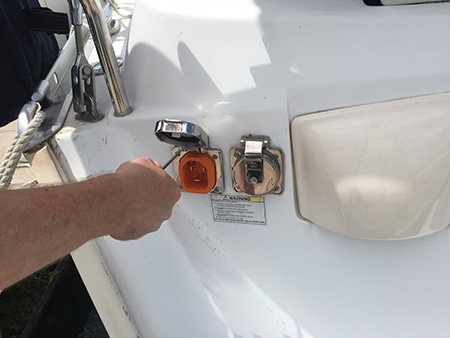 Locked in the wires on the back end to the terminals (after I cut off the burned section). Smartly, they even color coded the terminals – smart.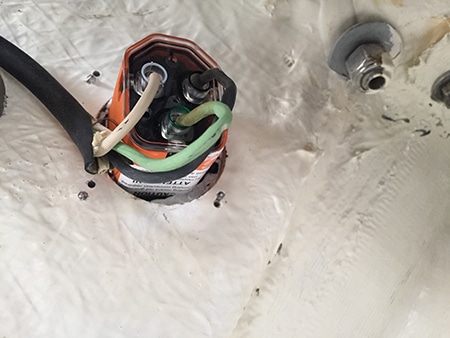 Then plugged it in. Notice we use a bungee cord to keep the cable up out of the water. We use two zip ties; one made to a loop and the other zips tightly on the cable.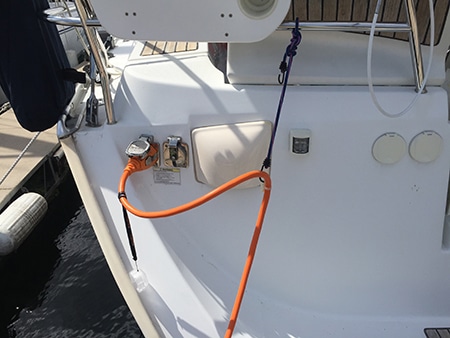 So here is the final image to leave in your head.
We did not get paid to write this article. We just don't like seeing nice boats burned. Get yourself a Smart Plug.
NauticEd is the world's most advanced sailing education and certification company.  We help sailors be more knowledgeable through interactive multimedia courses. We write lots of articles like this to help our followers.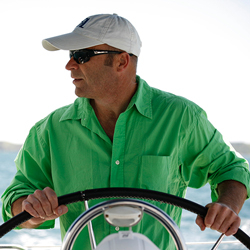 Latest posts by Grant Headifen
(see all)