What about COB – Captain overboard?
Last week we made a pretty good point about using the engine as your first method of pick up when you have a man overboard while under sail. And it was quite well received by followers – thanks. Many sailing schools teach the figure 8 recovery method whilst under sail and this is correct we believe so long as it is used as the second method for recovery.
But it may need to be the first if someone has the engine keys in their pocket. Durh!
The problem is that it's usually the captain who turns off the engine and puts the keys away secure in his/her pocket. And it's many times the captain who is the most competent sailor and worse yet if the only competent sailor aboard or not aboard as in the case of COB.
The scenario is now pretty easy to realize. Captain goes overboard with keys in pocket and a non experienced crew left on board to sail the boat to a recovery pick up.
Leave the keys in an accessible place. Have a second set of keys available in the chart table and ensure every one knows the COB (captain overboard) recovery plan.
Sailing schools in particular should take notice here because many times you have novice students who are just learning to sail  loaded on the boat. Make COB part of your initial briefing.
When on a bareboat charter make a keys talk part of your initial briefing to everyone.
Stormy conditions? Remind everyone about MOB and COB during the batten down the hatches phase.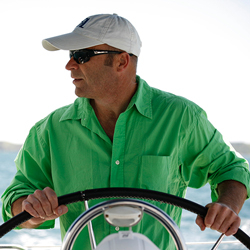 Latest posts by Grant Headifen
(see all)