Here is a question from one of our many international students. Currently we have students from 90 countries. It's a good one and often asked, so I thought I'd post the answer here.
It's about the USCG Captains License vs the NauticEd Captain Certification
QUESTION
Good afternoon
I'm writing you from Asia (Macau SAR) and would like to have some information about your certifications.
I been sailing and own several sailing boats for quite a while, however, never had any formal education apart from the mariner license from the Government of Macau. However, i'm interested in getting your Captain's certification but have some doubts how it works.
Can i just apply for the Captain's program or do i need to go thru all the levels before making it to the Captains level?
And if can get it directly, without having to buy the other courses, can I (non-american citizen but with a American flag sailing vessel and Master USSA Surveyor license number: MMS#(xxxxx) apply to make the exam for the USCG Captains license.
And, for NauticEd Captain's licence, can all the studying process and exam be made online or we need to be on site some times?
Best regards
Joao G
>>>>>>>>>>>>
ANSWER
Joao,
Thanks for writing and for the good question. Firstly, I'll directly answer your questions then give you some background.
(1) You can invest directly straight into the Captains Rank certification. When you go to the Sailing Courses Page you can see there at the top right – the Captains Rank bundle of courses.
(2) The Captains Bundle of courses will ready you for almost all the study materials you'll need for the USCG six-pac captain's license (six-pac stands for 6 passengers).
(3) As a non US Citizen and non US Resident however, you can not gain the USCG Captains license.
(4) You can do all our courses online. The online no online thing you will need to do will be for the Coastal Navigation Course. You will need to order a paper chart from our supply chain partner Landfall Navigation for about $10 plus shipping. Instructions are inside the course.
Background
Unfortunately the way it is set up is that the USCG have provided no delineation between a captain who would like remuneration for taking a few passengers out for the afternoon and a captain who is operating on a much more serious and large scale like a 200 passenger ferry boat captain who is operating between Vancouver Island in Canada and Anacortes USA (Except the differences in tonnage qualification and the Master upgrade). But essentially,the License requirements for both types are operators are very stringent with FBI back ground and Homeland Security checks. The process is daunting. And especially for a small time sailing school instructor – he/she must go through the same full throttle requirements of the USCG License.
So for most – it's just not worth it. When I did my USCG license – 90% of the people in the class were doing it for two reasons only. (a) To get the knowledge to be safer on the water and (b) for the recognition. None had ideas of becoming a ferry boat captain and mostly none had any ideas about operating for remuneration. One operator wanted to do fishing charters on his 20ft flat bottom deck boat. (Operating for remuneration is the litmus test for why you need to gain a USCG Captain's license). Unfortunately the USA puts a wasted security effort into this non delineation.
On top of that, the sailing endorsement was a literal joke. There was no training only a series of overly easy questions that my five year old could answer – like what's the big stick up the middle called? What is the fuel that powers a sailboat? And can a sailboat sail directly into the wind? Got all three? Yup Passed and stamped. Shameful actually. So when some one tells you they have a sailing endorsement on their captain's license, just know that all they did was answer the questions.
But just like taxes – it is what it is.
Enter NauticEd. The NauticEd Captains Certification contains ten course and is approximately 80 – 90 hours of study with tests at the end of each module. Courses vary in length and have from 1 module to 14 modules within.
When you finish the NauticEd Captain's Certification you're going to be sooooo jazzed with the overwhelming achievement and incredibly confident of your knowledge. However it does not end there. To attain the NauticEd Captain Certification you must document your time on the water. The minimum is 50 days of documentation with 50% of those days being on a sailboat 28 ft or longer and 50% of those days must be as master of the vessel. This will gain you the Captain level III Rank. When you have completed 200 days you become Level 5. You can not get a NauticEd Captains Certification with out documenting this time. Additionally we offer a Verified Practical Proficiency stamp through our various sailing Schools world wide. In your case we have one just across the waters in Hong Kong. All this above makes the NauticEd Sailing Certification the only certification in the world that requires full documentation of experience. Many other weaker certifications you can gain with a few days out on a boat with an instructor. A Yacht Charter Company would never charter a yacht to anyone with 4 or 5 days only of experience on their resume despite what the certification name is. IE Who would charter a boat to someone with an associations bareboat certification but on their resume was 5 days of sailing experience only. The idea is crazy and that is why when we set out the NauticEd ranks and levels we interviewed dozens of yacht charter companies to find out their requirements. Then we built those requirements into our electronic cloud based certification. The full snap shot picture of a stundet is available to a charter company when the student gives the charter company their secret logbook code.
But it doesn't stop there – we encourage you to read our Sailing Badge system. There you will be recognized for the proper activities your SHOULD be doing if you want to be a good sailor. This will set in place good habits and is especially good for self taught persons. No other system in the world is this focused on teaching sailing education and making it this accessible.
So in summary – here are the differences
USCG Captains License
Only needed if you are operating for remuneration
Sailing endorsement is a joke
Contains good and valuable information and training
Is recognized by most countries as a valid boating license
360 days of boating days required as a minimum
Security and back ground checks required
Yacht Charter Companies still require you to fill out a sailing experience resume.
NauticEd Captains Certification
Can not operate for remuneration
Extensive Sailing information for boating and sailing
Is recognized by most charter companies worldwide as meeting full requirements to charter
No charter resume is required because it is inherently built into the NauticEd Certification
Your quantity of experience is recognized through levels
Level 3 is 50 days
Level 4 is 100 days
Level 5 is 200 days
No issues with security and back ground checks
Resume is held in the cloud
So you can see that NauticEd is not focused on commercial operations where as the USCG Captains license is. YET whether you're wanting to gain a commercial license or recreational certification – we believe that you and your passengers are BEST served by learning as much as you possibly can about boating and sailing.
NauticEd is focused on global accessibility to boating and sailing education. Get started with the NauticEd Captain Certification NOW
If you still need to take the USCG Captain's license for commercial purposes click here
To me – there are three reasons to gain the NauticEd Captains' Certification.
(a) A feeling of personal accomplishment outside of your work career
(b) A fully recognized cloud based sailing certification accepted by yacht charter companies world wide
(c) Safety – the worst time to be wishing you had the knowledge is when you need it
Joao – thanks for the great question. we encourage questions such as these to help all our global students.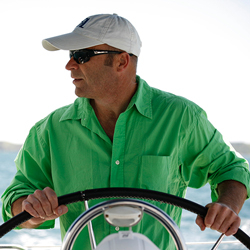 Latest posts by Grant Headifen
(see all)