Yacht Charter in Saint Martin
Recently, our Client Michael L. and friends went to Saint Martin for a 1-week yacht charter on a Lagoon 42 ft Catamaran. We asked Michael to do a write-up of the area and his vacation. Here it is below.
NauticEd are Yacht Charter Agents. We can arrange a sailing vacation for you. We have advice on where to go, we know all the good companies (and the bad ones). We don't charge you a fee to book with us, in-fact we will probably save you money.
A WEEK OF SAILING WITH THE RICH AND FAMOUS
Day 1 – Anse Marcel Marina
Our trip started with an unexpected, but welcome surprise. Having booked our trip nearly a year in advance, we fully expected to have no issues with COVID and navigating the foreign countries' restrictions related to travel. Sadly, France decided to completely close its borders which included St. Barths. However, we were informed upon arrival to the sleepy marina in Anse Marcel, that despite us flying into the Dutch side of St. Martin, because our boat was leaving from the French side, we were now considered inside of France and thus able to enter St. Barts without issue. Our group rejoiced with several glasses of rose as soon as we boarded to celebrate.
Dream Yacht Charters was nice enough to let us board our boat early that Saturday, which allowed us to provision the boat from the Super U via a 10 minutes taxi ride. One thing that was not surprising given St. Martin's French nationality, the meats, chesses, breads, and wine selection was top notch. Having chartered in the BVIs and Abacos several times, I can say unequivocally the quality of the provisioning was second to none. After our briefing and loading the boat, we completed a short sail to nearby Grand Case where we anchored for the evening.
We were able to secure at reservation at the cozy L'Auberge Gourmande, an authentic French restaurant to kick off our trip. We headed to the local spot Blue Martini for drinks afterwards and enjoyed the live music which consisted of a mix of French reggae and rap.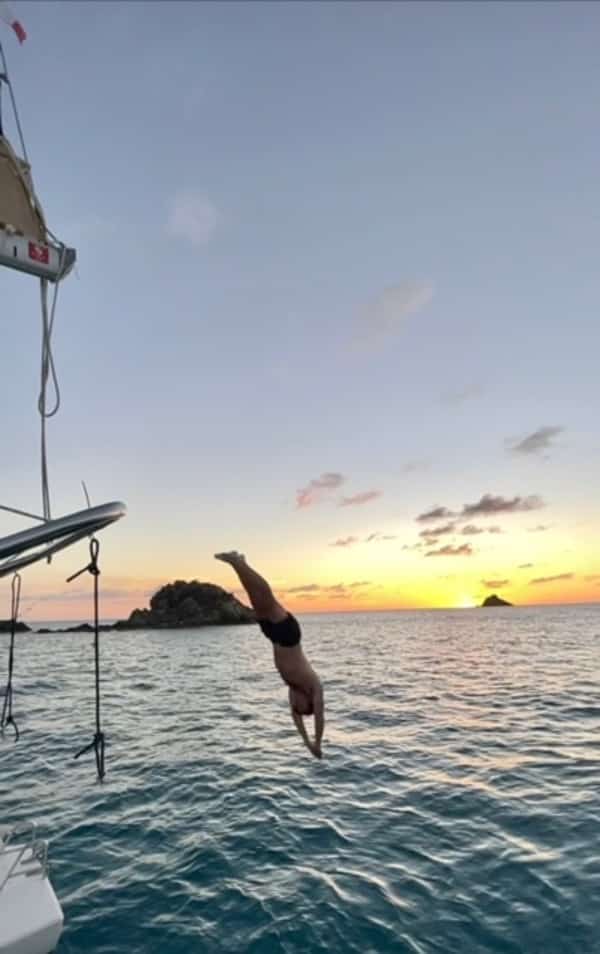 Day 2 – St. Barths – Gustavia
We pulled up the anchor early to set sail for our longest of the trip, to the exclusive St. Barts. The wind was blowing a consistent 15 knots and with enough angle that we were able to sail all the way to Gustavia on a single tack. Never have I anchored in a cove where our forty-two-foot catamaran felt so small. Our crew enjoyed searching the names of some of the mega yachts, guessing their prices, and the owners. "Mega" truly is an understatement. One boat we found was worth $500M and came with a support boat equipped with a helicopter, forty-foot sailboat, and fifty-two-foot cruiser resting on top. I checked in with the captain's office and we secured a taxi to head to our pinnacle destination– Nikki Beach.
The closest thing in the Caribbean to St. Tropez, Nikki Beach did not disappoint. Our crew, hungry from the sail, demolished one of their famous Sushi Boats and washed it down with a magnum bottle of Rose and one of the largest pitchers of Moscow mules I've ever seen.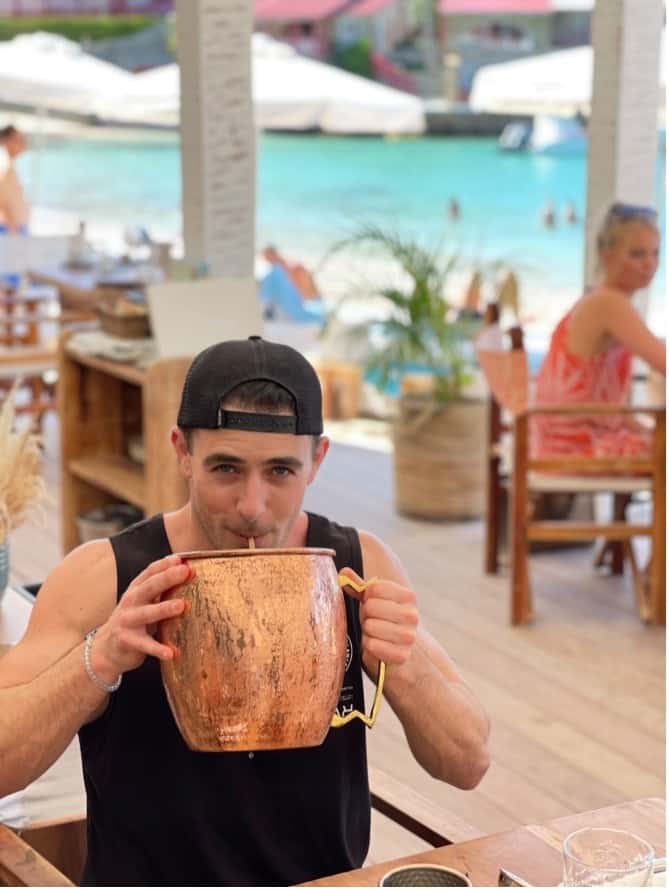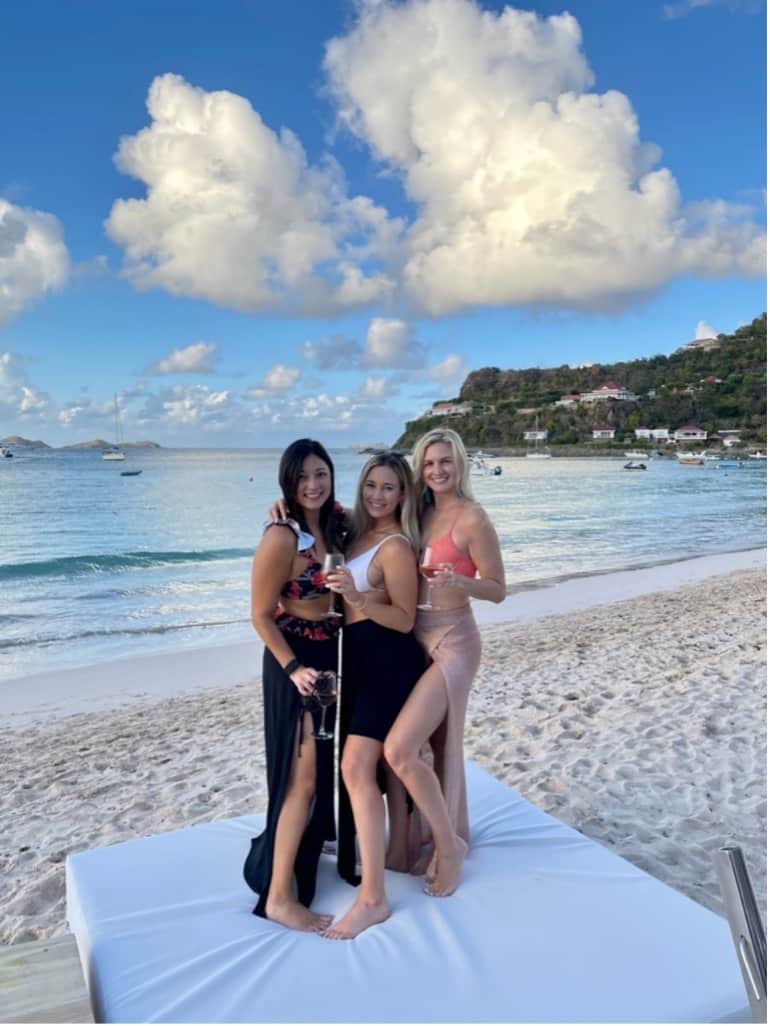 We returned to our boat for what became a daily sunset tradition of an evening swim, more rose, and of course charcuterie. The girls got ready, while the gents got the boat in shipshape for the evening. We took our dingy ashore and walked to Bonita near the marina for dinner. Bonita is built into the mountain side, so it boasts some of the best views of Gustavia, not to mention the best cocktails. Each one was unique, some glowing with florescent lights, while others smoked and foamed. Bonita is worth a visit for nothing else than the mixology.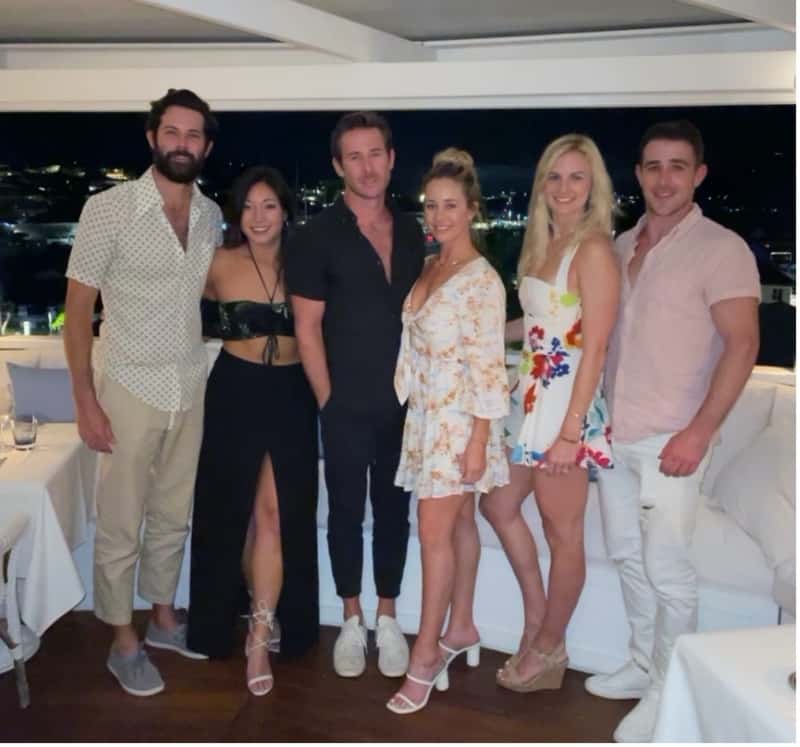 Day 3 – St. Barts Gustavia
After a heavy day of partying secured, the crew opted for a more relaxing day which started with a snorkel on a reef near our anchorage. We saw plenty of tropical reef fish, turtles, and even had a five-foot barracuda conspicuously guarding our anchorage right under our boat. The crew enjoyed some local shopping, an outrageously overpriced lunch at l'Petit Plage and regrouped back at the boat to come ashore for our final dinner in St. Barts at Tamarin. Taramin is nestled deep in the rainforest and had a cool, jungle-chic vibe.
Day 4 – Simpson Bay
After our boujee quota was well fulfilled, we returned to St. Martin and sailed to Simpson Bay. The anchorage here was not too crowded and extremely well protected. We saw at least a dozen turtles casually swimming around the boats in this peaceful cove. The crew went ashore to Roxxy Beach club where we happened to be seated next to none other than Jean-Claude Van Damme. Another day of cocktails on the beach ensued, but this time it was paired with the entire backstory of the filming of the movie Bloodsport, JVD's claim to fame.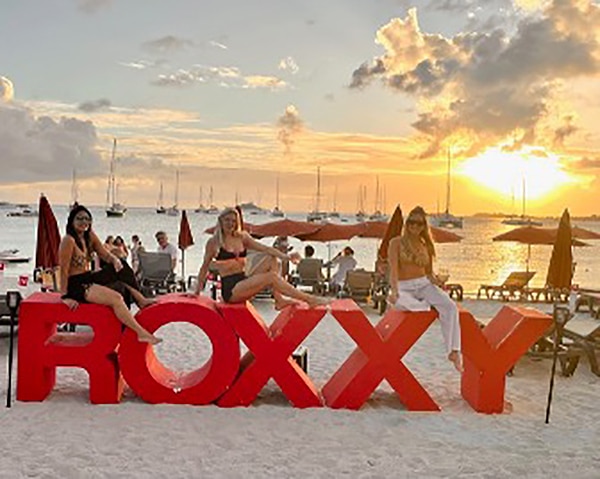 Day 5 – Phillipsburg
We loved the anchorage so much in Simpson Bay, we decided to keep the boat there and rent scooters to explore the island a bit more. We scooted over to the Dutch-side capital of Phillipsburg where we were greeted by an energetic host from the Blue Bitch Bar who repeated their slogan that "this is a great place to be when you're in heat." Our host shared that typically they have about 20,000 visitors from the cruise ships each day, but with COVID they had essentially ceased. This resulted in highly attentive service where the Blue Bitch margaritas flowed consistently without any complaints. A near empty Phillipsburg bay was absolutely stunning. We relaxed on our lounge chairs while staring at the yachts that dotted the horizon resting near motionless in the crystal, pool-like blue waters, and listened to the ever so slight lapping of waves. Honestly, that afternoon was almost offensively relaxing… almost.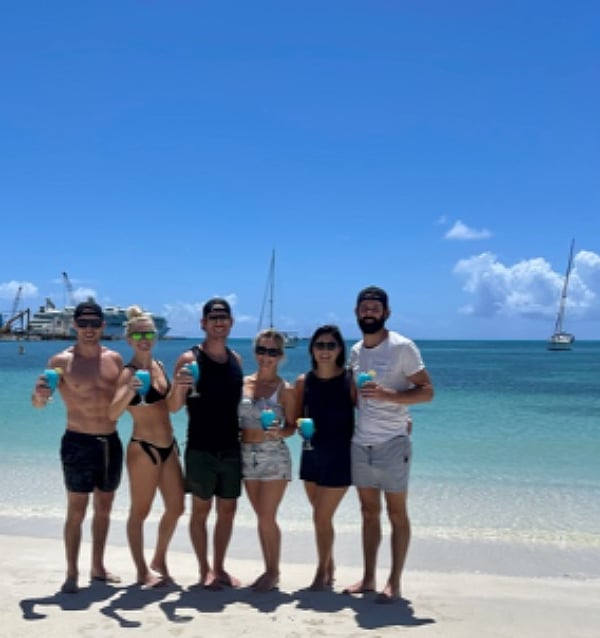 Our scooter adventure continued inward to the island's local parrot sanctuary. Admittedly, I was skeptical on this, but my buddy said it was highly recommended and it was only a short, scenic ride away – it did not disappoint. We entered a large aviary that was full of hundreds of tropical birds. Instantly each of us had a bird resting on top of our heads, shoulders, or hands eagerly awaiting some bird seed. This proved quite the experience and made for some excellent selfies. We managed to drive around the entire island in less than an hour and really enjoyed driving over the bridge of Simpson Bay Lagoon where kids where learning to sail on optis and dodging the mega yachts parked throughout. The night ended with dinner at a nearby Greek restaurant serving local catches with Mediterranean flair along with some delicious, homemade banana rum shots.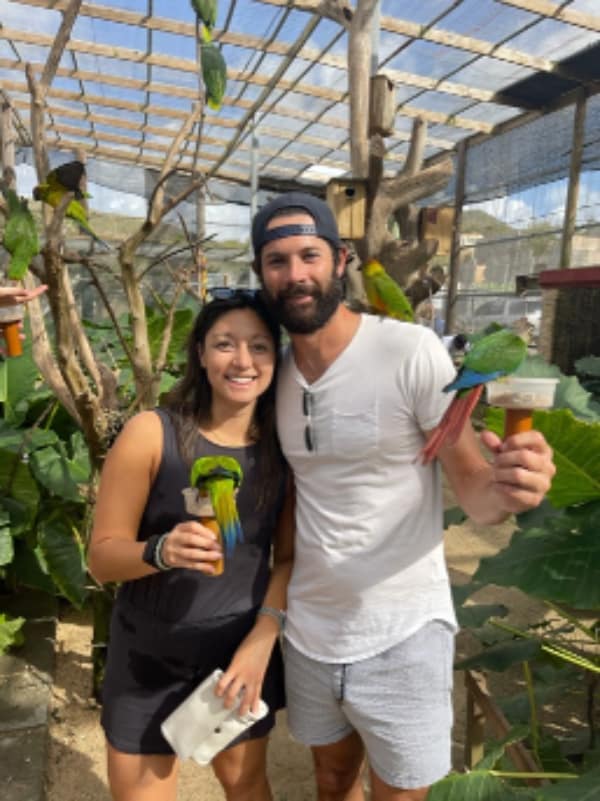 Day 6 – Grand Case
We headed back to Grand Case for our final sail of the trip. We were able to get our Lagoon up to 11 knots with the consistent wind as we watched Anguilla pass by on the West. About halfway through our sail, we spotted two humpback whales breaching only fifty yards right off our boat. For me, this was the highlight of our trip and a perfect way to cap off the week's adventure. We anchored in Grand Case that evening and ate at another upscale French restaurant. The food was so-so, but the girls were asked to participate in a fashion show, showcasing a local boutique's clothes for the other guests in the restaurant. They were eager to oblige and entertain us all. We walked back over to Blue Martini for some more live music and drinks afterwards.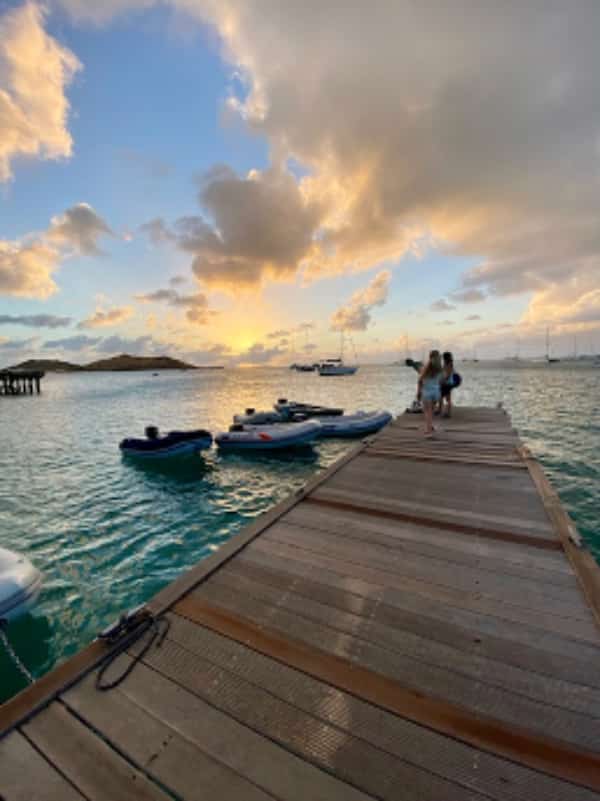 Day 7 – Loterie Farm
Our last day, the crew wanted to sweat out all the drinking from the past few days. We got a taxi to Loterie Farm, a nature sanctuary complete with elevated bungalows and naturally heated springs. Before relaxing at the pool, we took a two hour hike up the mountain from the farm for an amazing view and some wild monkeys joined us along the way. The hike made the swim afterwards that much more rewarding.
Day 8 – Anse Marcel
We took a quick trip back to Anse Marcel Marina the morning of our flight and we checked out with DYC. They provided us the number for a nurse who we arranged to come to our boat that morning. She gave everyone our COVID rapid tests for reentry into the US at $50 each. We went expecting much more restrictions related to travel between sides of the islands and COVID testing requirements, but everything seemed to be easier than portrayed online – no complaints there. I get the sense these islands are hurting from the lack of tourism, so they were extremely welcoming to us everywhere we went. We will definitely be back and based on the explosive interest from our friends post-trip, likely with two boats!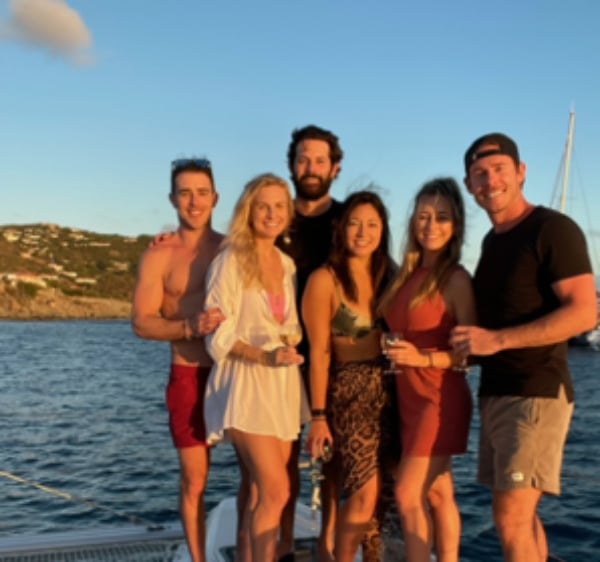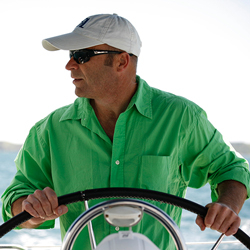 Latest posts by Grant Headifen
(see all)