Day Skipper Qualification Question
How to qualify as a Day Skipper
Here's a question from one of our students about gaining their Day Skipper Qualification
>>>>>>
Hi Grant,
I am asking about my qualification to skipper.
The requirements say that I must have 10 days experience to gain level 1 for my skipper qualification.
I have 13 days of experience, but it still says I am only a qualified crew member.
Can you please check and explain.
Thanks,
Shawn
>>>>>>>>>
And here is our answer
>>>>>>
Shawn,
Thanks for your inquiry. I looked over your account and I refer you to this page, and in particular
Qualifying Days
In order to place real value on the experience, each day of experience must qualify according to the rules below
At least 50% of the days must be as Master of the vessel

Vessels must be 20 ft (6.1m) or longer.

At least 50% of experience must be on a vessel 28 ft (8.5m) or longer

Must be on a sailboat

Similar to the USCG standard, a day is considered a minimum of 4 hours underway in any calendar day.

For Qualified Crew Member, items 2, 4 and 5 apply
Shawn, #3 is pertinent here. Your vessel Butterfly is 25 ft in length. Yacht charter companies require large boat experience but also they do account for sailing experience in smaller vessels  as well. So whilst you are gaining qualifying days with Butterfly you'd also need to add some larger boat experience on a 28 ft sailboat or greater.
We are working on the idea of a small boat qualification as well – but it would not apply to chartering per above.
When we set out to design the NauticEd sailing certification we cleaned the white board on what was out there and went straight to the yacht charter companies themselves to interview them on what they wanted. This is because the current certifications do not have any weight at all with yacht charter companies. Try it yourself, call the Moorings or anyone and tell them you have a Bareboat sailing certificate from the incumbent American Sailing certifying body. They'll pretty much say "so what". This is because those certificates do not require ANY sailing experience other than a few days on the water with a sailing instructor. A charter company can not release a boat to some one with a few days of sailing experience. Thus the charter companies require a sailing resume that you fill out on paper with a pen and fax in (durh 1900's technology) (who even owns a fax machine these days?).
Thus the NauticEd certification is designed to incorporate sailing experience and because we have the data digitally, we can use that data automatically to award the required levels of certifications based (as any certification should) on theory knowledge AND experience. This is why yacht charter companies world wide have no issues with the NauticEd certification.
The Day Skipper certification is a stepping stone to the Bareboat Charter Certificate.
Consider it like this – Day Skipper is for local cruising within 5 miles of land where little navigation is required and is more designed to create the confidence and inspiration to go to a higher level to the Bareboat Charter Master Rank whereby we introduce Coastal Navigation, Electronic Navigation, world class anchoring skills and overnighting and boat system management skills through our Bareboat Charter course. Consequently, everyone should be aiming to raise their skill level to Bareboat Charter master from the Skipper level. This however also requires 50 days of qualifying experience. We wrote an excellent article on how to gain experience earlier this year how-to-bareboat-charter-question
I hope this answers your questions. If you have any more please feel free to ask.
Thanks
Grant
PS if you like what we do or like this article please use the share functions here – It really helps us grow – thanks.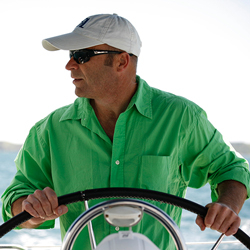 Latest posts by Grant Headifen
(see all)