New Sailors in production in New Zealand
New Zealand has long been respected by the world sailing community as producing some of the world's top sailors. It's no wonder! Here is a pic I snapped this week while visiting Torbay, New Zealand of our future sailors.
The sailing industry is always wondering how to get more people involved in the sport and here it is in the making. Parents wheeling their kids Optimist sail boats down the road to the beach for an afternoon out on the water. The Optimist dinghy sailboat is primarily a solo sailed kids boat and is used extensively thoughout the world for teaching kids. One of the main reasons is that there are thousands of these sailboats in club fleets everywhere. Especially here in New Zealand, kids can join almost any club and be instantly involved in club learn to sail programs and race regattas. How do we get people involved in sailing? Parents – lets get the kids out of the malls and into sailboats.
Watch this space shortly for a cool online kids sailing game announcement. At NauticEd, we're doing our part.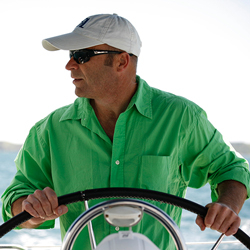 Latest posts by Grant Headifen
(see all)