Sailing Virgins in the BVI joins NauticEd
NauticEd Finds Sailing Virgins Sailing School
Only ten years ago America's Cup contenders achieved around 13 knots boat speed. Now they are achieving close to 45 knots – in just ten years! Sailors in such a competition used to wear deck vests. Now they need body armor. Sailing is changing, fast.
Sailing Virgins is a sailing school born in this new environment: cool, fun, fast, and highly professional. With its core market of 20-40 year old adventurous professionals, the Sailing Virgins group quickly realized they would require a learning platform that suited the demanding lifestyles of people who don't have a lot of free time and EXPECT 21st century cloud-based and App-based eLearning.
That's why NauticEd and Sailing Virgins Work Well Together
As soon as a Sailing Virgins client signs up for a course, they are given online access to the NauticEd courses and can begin the theory component. No books; everything web and app based.
Then when students arrive at the Tortola, British Virgin Islands-based sailing school, they get straight on the boat and start sailing using their theory knowledge they have already gained (and passed the tests). Thus, exam day, which normally takes out most of a precious sailing day, is no longer a thing.  When in the BVI it's all about sailing – gaining confidence and competence (and a fair bit of partying).
Courses are one week in duration, starting on a Sunday morning and finishing on a Saturday at lunchtime. There are three streams; Awesome Crew (for people who are figuring out the basics), Bareboat Charter Master (for people who want to charter their own boats) and Advanced Coastal (for people wishing to do longer sails and work in the industry). The calendar of courses is shown here (https://sailingvirgins.com/calendar-20162017/)
What does a typical day look like for a student in this Tortola, BVI Sailing School?
Waking up in a bay, a pre-breakfast swim off the back of the boat is a good idea. Then it's coffee, breakfast, and a talk about the day. The instructor, using teaching methods refined in aviation training, has a mandate to balance professional teaching methods with keeping things fun.
What about the instructors?
All Sailing Virgins instructors have done time either skippering, route managing and/or instructing for sailing phenomenon The Yacht Week. They are fun, young, smart, professional, and hand selected. They have instructor certifications from the most revered sailing associations in the world. They can't help but bring a little of the Yacht Week spirit into their courses. What they are definitely NOT are crusty ol' sailors with a bearded boat. 
How do you get there?
What is the best way to reach the Virgin Islands? In Canada and the US there are direct flights from major east coast cities to St Thomas (STT). These include Atlanta, Baltimore, Boston, Charlotte, Chicago, Detroit, Fort Lauderdale, Miami, New York, Newark and Philadelphia. Other US cities (including Los Angeles and other west coast cities) can typically reach St Thomas with one connection.
From St Thomas it is an easy one hour ferry to West End, Tortola. Then you have arrived in the home of Sailing Virgins. Their base, at the Fish n Lime, is literally a walk from the ferry terminal. The Fish n Lime also has accommodation for anyone wishing to spend time before and after their course on land.
Next steps
If you would like to know more about the courses offered by Sailing Virgins, click here. For a free e-book from them titled "How To Become A Professional Skipper" click here.
Welcome on board Sailing Virgins to the NauticEd Platform – your clients are going to love the whole experience.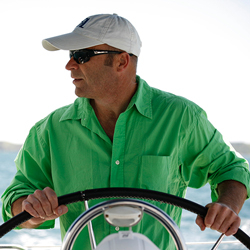 Latest posts by Grant Headifen
(see all)