Do I need a sailing license to sail around the world if I own my own boat?
The answer is a simple no. The sailing license that you typically hear about is for yacht chartering only and only in certain areas of the world like the Mediterranean, Seychelles, and a few others. All yacht charter companies are required by local port authorities (in the required counties) to ensure that you have a sailing license before allowing you to take out their yacht.

But if you own your own yacht, you "technically" have free rein of the world.
HOWEVER – as we all know, local authorities don't necessarily abide by "higher power" rules and some local authorities have local sailing license rules. And usually, there is no one to argue. Do you want to argue with the local port authority in a foreign language after they have impounded your boat? It is not likely that this will ever happen to you but it has happened. Especially, if you accidentally ding someone's boat in a marina – accidents happen (unless you have taken the NauticEd Maneuvering Under Power Course – shameless plug).
THUS, when sailing the world it is prudent to get a sailing license to ward off any issues around this topic.
FORTUNATELY, NauticEd has made getting a sailing license simple, inexpensive, and easy to attain – so long as you are already a competent sailor.
The SLC license is an international sailing license. NauticEd has the authority to issue the sailing license. All the requirements to gain the SLC sailing license are here. But essentially, you must take and pass online sailing courses, log in your electronic logbook 50 days of past history sailing – some as master of the vessel and some on a vessel greater than 28 ft (8.5m), and do an assessment on the water of your skills which takes about 6 hours.
Who is NauticEd? We are an officially recognized sailing education body by the United States Coast Guard as verified by NASBLA (the licensing authority for all the States in the USA). The SLC we issue is accepted by all countries that require a license including Croatia (which is the most difficult country to be authorized in). The NauticEd SLC is listed on the official government acceptance list by the Croatian government. All yacht charter companies in the world recognize the SLC.
In addition, the SLC is not limited to American Citizens. It can be issued to any citizen of any country.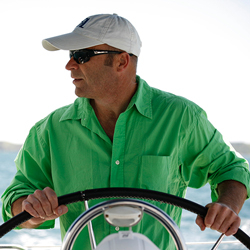 Latest posts by Grant Headifen
(see all)