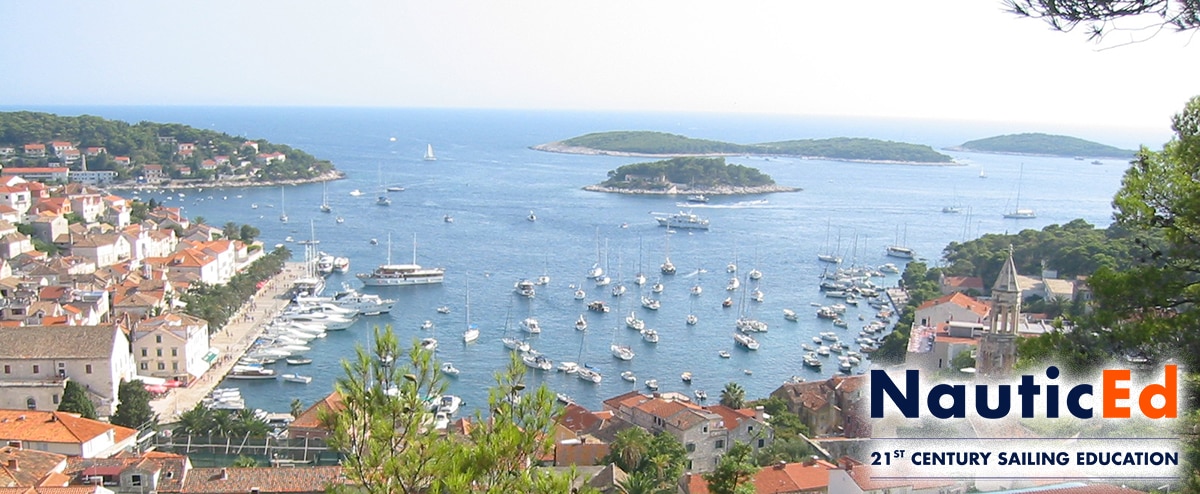 If you haven't heard yet – You now must have a Sailing License for chartering a sailboat in the Mediterranean. No matter how much experience you have and no matter who you are, you have to have a license. Why? Just do! Don't believe us? Call any yacht charter company. Most will refer you back to NauticEd because we have the simplest, quickest and least expensive solution; the SLC.
What is the SLC? The SLC stands for Sailing License and Credentials. It is a sailing license that is accepted for bareboat yacht chartering in the Mediterranean.  Chartering in the Mediterranean requires more than a certification – a true license is required. But be careful with licenses issued by other sailing associations. Some licenses are not accepted and some associations issue a license without requiring proper experience. Genuine knowledge and experience is required along with the license. That's why NauticEd requires knowledge learning and testing, skills assessment, and logged experience along with appropriate licensure prior to being awarded the SLC.
How to gain your SLC Mediterranean Sailing License?
Gaining the SLC is a relatively quick and simple process!
The first thing you need to do is to Sign into your NauticEd account (it's free and easy to create if you don't already have one). As a bonus, you will get two free sailing courses and a free sailor's online logbook.
Now, just follow the steps below.
SLC Requirements and 1-2-3 Steps
---
(1) ONLINE COURSES AND TESTS
Complete the NauticEd online Bareboat Charter Master bundle of courses including the associated online tests ($175). Take the tests as many times as you like for as long as you like. Start-stop anywhere. There are no extra fees if you fail or take too long. If you're confident with the material, you can always jump to the test at the end of each module. (The Captain bundle of courses also qualifies since the Captain bundle includes all the Bareboat Charter Master courses).
Complete a comprehensive free online NauticEd SLC exam covering all aspects of sailing, navigating, and bareboat chartering.
(2) GOVERNMENT BOATER LICENSE
If your country requires you to have a boater license, upload a front and back image to the NauticEd International Sailing License page in your portal.
In the USA, you must gain your State Boater License Card (it's free) and take the online course for your state. If your state is not listed, take any state license as there is reciprocity acceptance between the states. If you have a US Coast Guard Captain License, upload this instead.
In Canada, obtain your PCOC.
(3) PRACTICAL SAILING EXPERIENCE
Under your free NauticEd account, there is an electronic logbook. Make entries of your past sailing experience starting with your most recent and working backward in time. The SLC requires at least 50 days (a day being 4 hours minimum) of experience, 25 of which must be as master of the vessel and 25 must be on a boat greater than 28 ft (8.6 m).
Plus you must have recent experience upon issuance or re-issue of the license: either 5 days in the past year or 10 days in the past 2 years.
(4) SLC ON-THE-WATER ASSESSMENT
The SLC requires you to complete and pass a one-day (6-hours typically) on-the-water assessment of your skills and knowledge with an SLC-approved assessor. You will be tested on your sailing ability and competence on a variety of topics including docking using spring lines, Mediterranean mooring, person overboard.
You will also do a 45-minute written on-the-boat theory assessment test covering navigation, plotting courses, tides, understanding ColRegs, meanings of ATONs, IALA-A vs IALA-B. Everything in this test is in the online courses so as long as you are fresh on those concepts, you will not have an issue with this written on-the-boat theory assessment test.
You can review everything you will be assessed on when you sign in under your curriculum tab under the OTW (on-the-water) Assessment section for the SLC and Bareboat Charter Master. DO NOT assume that the assessment is a passing grade based on attendance. Assessors have failed people once it is discovered that they are not competent and just trying to wing it.
The assessor will charge you for their time and boat expense. Typically this is in the range of $125 per hour if using an assessor with a boat, or if you need to day charter a boat plus pay separately for the assessor, it will be more expensive. Many times, the assessor can do the assessment on your own boat (30ft – 9m +) or perhaps you have a friend with a boat that might join you for the day. Just remember, assessors are professionals and need to be paid for their time – tips are also appreciated.
Find Schools and Instructors/Assessors who can do the assessment on the Sailing Schools link on NauticEd.  Those that are authorized have an SLC icon associated.
 – OPTIONAL CATAMARAN ENDORSEMENT
If you complete the online Catamaran course ($27) and log experience on a large catamaran (38 ft plus), you will be awarded a valid catamaran qualification on your SLC document. To upgrade this to a Catamaran Endorsement, simply additionally do an assessment of catamaran skills on the water with a Catamaran qualified SLC assessor.
(5) SLC FEE
The fee for the SLC sailing license is $95.
SLC HELP
If you are getting lost or trying to understand the SLC and its process, go to our intelligent support system where hundreds of questions are answered. You simply type a question in the search bar and the relevant answers will come up.
Additionally, our resume-building software is smart. It follows your achievements above and automatically checks off the items. To view this, click on the big International Sailing License button (2 buttons below the Curriculum button). This will bring you to a page listing the requirements to gain the SLC. Items on the list automatically go green as you complete each item. Once all items are completed, the SLC is automatically and instantly issued to you for download.  The License is presented in multiple languages for convenience for presentation to the port authorities and yacht charter company.
If you're a little lost in the process, watch this video.
FAQ's?
What is the "Government Required License" part of the SLC?
When a country (such as Croatia or Greece etc.) has a license requirement, you must be able to legally sail in your own country in order to legally sail in their country. This is called reciprocity – much like airline pilots and commercial shipping captains only hold a license in their own country not every country in the world. In the United States, in order to legally sail in every state and territory, you must hold a state boaters license/card. Thus, to properly satisfy this part of the license you must obtain: for the USA, a state boaters license/card (free at www.boatus.org/free – if your state is not listed you can do any state); For  Canada – a PCOC. Or for any other country, it is your local license that allows you to go boating (some countries have no requirement).
Can I see an example SLC?
Simply go to our SLC page. On that page enter the example student Joe Sailor's ID number "63302191" and Joe Sailor's secret logbook code – "mycode".
You will then see Joe's downloadable long-form PDF in multiple languages and you will also be able to download the SLC pocket-size card.
How Long Will it Take?
The Course materials will take approximately 40 hours to complete. This can be done faster if you are already knowledgeable. You can at any time during the course, jump to the test.
The one-day assessment will take … one day (actually, 6 hours on the water. But then there is drive time and what-not so … its a day!).
Once all the conditions are met, the license is issued immediately in real-time and ready for immediate download.
How do I get started?
Simply set up a free account
How long is the SLC Valid?
The SLC is valid for 3 years and is easily renewable. To renew, log 10 sailings in the past 2 years or 5 in the past year and retake and pass the free SLC exam. The renew cost is $45 for an additional 3 years.
Is this the same as the ICC?
The SLC is not the ICC (the United Nations created the International Certificate of Competence), but for all intent and purposes, it works just as well. While NauticEd can facilitate you getting the ICC through our alliance with the esteemed UK Royal Yachting Association (RYA), it can be impractical for most North Americans because there are only 3 schools in North America (2 schools in Canada (Halifax and Toronto) and one in the USA (Miami)). Thus, for most people, the SLC is much more accessible since there are many schools able to perform the required 1-day assessment of sailing skills.
Where is my SLC stored?
Once issued, the SLC is available to you 24/7 in your cloud-based NauticEd account. The software will issue the License immediately upon completing all the requirements.
What if I already have sailing knowledge and/or sailing certifications?
We respect your existing knowledge and thus we don't condescendingly make your start at the start and make you do basic training if you are already experienced and skillful. Rather, you can jump in at any level and just pass the all the online exams and do the on-the-water assessment without training. Many schools offer, what we call, a rust-removal day prior to the assessment day. This ensures you can pass the assessment requirements. e.g. Can you Mediterranean moor in a crosswind? Can you dock and leave the dock using spring lines? Can you sail up to a mooring ball and stop?  Give a tide range, can you calculate the depth at a certain time of the day? If you are rusty, we recommend a rust removal day ( Additionally both of these days, rust removal and assessment, will count towards your recent 5-day requirement above).
What Schools can perform the SLC one-day on-the-water assessment?
On our sailing schools page, look for the SLC logo associated with each school. If you can not find one close to you, contact us since our network of schools is growing fast and changes weekly.
What am I tested on in the one-day on-the-water Assessment?
When you sign-in or sign-up,  as a free student, under "curriculum", you will see the OTW practical assessment for the SLC. It is not to be taken lightly. You had better be strong on sailing, maneuvering to the dock and in the marina, anchoring, mooring, safety, rules, lights and sounds, navigation marks, IALA-A and IALA-B, Navigation plotting and tides as some examples. Don't worry all the theory work is covered in the required Bareboat Charter Master bundle of courses online.
How do I present my SLC to the Yacht Charter Company and/or Port Authorities?
Direct the Yacht Charter Company to the official SLC page (www.nauticed.org/SLC) and give them your unique SLC #ID which is embossed on your SLC document along with your secret logbook code. When they enter these into the SLC page, you SLC license is presented to them. Your logbook code is a code you make up and enter under your profile. This process gives you privacy with the ability to share your information only to those you desire. And/or you can print out your SLC and take with you.
By whose Authority is the SLC issued?
NauticEd is the only government-recognized and US Coast Guard recognized sailing body in the USA.
This international proclamation document shows that the authority NASBLA is the sole agency in charge of issuing boating licenses in the USA.
This official verification letter shows that NASBLA recognizes and awards NauticEd as meeting the American National Standards for sailing training and assessment.
This NASBLA verified course approval website lists the USA sailing bodies (including NauticEd) that conform to the US Coast Guard approved American National Standard.
Thus, as a government-recognized sailing body, once NauticEd deems a student has met the licensing and credential requirements above, NauticEd issues the SLC. This SLC serves as a valid Sailing License accepted internationally.
Do yacht charter companies accept the SLC?
Here is a snapshot from the Moorings website showing that the SLC is one of the Licenses accepted along with the ICC.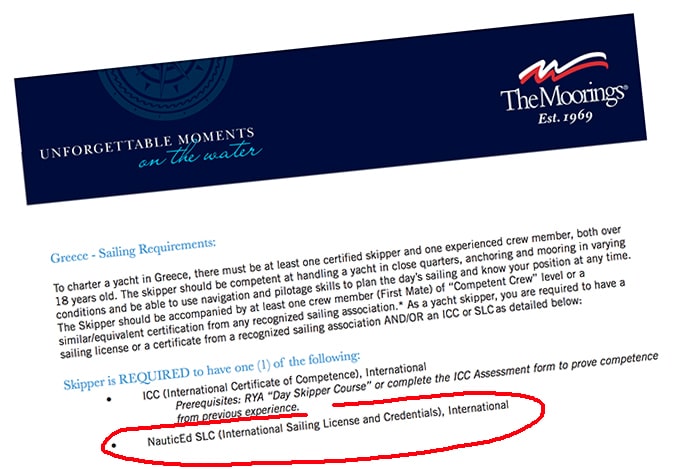 I am not an American Citizen. Can I still get the SLC?
Yes. The SLC is an international sailing license. It demonstrates that you can legally sail in your own country AND that you hold the credentials for a knowledgeable and experienced sailor that has been assessed to international standards. In the USA, to legally sail in every state and territory, you must hold a state boater license card. The SLC validates this. Canadians must hold a PCOC (Pleasure Craft Operators Certificate) in order to gain an SLC. For other countries, ensure you upload the legal document that allows you to operate in your country.
What about the VHF requirements?
When you pass the Bareboat Charter course, a VHF endorsement stamp is added to your NauticEd certificate. The SLC license also shows a VHF cleared stamp.
Grrrr! Why do I need a license?
Times change and unfortunately the answer is the same answer as  – why do you need to pay taxes? You just do!   Years (and years) ago, no one needed a drivers license.
Fortunately, NauticEd has made the process simple and have achieved the proper country sign-offs for you. Yet we have also made it responsible. We will not issue a license to just anyone. Rather, we'd prefer to say you don't qualify if you are not fully competent. We are not a credit card certification factory like some associations. we don't issue certifications of attendance and we refuse to go down that road. We issue certifications and licenses based on COMPETENCE. You simply must have the proper amount of experience and skills and knowledge for us to put our credibility on the line.
Why does a resume trump a certification?
What if I don't have enough experience as the SLC requires?
Got another question?
Email us and we will be happy to answer it plus we will put the question and answer on this page.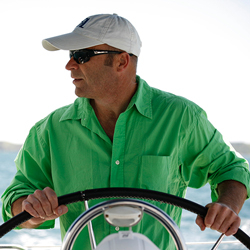 Latest posts by Grant Headifen
(see all)