Yesterday we went out in our Beneteau 373. And the winds were really cranking to 25 knots but very gusty as is typical with Lake Travis. The winds channel off the tops of hills and down through the valleys leading into the lake and they create gust after gust. When we went to come back to the marina the winds were still high in the marina and blowing directly into my slip. Since we park the boat in stern first this was the most tricky combination of slip position and wind. I lined up as usual to back the boat in with my stern to the wind just outside the marina. But I could not get the sailboat to swing around so that we could back down the slipway beam to. The issue was the winds were so high they were pushing the bow too far down wind.
The solution was to start out about 50m out from the marina and get a decent amount of sternway going so that the water flow over the rudder was high enough to overcome the windage on the bow. Once we got that going we were able to go beam to. We had to keep the speed up in the slip way and then make the final turn downwind into the slip. I started my turn downwind turn going backwards about 10m from as far on the other side of the slipway as possible. The boat slid perfectly into the slip and I applied a small forward thrust spurt about 3m from the dock walkway and let the boat continue its sternway until about .5m from the dock where I touched forward again to come to a perfect stop.
Now I'm not saying i do it this perfect all the time and at the start I was looking a little embarassed because I couldn't get the boat moving beam to – but at least the theory works in practice.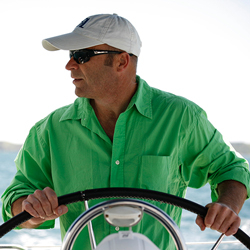 Latest posts by Grant Headifen
(see all)