International Certificate of Competence (ICC)
ICC FAQs and helpful information
---
What is the ICC?
Wanting to go sailing in Europe? You're going to need a sailing license NOT just a sailing certification. The International Certificate of Competence (ICC) is one such acceptable license. Another popular license is the SLC. Both licenses are fully accepted by port authorities and yacht charter companies worldwide.
The ICC, despite being called a certificate, it is in fact a license and is defined by United Nations Resolution 40 of which 22 member states in Europe have adopted the resolution. Additionally, many countries that are not signatories to the resolution still require the ICC or SLC via local marine laws. In some countries, other licenses are accepted but the user runs the risk of it being not recognized by the port authority.
Why do you need an ICC (or a license)?
By its very nature, sailing is an international recreation. When sailing, you will invariably interact with shipping lanes and internationally bound ships operating under international laws of the ocean as well as lighthouses, lights, buoys etc. One such set of laws is the International Rules of Preventing Collision at Sea. Another is the international agreements on lights and buoys known as IALA-A and IALA-B. As a recreational sailor, YOU MUST adhere to these laws whether educated about them or not. In considering this and remarkably so, enough countries got together and developed a minimum standard of education a sailor must meet to be able to sail in their waters. This standard was then adopted by the United Nations so that the standard would extend internationally. Wow, what a great idea, and huge kudos to the founding diplomats and promoters of this standard. The SLC is modeled on the American National Standards officially accepted by ANSI (Amerian National Standards Institute) which is a member of ISO (International Standards Organization)  thus its acceptance worldwide. NauticEd, however, added into the SLC standard the required international knowledge such as IALA-A, Cardinal Marks for navigation, plus a lot of knowledge on dealing with Mediterranean ports and mooring techniques.
What is the requirement for the International Certificate of Competence (ICC)?
The requirement is a demonstration of competence in all areas of sailing from the rules of preventing collision, navigation techniques, safety of lives at sea, understanding lights and buoys, meteorology, tides and currents, good seamanship etc. You must be able to demonstrate theory knowledge and practical competence.
How do I get an International Certificate of Competence (ICC)?
This can best be achieved in one of two ways but only through an approved ICC issuing training center:
(1) A one-day assessment. This is an intensive one-day on-the-water assessment. There is no instruction. The assessor will merely ask theory questions and require practical demonstration in all the areas of requirements above. If you can't quickly and effortlessly demonstrate how to calculate, plot, and follow a series of courses, determine tidal heights and current flows, answer questions about day markers, cardinal buoys, lights etc etc. – then more than likely you will fail the assessment.
You must know all the theory. Therefore, you should complete the NauticEd RYA Day Skipper course.
(2) Complete the RYA Day Skipper Certification. This is a five-day on the water training combined with extensive theory training. To do the theory training, complete the  NauticEd RYA Day Skipper course online prior to your practical training. At the end of the 5 days and given that you have demonstrated growing competence, you will more than likely be awarded the RYA Day Skipper Certificate which automatically qualifies you for the International Certificate of Competence (ICC).
If you don't do the Day Skipper Course theory onshore prior to the practical, you will not be able to demonstrate the competence required. For example, during the 5 days on the boat you will be expected to already understand the theory of navigation. On board, you will learn how to apply the theory already known to the practical situation. Simply stated, if the theory takes 40 hours to go through at home, how could you go through this on board while also trying to learn the practical?
Watch this video to understand about the RYA Day Skipper Course and the ICC
Who are approved ICC-issuing training centers and where are they?
Signatory countries to Resolution 40 appoint their sailing governing bodies to issue the ICC to their citizens.
But what about non-signatory countries like the USA, Canada, Australia and New Zealand?
The Royal Yachting Association (RYA) through the government of England is the largest governing body appointed to issue the United Nations ICC. Approved training centers of the RYA worldwide are assessing and training centers able to issue the ICC to English and non-English citizens.  Americans, Canadians, Aussies, and Kiwis then are able to gain the ICC through an approved RYA training center. Strange as it may sound to you but no American sailing association of any type or name or school can issue the ICC.
Why is this? Well simply stated, the United States and Canada did not sign Resolution 40 and thus are not able to appoint any governing body to issue the ICC. This means that there is no certifying body resident in the USA or Canada who can issue the ICC. Other certifying private companies have tried to fake it by making up an international certificate. These are not recognized by the United Nations and are not government-approved or issued and the level of tested competence is not to the standard of the ICC in any case. If there was an accident on your boat and you did not have the right Government Approved Sailing License you can be held personally responsible as the captain of the vessel regardless of the Charter Company who leased it to you.
To gain the SLC, there are many instructors throughout the USA, Canada, and the rest of the world who can perform the necessary assessment. See the NauticEd Sailing Schools list.
So how does NauticEd fit into the ICC equation?
NauticEd through its approved RYA Day Skipper course provides the proper level of theory instruction as required by the standard to pass the theory knowledge portion of the ICC. NauticEd directs its North American students seeking the ICC to RYA practical training schools. Yachting Education in Florida is one such USA-based school – unfortunately, there are not a lot of other schools in North America (Topmast.ca in Toronto and Discoverysailing.com in Halifax). For other countries, after taking and passing the NauticEd theory, NauticEd directs its students to visit an RYA training school in their area to do the practical. As above, you have the choice of 1-day assessment or 5-day training.
Are you considering Europe for Chartering? Contact the NauticEd Yacht Charter Agency – we can book you a yacht and ensure your licensing requirement is complete. Our agency does not charge a fee for booking with us – you get the same price as going direct but oftentimes we save you money by our access to the many company choices available.
So what about ICC in the Caribbean and Pacific, etc.?
As of now, there is no government-approved certificate required by any country in the Caribbean and equatorial Pacific Islands. NauticEd recommends proper structured education in any circumstance. Our Bareboat Charter Master Certificate is sufficient proof to yacht charter companies of knowledge and experience. The Bareboat Charter Master Certificate is not the easiest to obtain. It requires at least 50 hours of home-based theory study with extensive exams plus it requires 50 days of logged sailing experience on the water – 25 at least of which must be as master of the vessel and 25 at least of which must be on a vessel 28 ft or greater. Other companies will issue a Bareboat Certificate after a weekend on a boat training – but we just say "Come on everyone – really? One weekend? With the potential of all the what-if scenarios at sea one weekend or even two is asking for trouble and is irresponsible". Fortunately, Yacht Charter Companies require a practical resume even if a student shows up with one of these weekend or two certificates. If the experience is weak then the yacht charter company will not accept the charter reservation despite the "certificate" and will require a captain on board for the duration. This is exactly why NauticEd provides its cloud-based sailing resume built automatically from experience logbook entries and eLearning courses passed in addition to practical instructor electronic signoff and with – CrewMate Authentication whereby your sailing logbook can be fully authenticated and digitally signed.
Practical instructor sign-off can be achieved through a NauticEd-affiliated sailing school where instructors have been socially rated by pier students. After this, there is a simple step up to gain the SLC – a 1-day assessment of your skills (assuming you are experienced already).
Some students have asked us the obvious – if I can get a bareboat charter certificate easier through another company why would I not do that. Our answer is twofold (1) Yacht charter companies go off a resume, not the certificate. Cleverly, NauticEd designed its Bareboat Charter Master Certificate on having an acceptable resume of experience as well as theory knowledge.  (2) our personal belief is that if you have not yet achieved at least our standard of education and experience then we think you should  – prior to risking the lives of friends and family at sea. What if … ?
See our post and video on a Sailing Resume vs. a Sailing Certification
Additionally, NauticEd is the only company in the world that produces a cloud-based authenticated logbook. This gives charter companies the confidence that your stated time is more than just made up. It is living proof of your experience. Learn more about the authenticated sailor's logbook.
What's the best ICC alternative?
NauticEd's International Sailing License and Credentials (SLC) is considered the best North American alternative to the ICC and is more readily accessible to gain in North America because of the number of instructors/assessors available to perform the on-the-water assessment requirement. The SLC is equally accepted worldwide as the ICC – so there is no advantage or disadvantage of either the ICC or SLC. The decision comes down to which is the simpler license to get in terms of cost and travel.  Learn more about the SLC…
The SLC comes in two layout versions – a sheet version and a smaller wallet-size card version. The moment you fulfill all the requirements for the SLC, both versions are simultaneously electronically issued for immediate download.
In Conclusion
Given all the time constraints and directional pulls in our lives, there are few things left for us to be able to achieve on a personal basis. What about achieving for yourself an ICC (International Certificate of Competence) or the SLC (Sailing License and Credentials). It means that you will be approved to sail anywhere in the world. Let's hang that on the wall in your office. Maybe even your boss might recognize it. But it's going to take some work and sweat investment.
Start the process through NauticEd now – learn more about ICC and SLC assessments and start by investing in the NauticEd RYA Day Skipper course or the NauticEd Bareboat Charter Master Bundle for the SLC.
Thanks!
Grant Headifen
Director of Education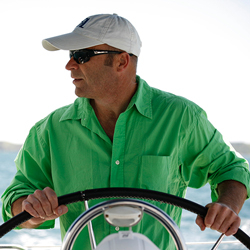 Latest posts by Grant Headifen
(see all)