NauticEd Launches New Sailing Course: Anchoring a Sailboat
PRESS RELEASE: NauticEd Launches New Sailing Course: Anchoring a Sailboat
Today NauticEd released another sailing course: Anchoring a Sailboat. The sailing course focuses on knowledge required to effectively and successfully anchor a sailboat.
Captain's Alex and Daria Blackwell, authors of The Art of Anchoring, wrote the NauticEd specific sailing course. The sailing course consists of 12 modules and will be sold for $17 online.
The Anchoring a Sailboat sailing course modules are:
Module 1: Introduction to Anchor Types
Module 2: Anchor Types
Module 3: Anchor Selection
Module 4: Rode and Connections
Module 5: Site Selection
Module 6: Charts
Module 7: Dropping the Anchor
Module 8: Scope
Module 9: Setting the Anchor
Module 10: Swing
Module 11: Time to Relax
Module 12: Anchoring Etiquette
Grant Headifen, Educational Director of NauticEd, says that the Anchoring a Sailboat sailing course is a welcome addition to the 12 other sailing courses that NauticEd offers. NauticEd plans to make the Anchoring a Sailboat Course a prerequisite to gaining the NauticEd sailing certification rank of Bareboat Charter Master. "We'd received lots of requests for a comprehensive anchoring course from our students. Anchoring expertise is one of those really important sailing skills that is required and sort after. On a bareboat charter sailing vacation, for example, you spend more time at anchor than you do sailing. And anchoring is a bigger stress on the charterer than most other sailing activities. Charter companies don't really realize that more people would charter if the stress was taken out of overnight anchoring" says Headifen".
NauticEd believes that the Anchoring a Sailboat Course will be a big seller and will surpass their popular Maneuvering a Sailboat Under Power sailing course.
To learn more about the coastal skipper sailing courses and NauticEd Sailing School, go to our website.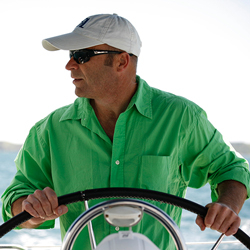 Latest posts by Grant Headifen
(see all)