US VIRGIN ISLANDS-THE NEW HOTSPOT FOR YACHT CHARTERS

We recently interviewed Jim and Kristi Query, the owners of Virgin Islands Yacht Charters. We wanted to talk about their under-recognized sailing destination – the US Virgin Islands. We wanted to know just how good is it and is it worth going to the USVI? Why do people always go to the BVI?
So here is a write-up of our interview with them which also includes an interactive Google map and our PodCast Interview with them. There you can learn about how gorgeous the bays and beaches are and get to know Kristi and Jim Query, the owners of VIYC.
NauticEd: So why has the US Virgin Islands has become the NEW hotspot for sailing vacations?
VIYC: Well first off, at the closest point, the US Virgin Islands is about 500 meters away from the British Virgin Islands. So it stands to good reason that the waters, beaches, and bays are as equally good. And it is true. Now with airfares at an all-time low, easy COVID entry protocols, and no need for re-testing upon flying back to the states, there has never been a better time to sail the Virgin Islands. And with the BVI being closed or more recently asking for difficult restrictions, many have turned to us in the USVI. And they are discovering the true beauty for what it really is. We hope the word spreads.
NauticEd: And how are people responding to the USVI?
VIYC: All of us here at Virgin Islands Yacht Charters have been so excited to see the response from our charter guests who have had the chance to discover, or in many cases re-discover, the US side of the Virgin Islands, instead of just using it as a jumping-off point to the BVI. The extended closures of the British Virgin Islands have certainly made a difference in the volume of charters, but more than that, it has taken people out of the normal chartering routine and allowed them to take time to explore the beautiful waters around St Thomas, St John, St Croix, and even Water Island, the 4th island in the USVI chain.
NauticEd: The BVI is pretty special, how does the USVI compare?
VIYC: There's a uniqueness here that can't be found anywhere else. Things like Pizza Pi and Lime Out, both floating take-out restaurants on Great St James and in Coral Harbor on St John. The gorgeous new Resort and Beach Club on the very secluded island of Lovango, just off St Thomas and St John, has become the go-to for those looking for 5-star treatment and accommodations while on charter.
Roughly 65% of the land on the island of St John is part of the property donated by Laurence Rockefeller in 1956 and falls under the protection of the Virgin Islands National Park Service. The pristine beaches along the North Shore of St John are some of the most beautiful and well-preserved beaches in the world. Filled with tons of marine life, including sea turtles and spotted eagle rays, St John is by far the most popular of the US Virgin Islands.
NauticEd: We created this google maps for everyone to see the itinerary you talked about on the podcast.
Here you can find Navionics for the area Navigation and planning.
NauticEd: If someone wants to charter any of your boats what do you require if they want to captain themselves?
VIYC: There is no certification required but we do require a resume detailing fairly extensive previous sailing experience. We do prefer they have taken the NauticEd Bareboat Charter Master series of courses – we find the clients are more knowledgeable and enjoy their vacation more.
NauticEd: You started operations about 6 years ago. Despite your growth, we're glad to see that you still operate like a boutique sailing vacation company.
VIYC: Our team here at Virgin Islands Yacht Charters look forward to welcoming new and returning guests and invite you to become a part of our charter family. We strive to offer our valued guests a more personalized experience and it thrills us to no end to be able to share our local knowledge and love of these beautiful islands we call home.
NauticEd – to our readers: We are agents for Jim and Kristi at Virgin Islands Yacht Charters. We don't charge you an agency booking fee – it is the same price as if you go direct. In fact, booking through NauticEd reduces Jim and Kristi's admin time so they can spend more time on customer service to their clients when they arrive on location. Feel free to visit their site and book through NauticEd – we're all one big team.
To book or inquire about a sailing vacation with Virgin Islands Yacht Charters, visit NauticEd's Sailing Vacation page.
Here is our Podcast with Kristi and Jim, Owners of VIYC.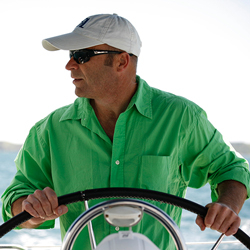 Latest posts by Grant Headifen
(see all)